IGNITE THE FIRE WITHIN
Latest News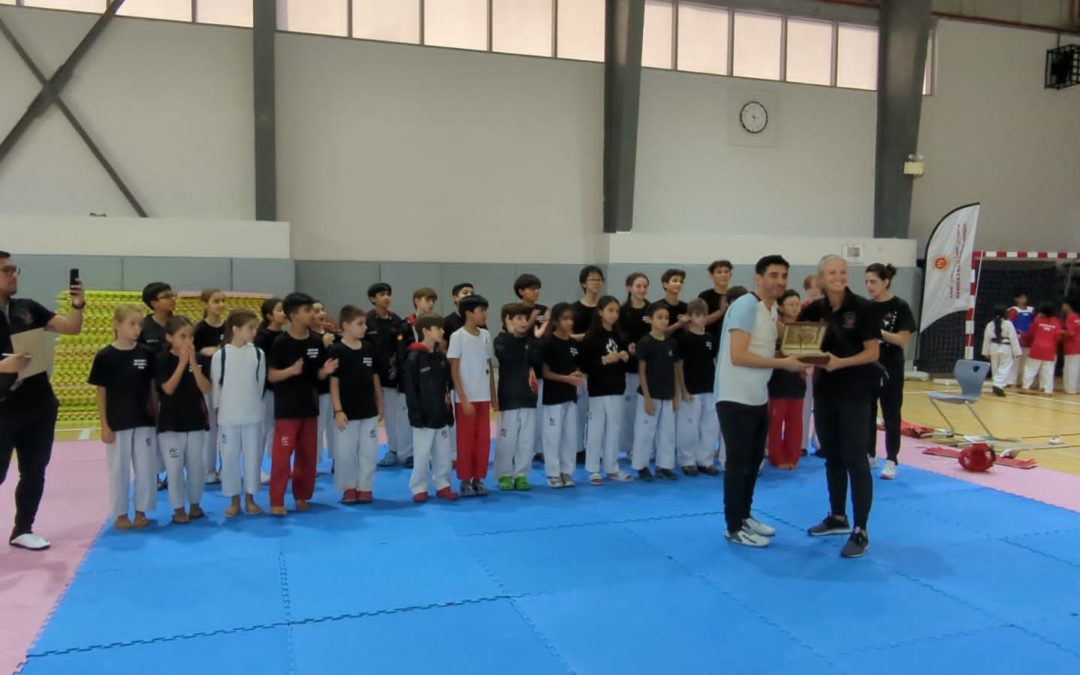 Introduction On September 23rd, our Sparring Competition Team embarked on a crucial sparring camp in Ras AlKhaimah, just ahead of the Qatar International Taekwondo Open scheduled for October 21st. This article explores how this camp played a vital role in preparing...
read more
Phoenix Academy welcomes the Sharja Tae Kwon Do Competition Team for a wonderful friendship meet and joint team workout!   Jan '23
The Phoenix Competition Team got to go up against some of the best sparring athletes in the UAE for a tough and fun session. Meeting new friends and competing with challenging skills as we work towards the Fujairah International Open Tournament in February.
Thank you to the amazing Team Sharja for your excellent example of true sportsmanship and martial arts friendship! Go Sharja! Go Phoenix!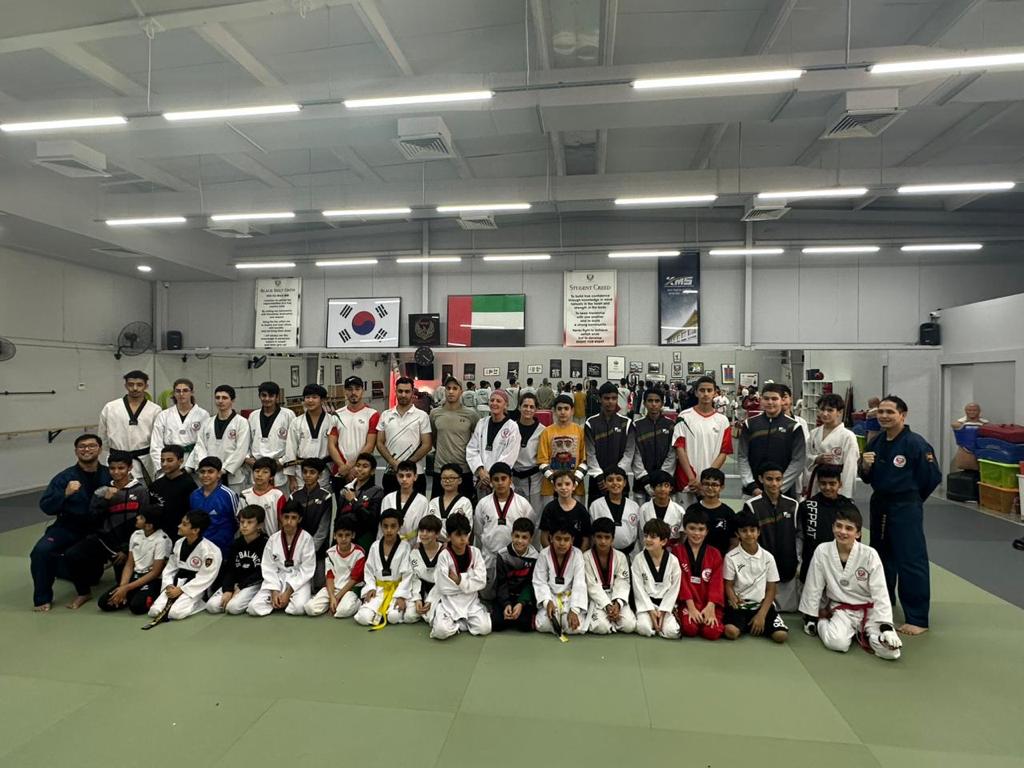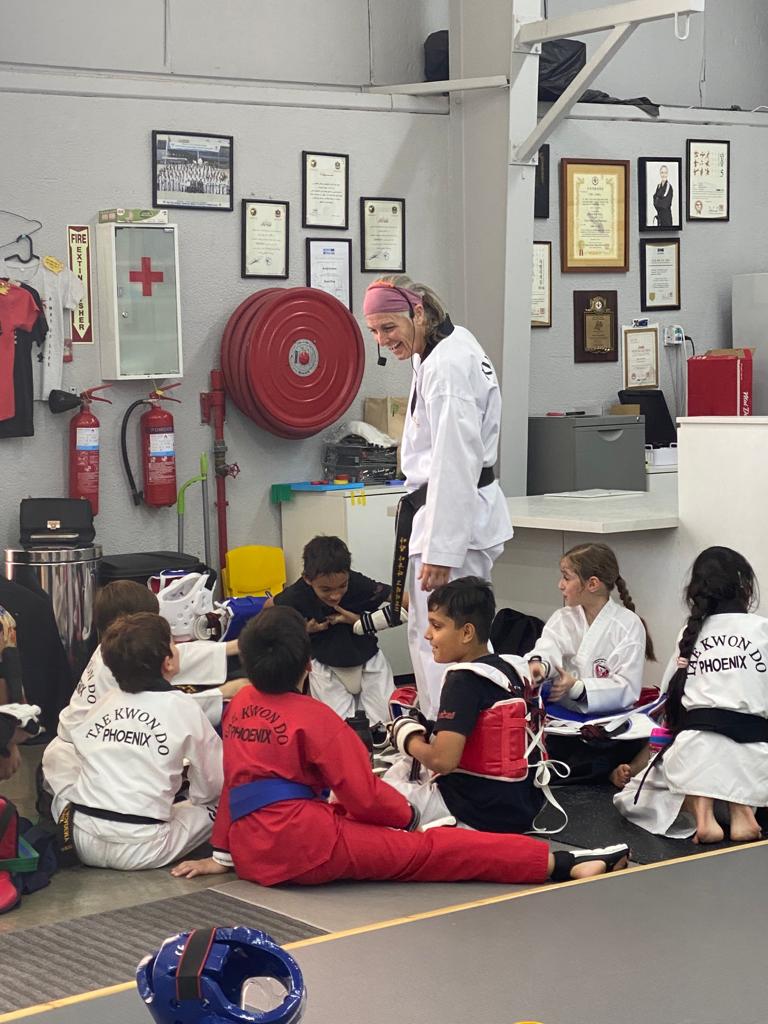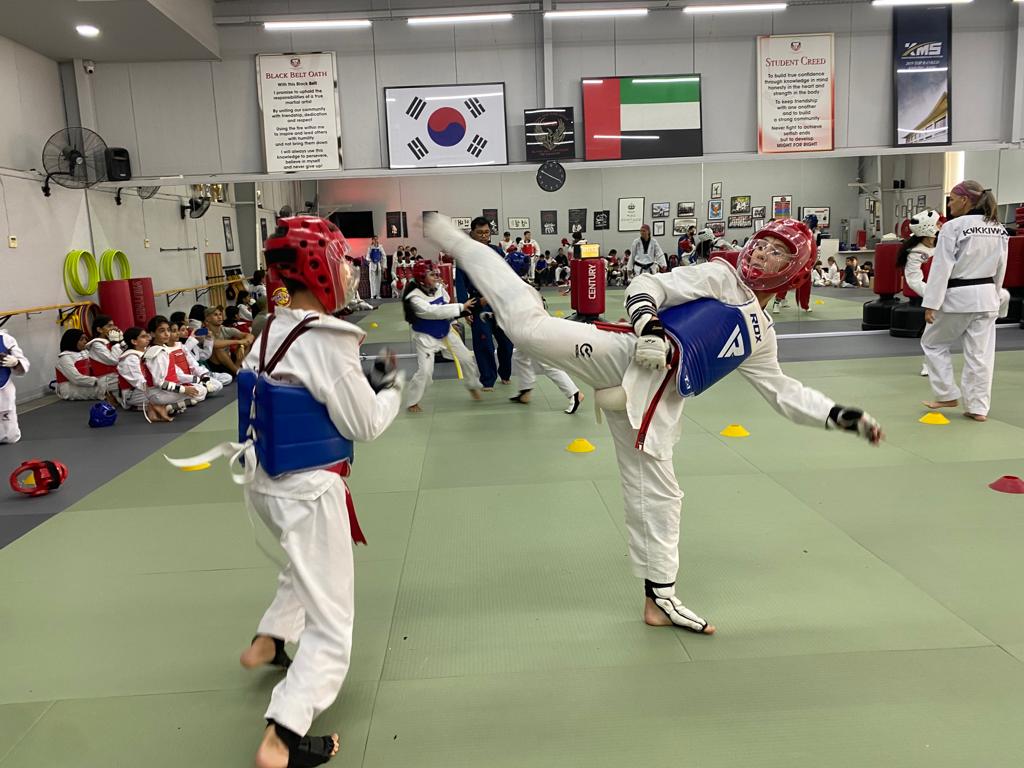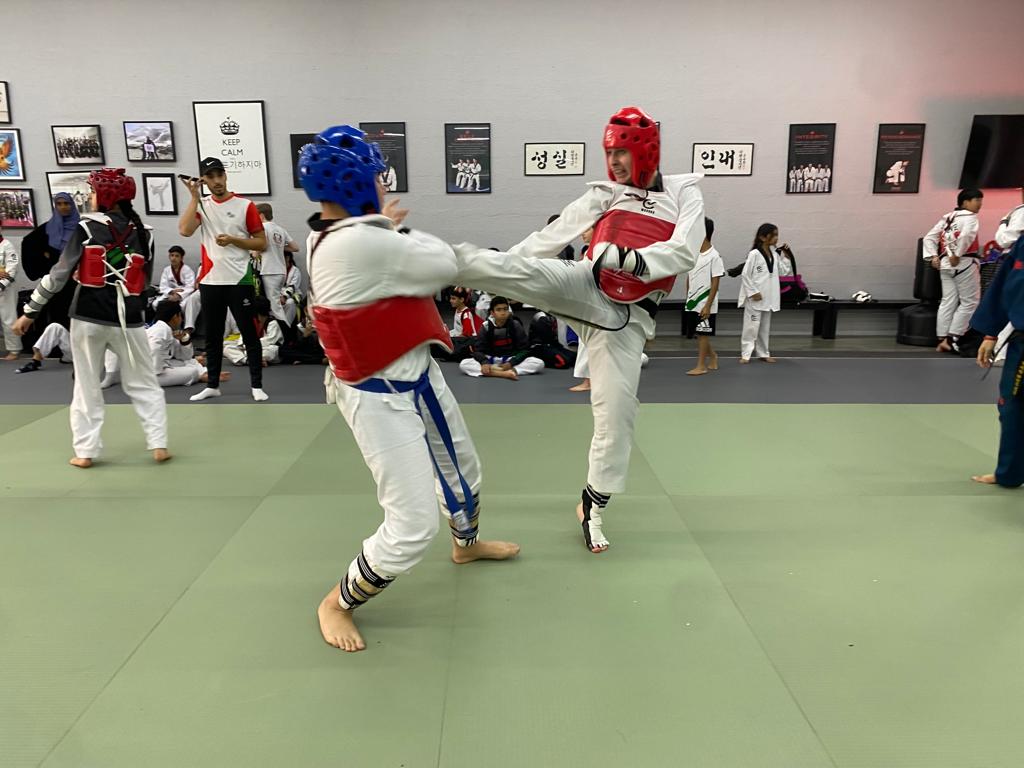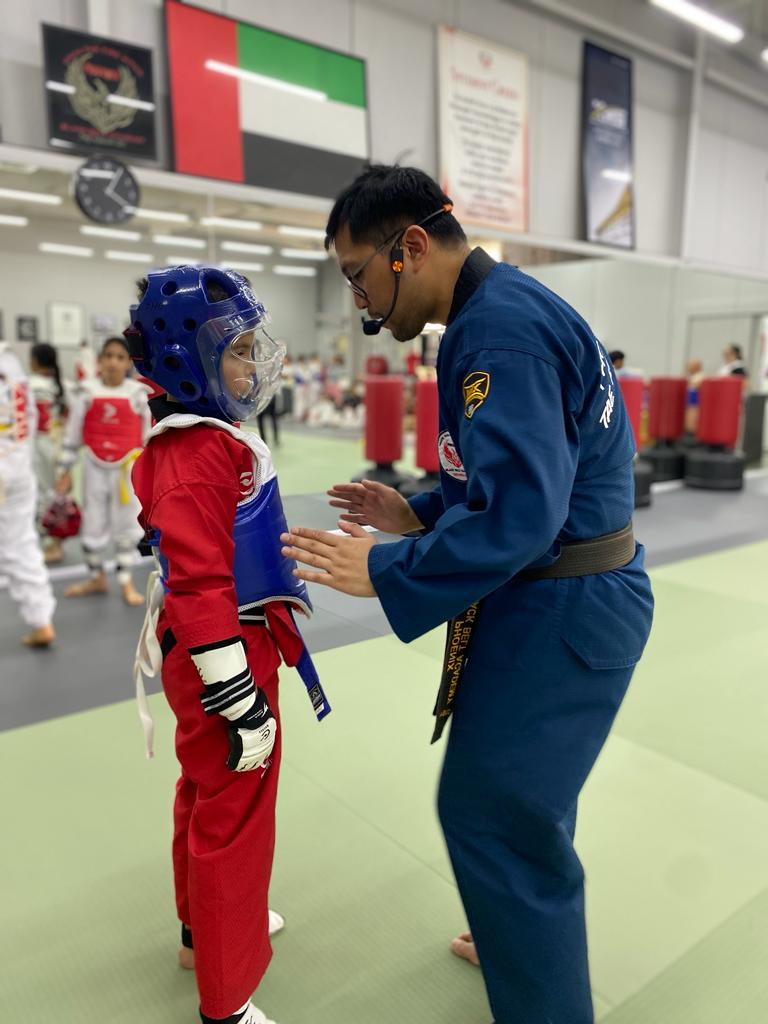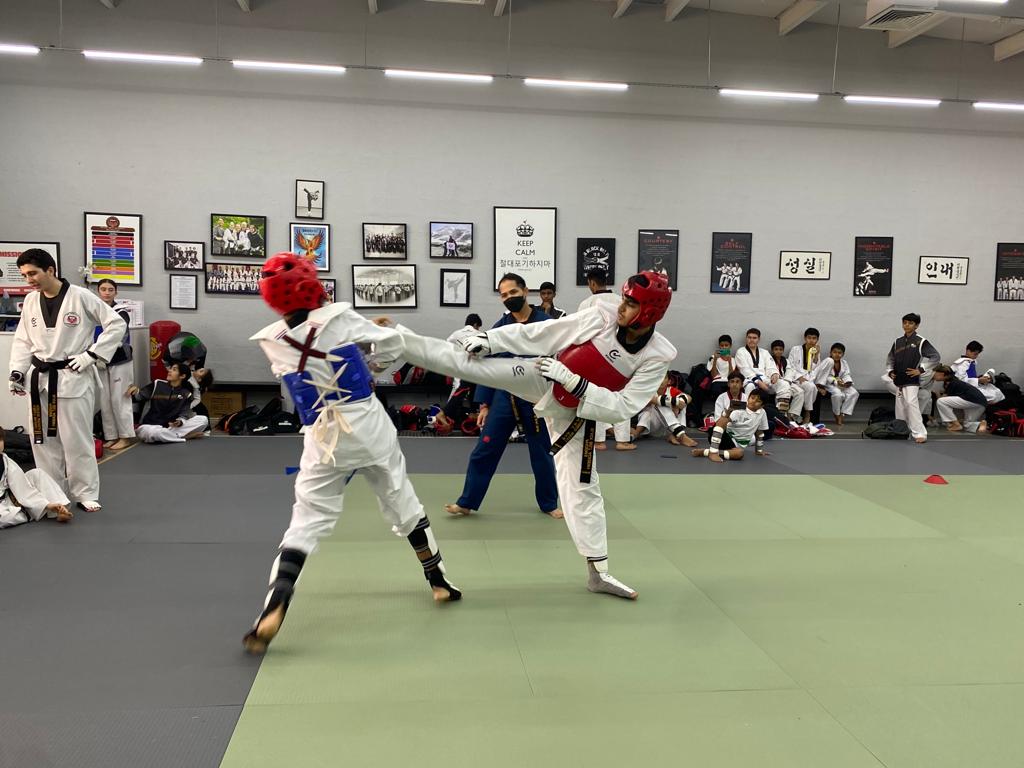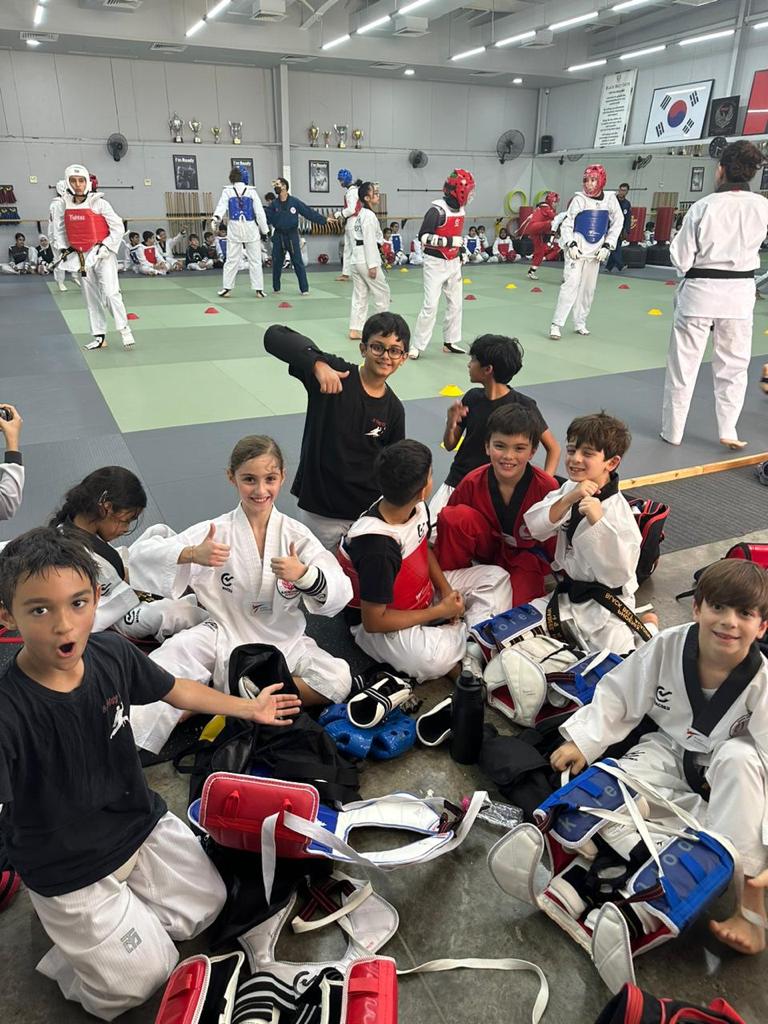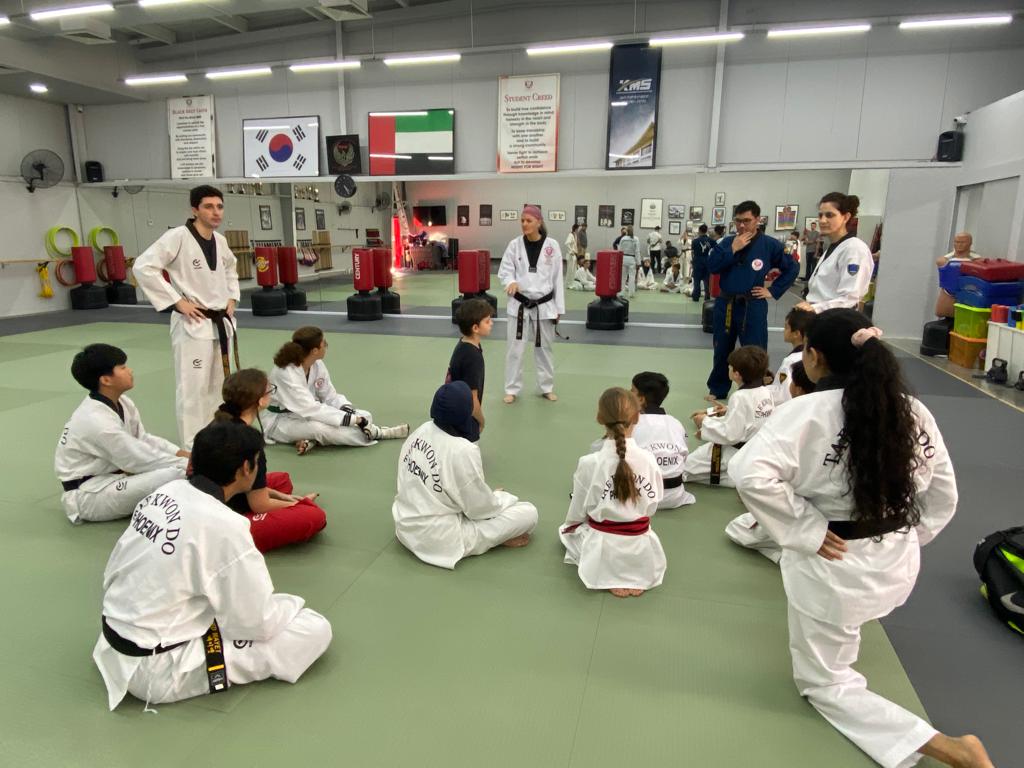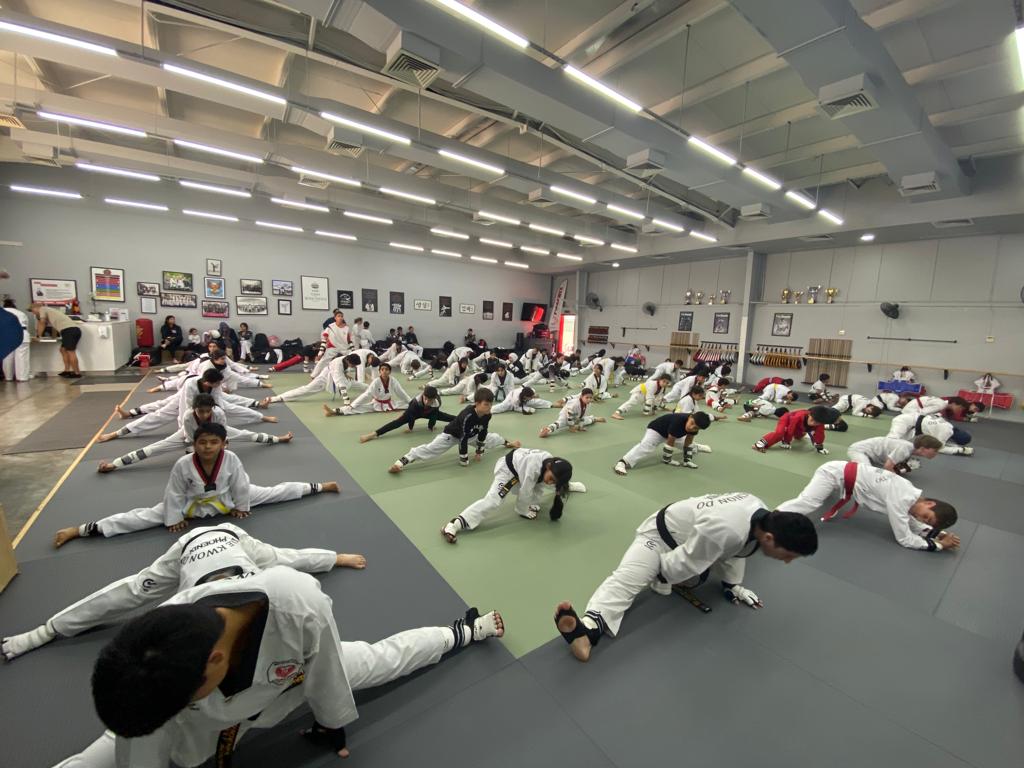 Another Amazing Kids Night Out!
This year we named it Kids Time Out! but not because they have been naughty… We had games, snacks, and a great evening with our friends, Phoenix instructors and Master Graves leading the fun.
Don't forget, October is Halloween Spooks and Fun Night so sign up now!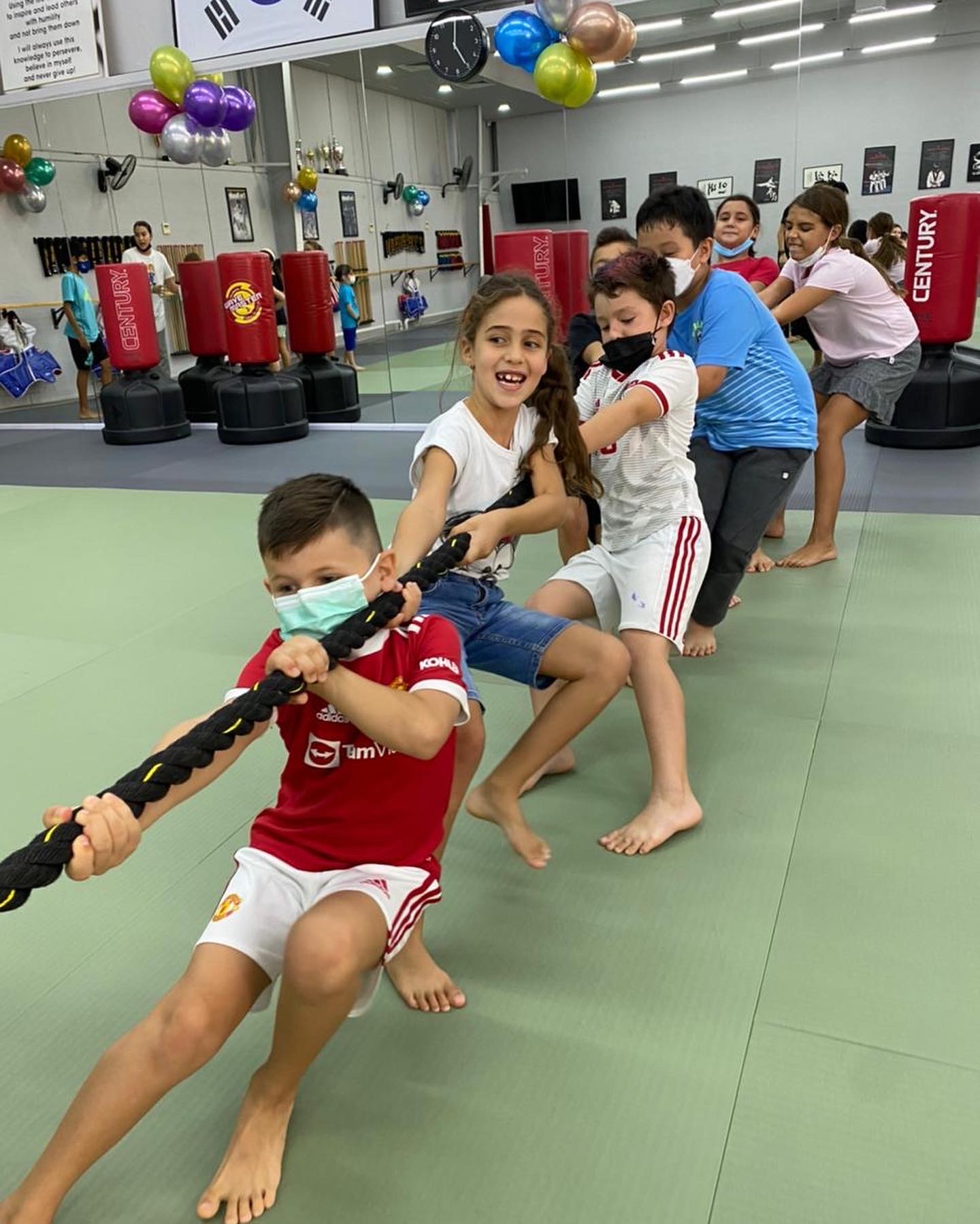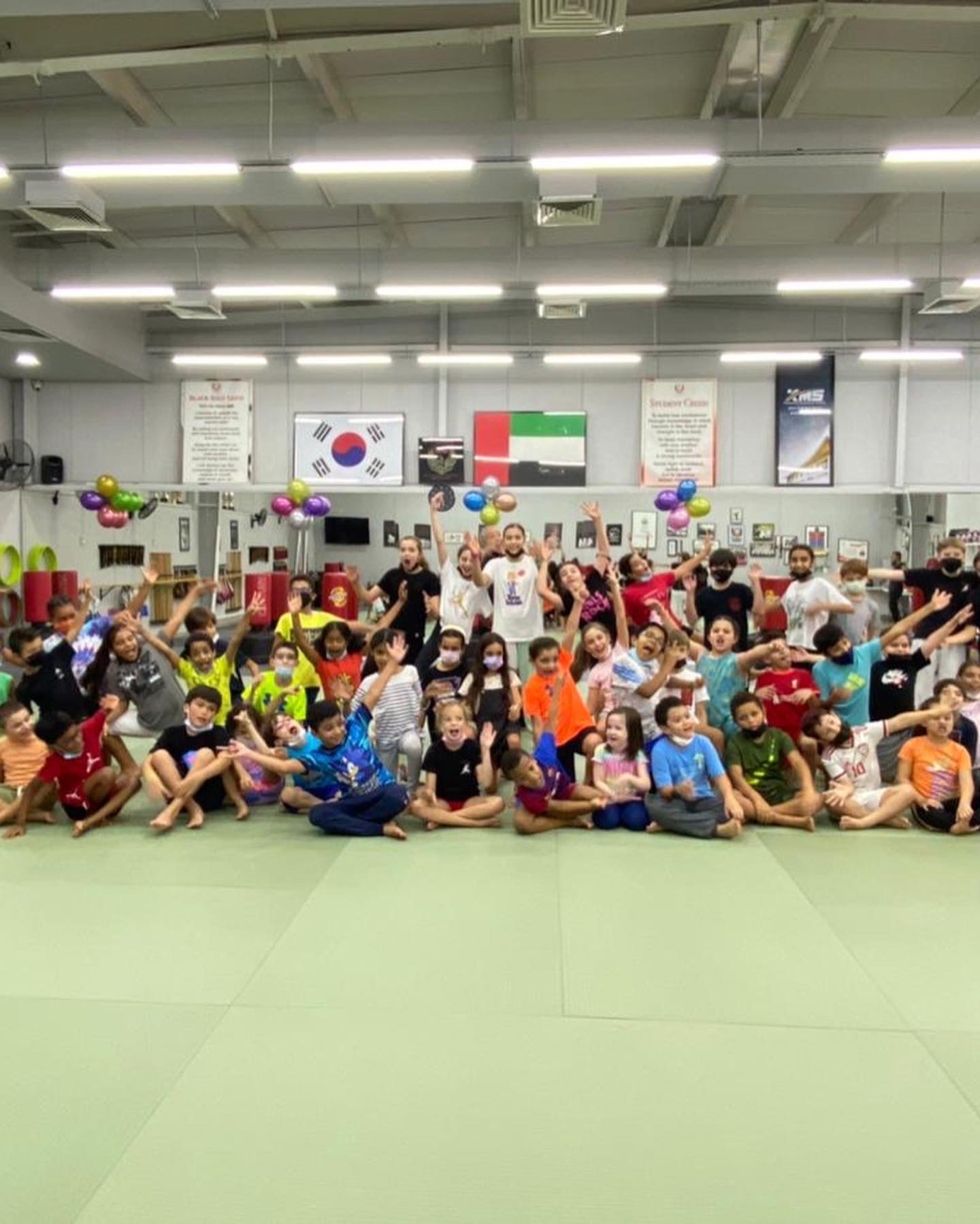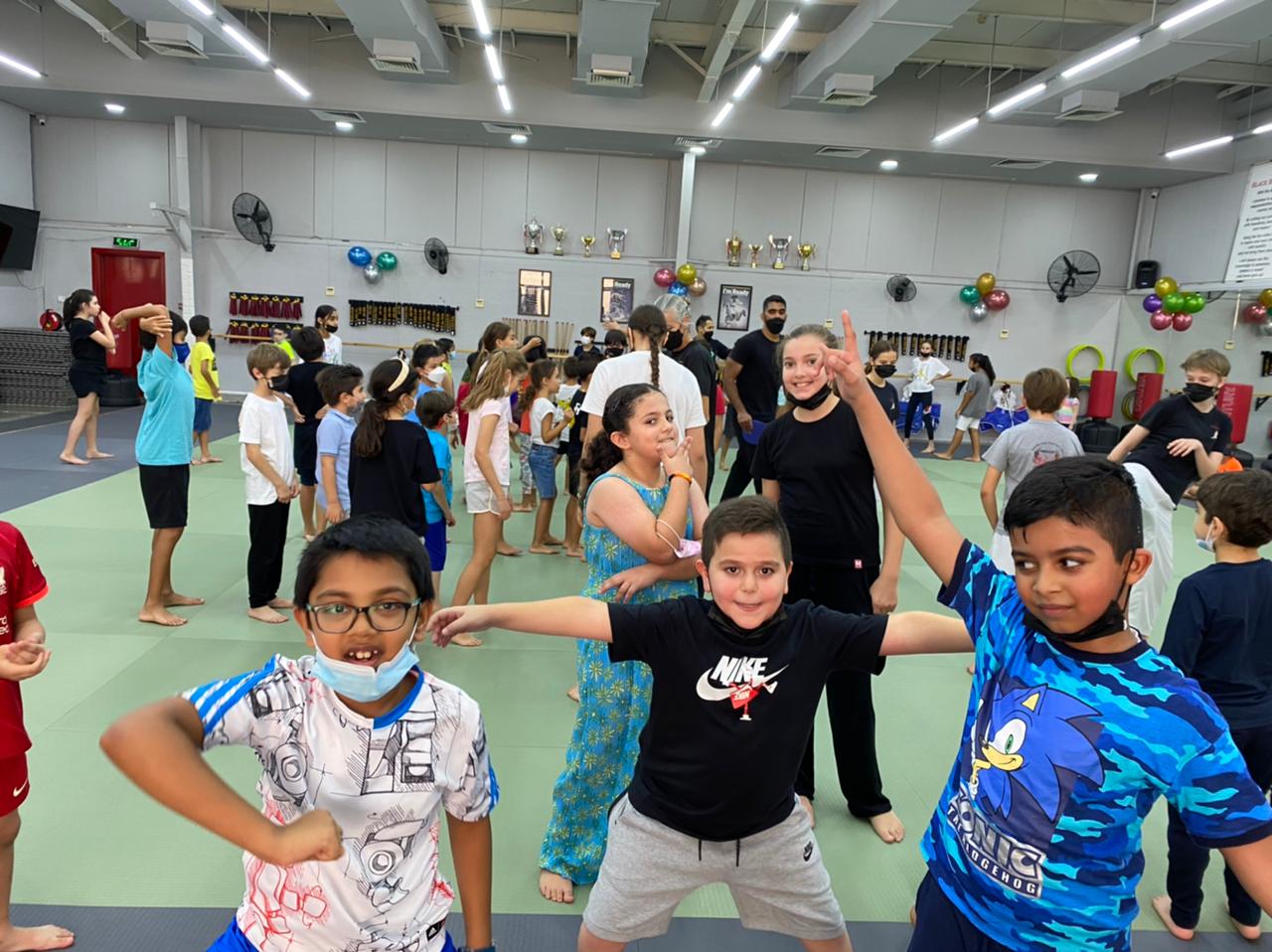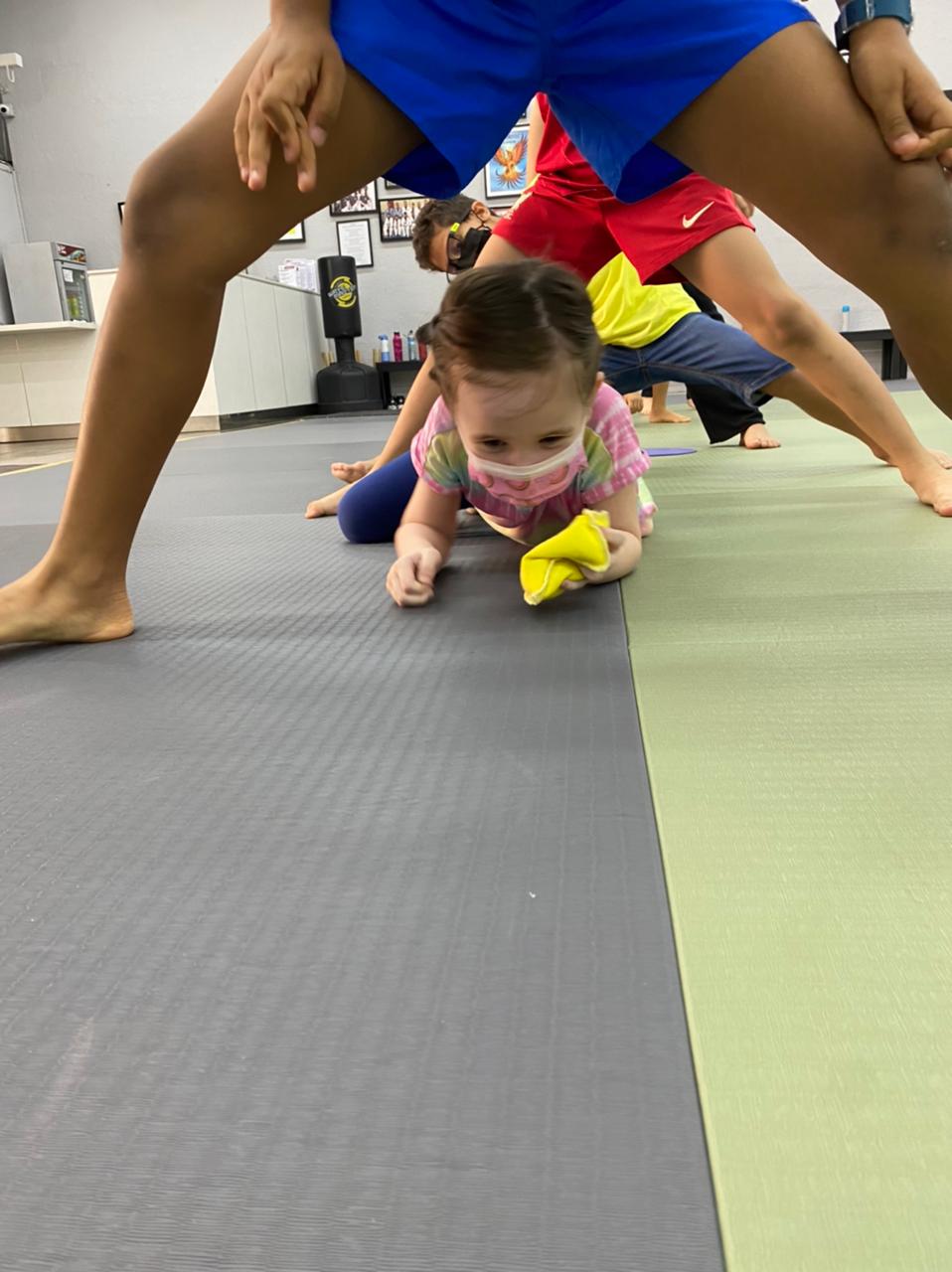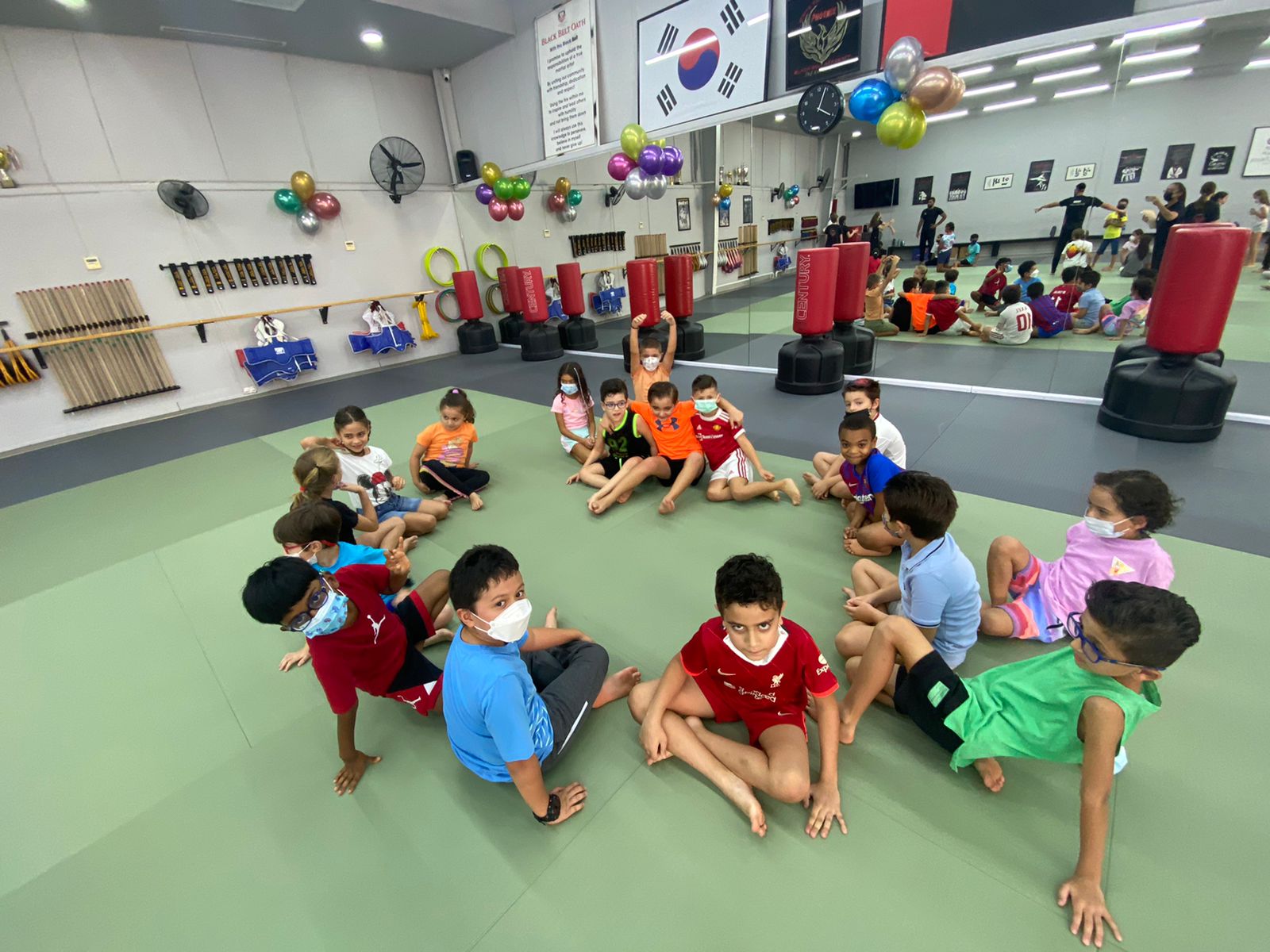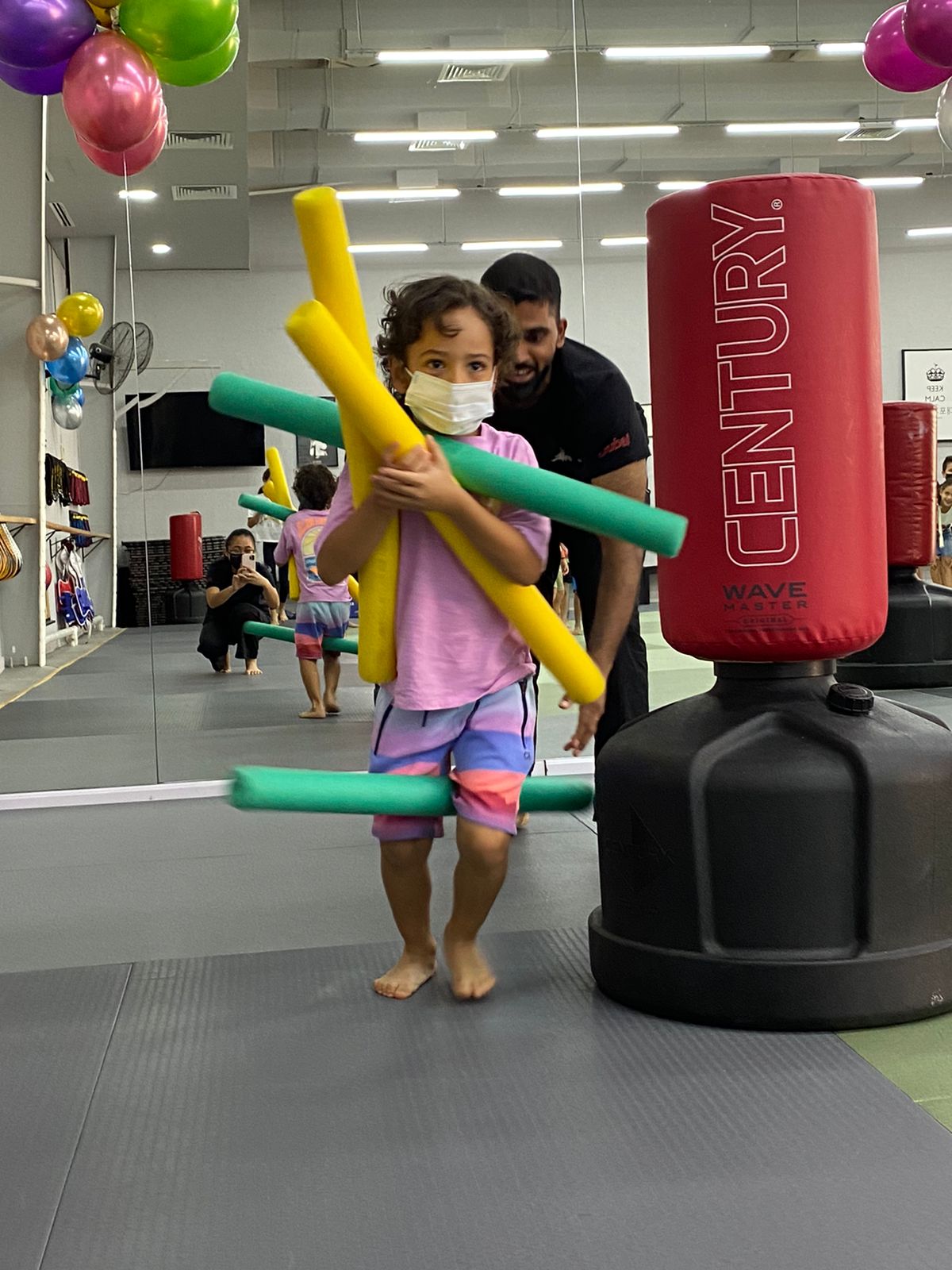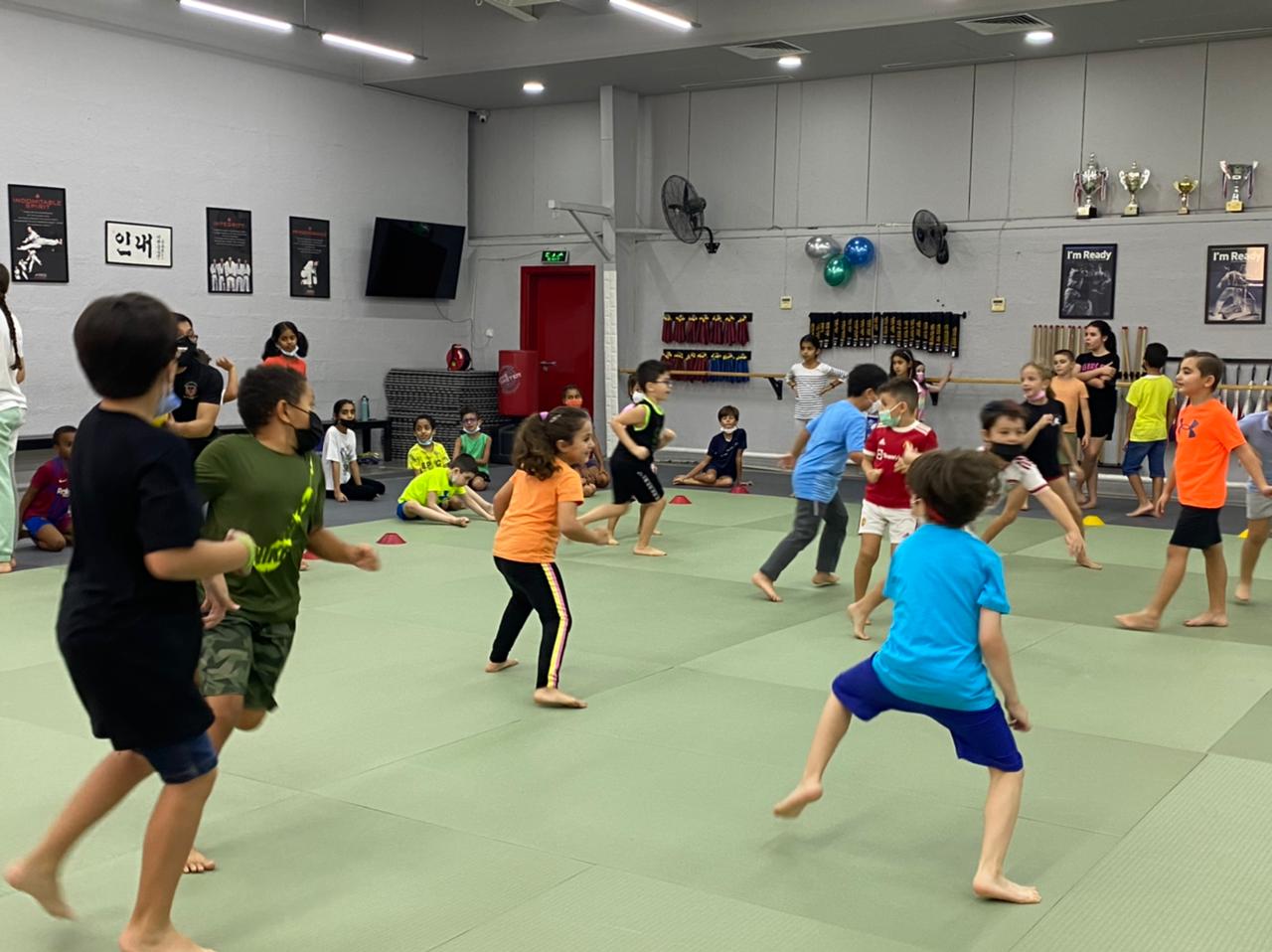 Thanks to our amazing student  Tshegofatso Rapetsoa, (TJ to all of us!) for this very insightful and heartfelt testimonial for what Phoenix Academy has done for you!
We are sorry you had to move back to South Africa over the summer break and did not get a chance to come say goodbye to all your friends.
We know you will be an amazing addition to your next club, school, or sport! Best of luck TJ and we will miss you, so please come back to visit when you can!
Fourth Annual Board Breaking Tournament Is a Huge Success!
The Phoenix Academy Fourth Annual Board Breaking Championship was an amazing display of our students discipline, technique, and courage to compare their skills against friends and fellow students. With over 120 competitors from Mighty Tigers to Youth and Adults, from White Belts to Advanced Black Belts, it was incredible! There was Creative Breaking, Power Breaking and much more, with smiles and splintered boards glaore! Thanks to all the volunteers that made this and all our events a truly community affair, GO PHOENIX!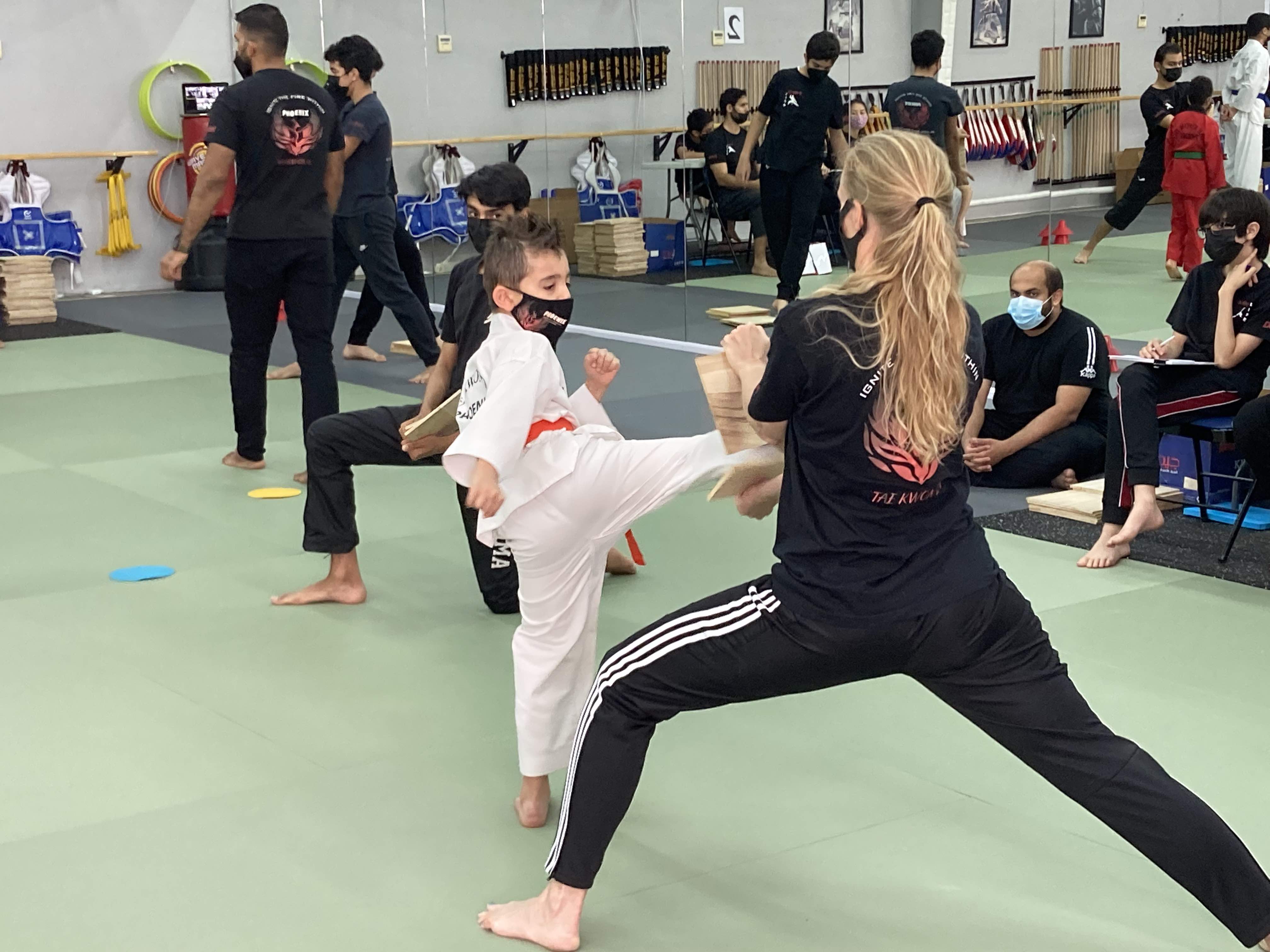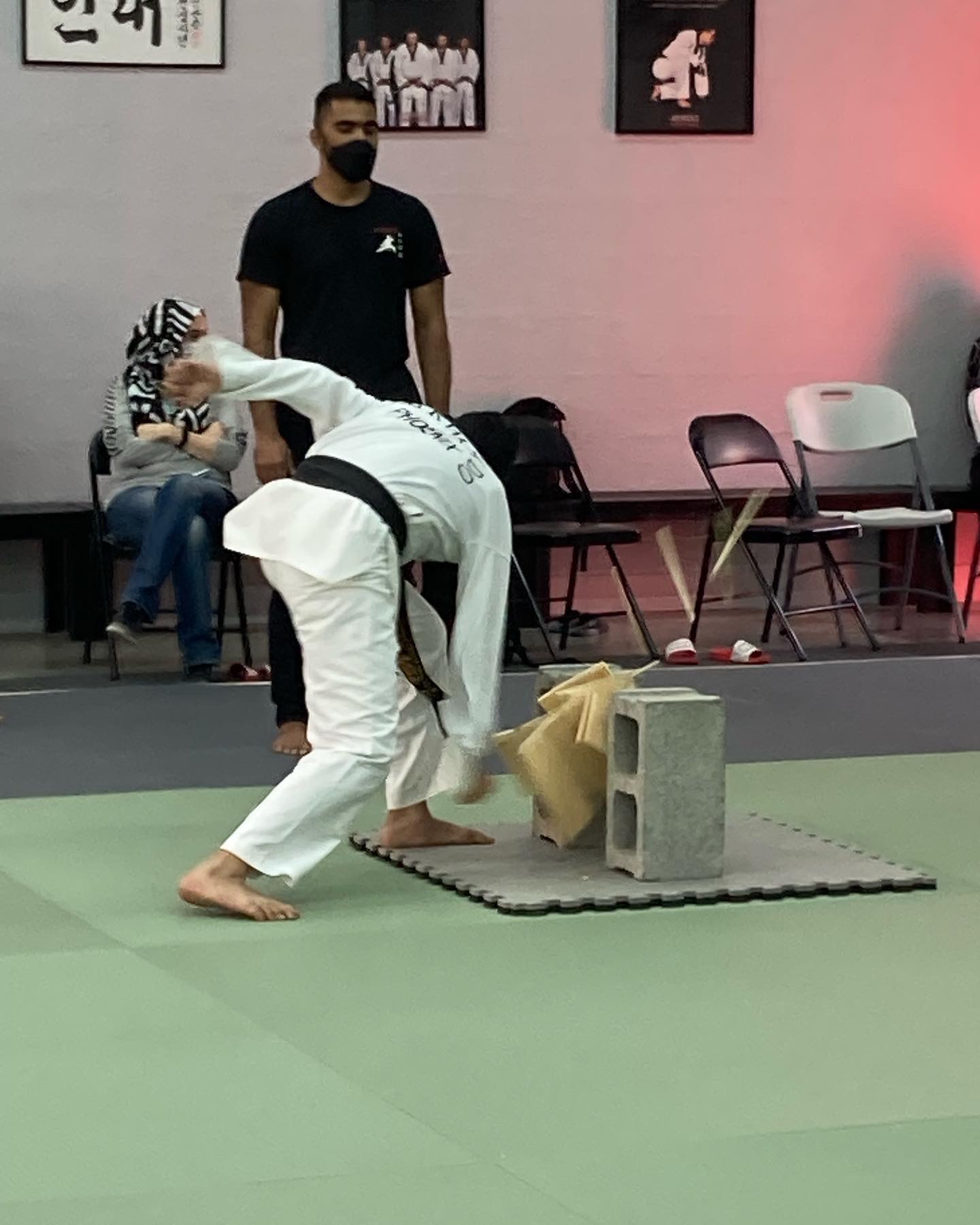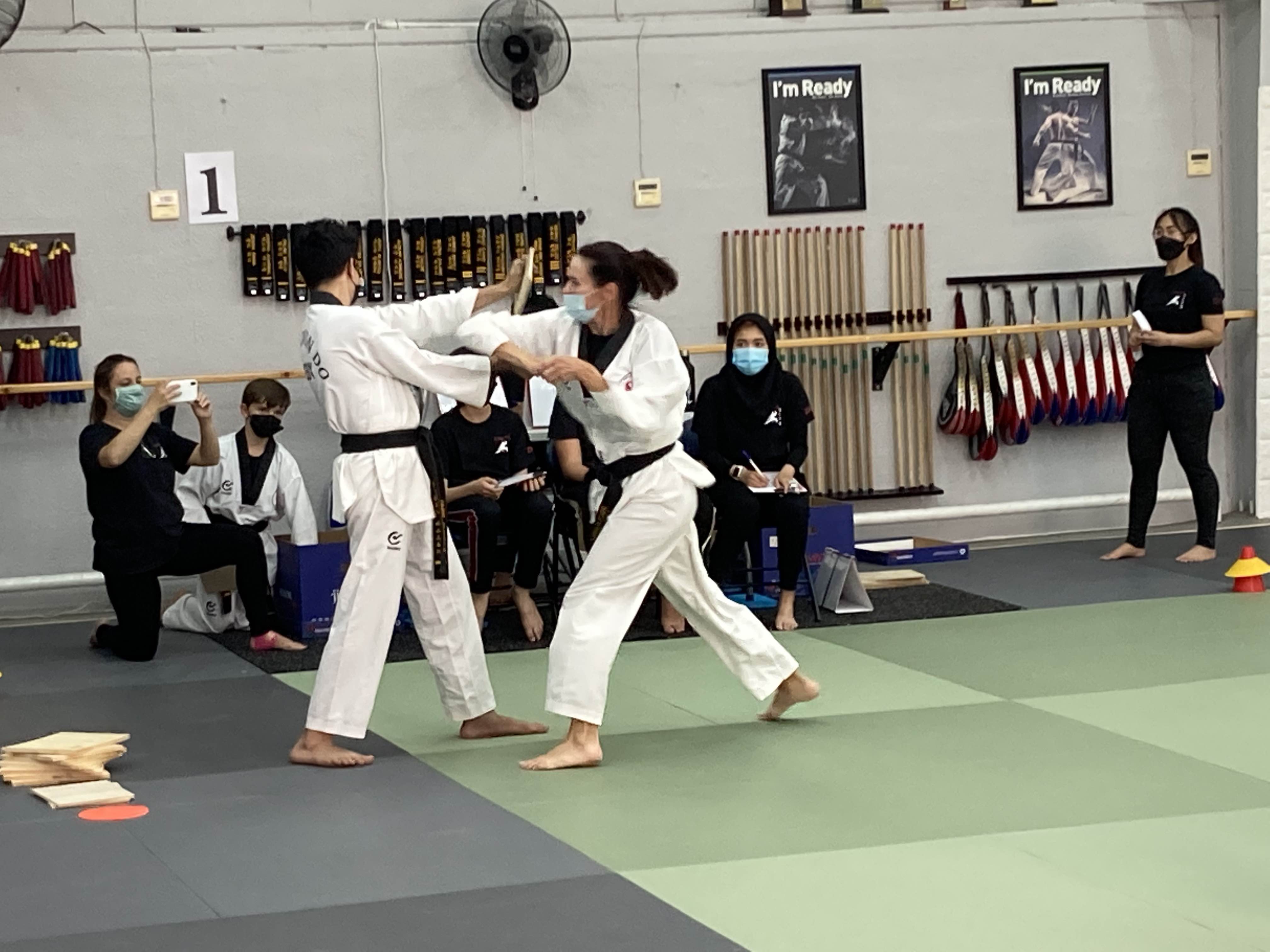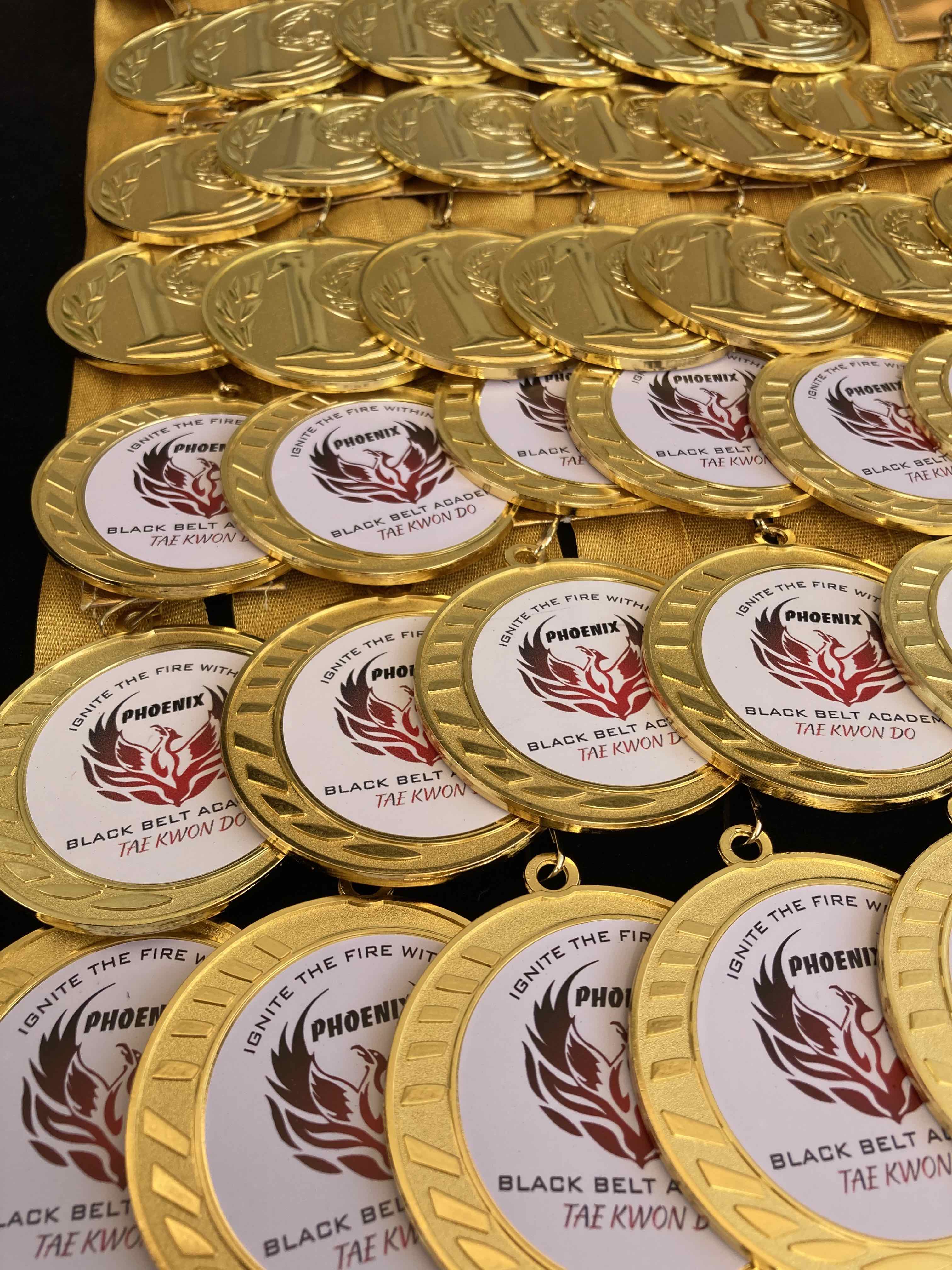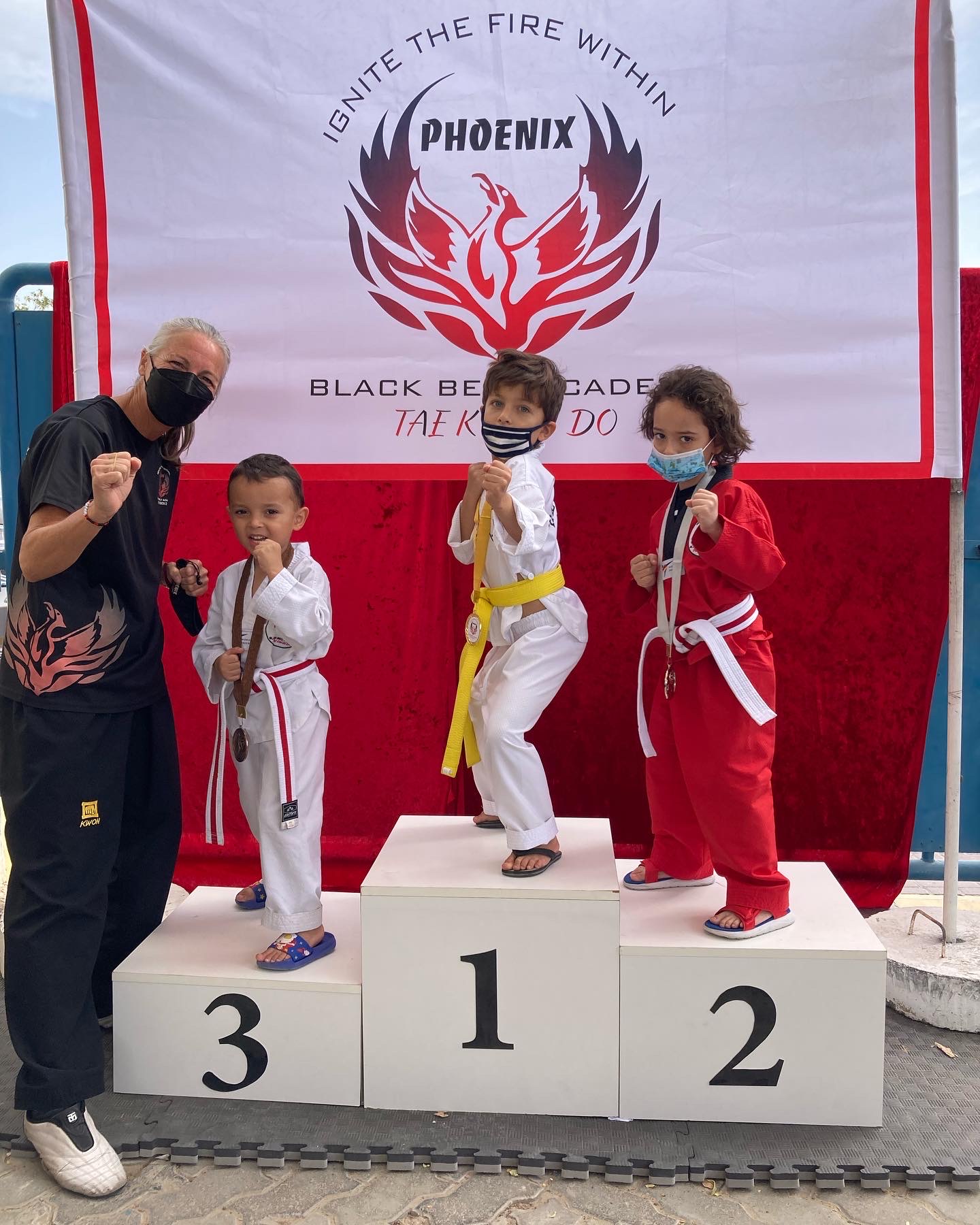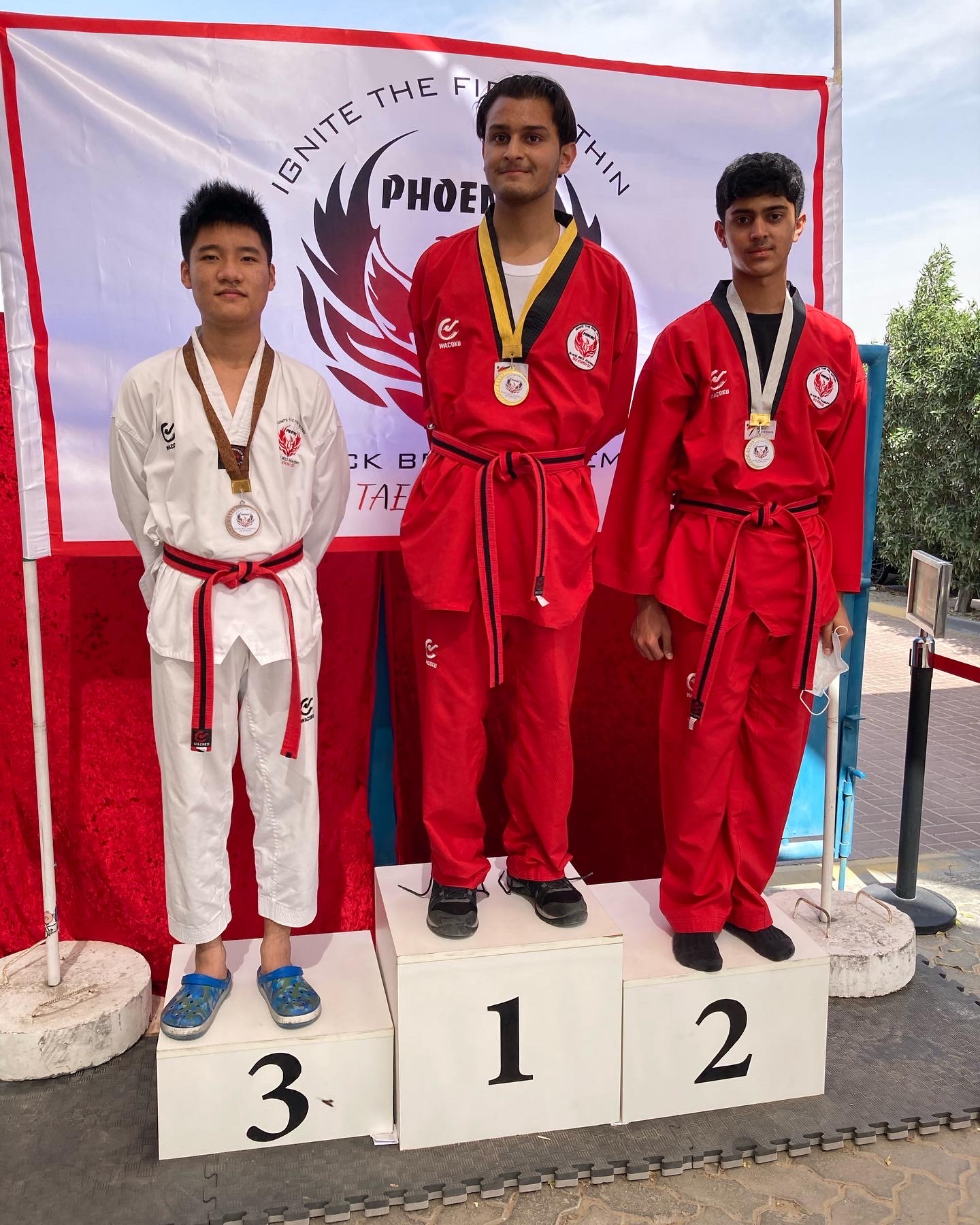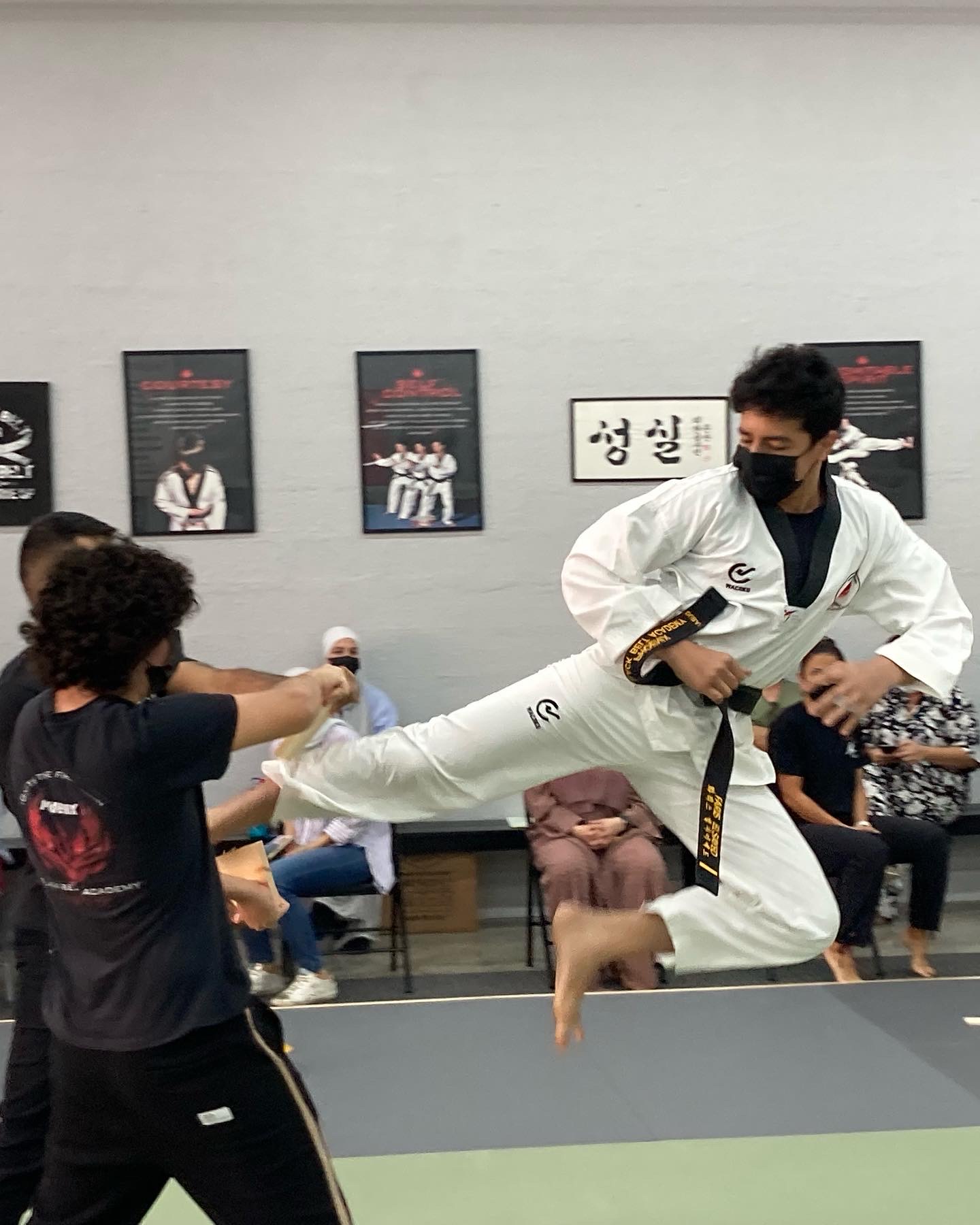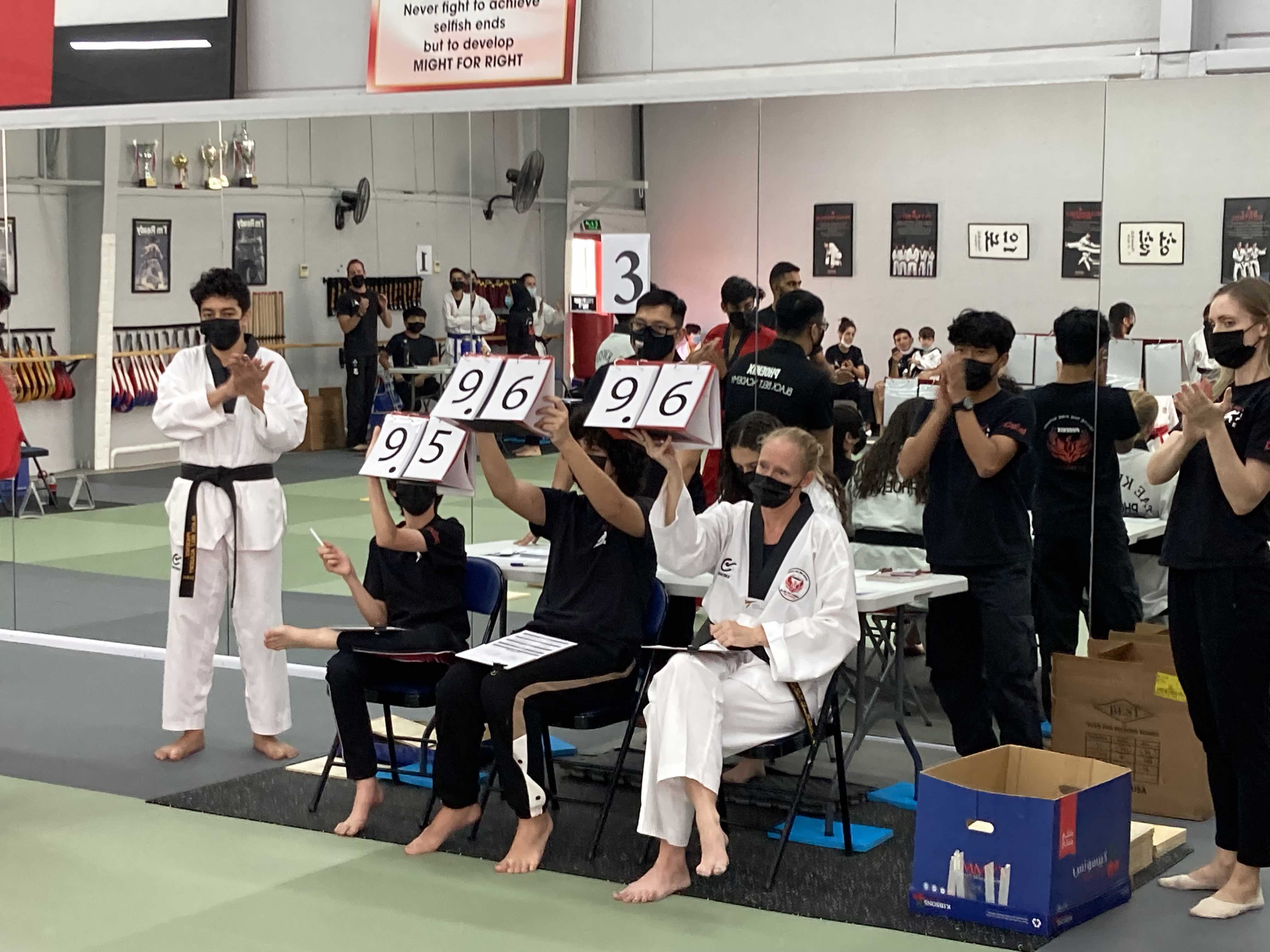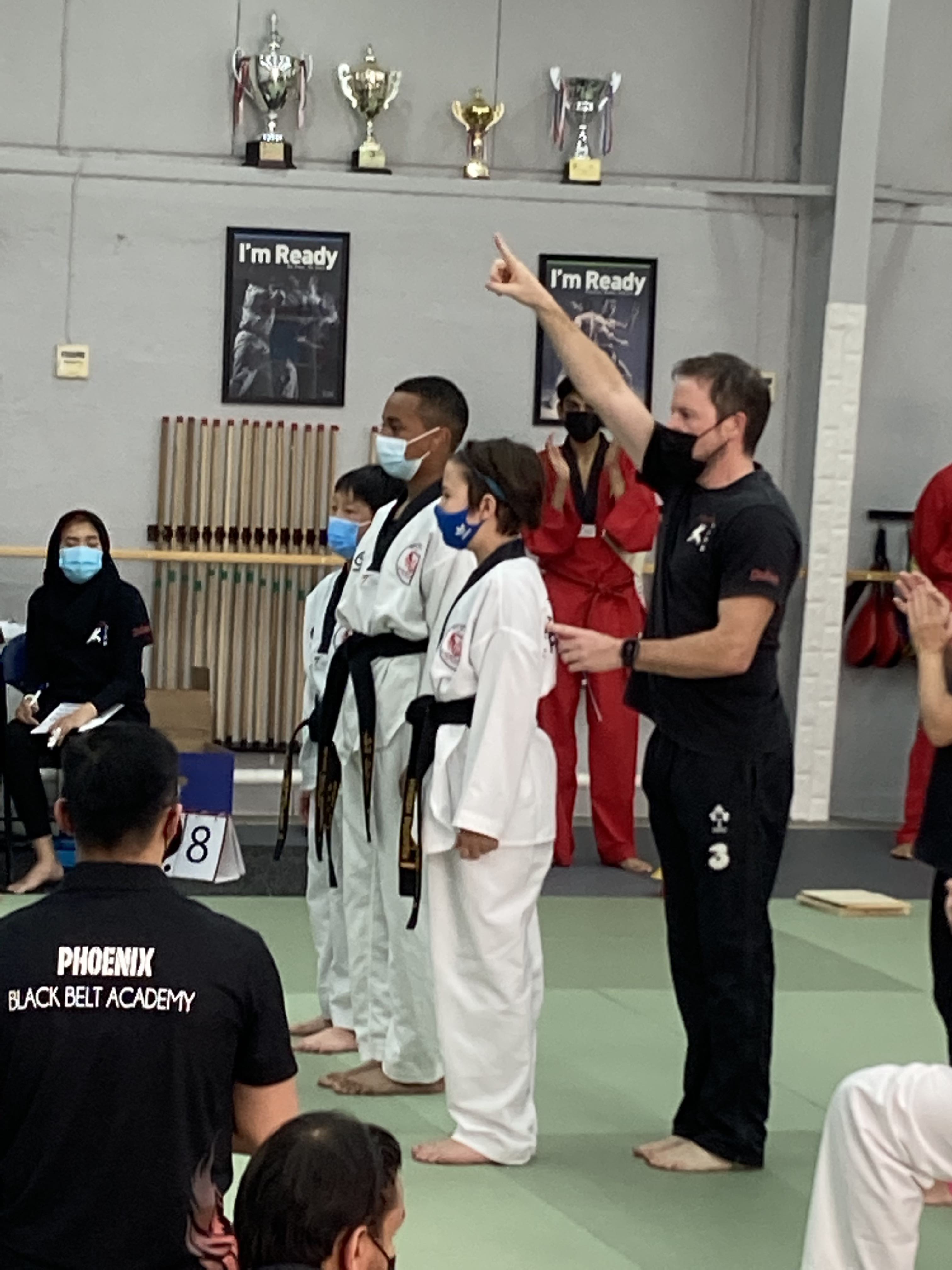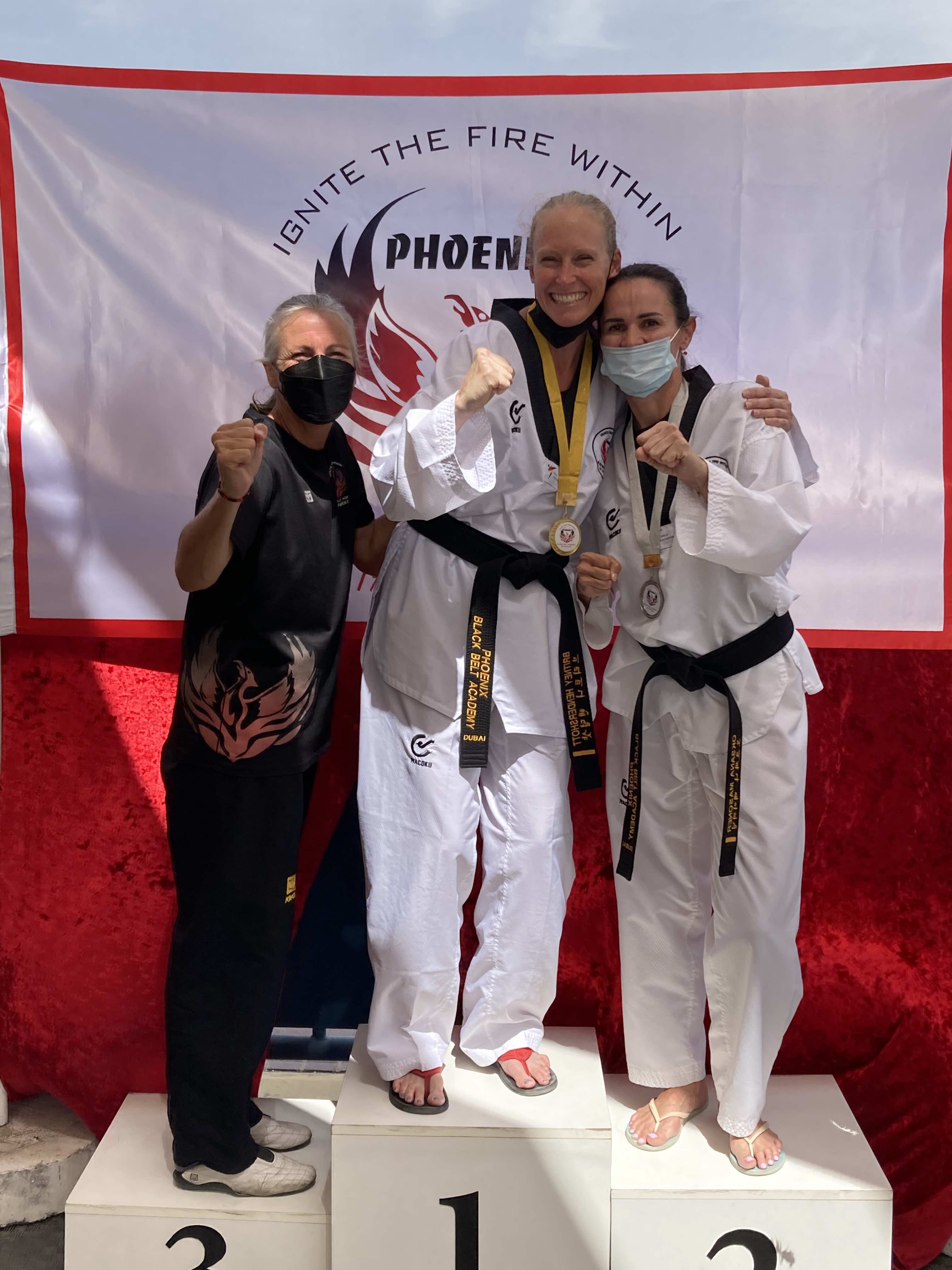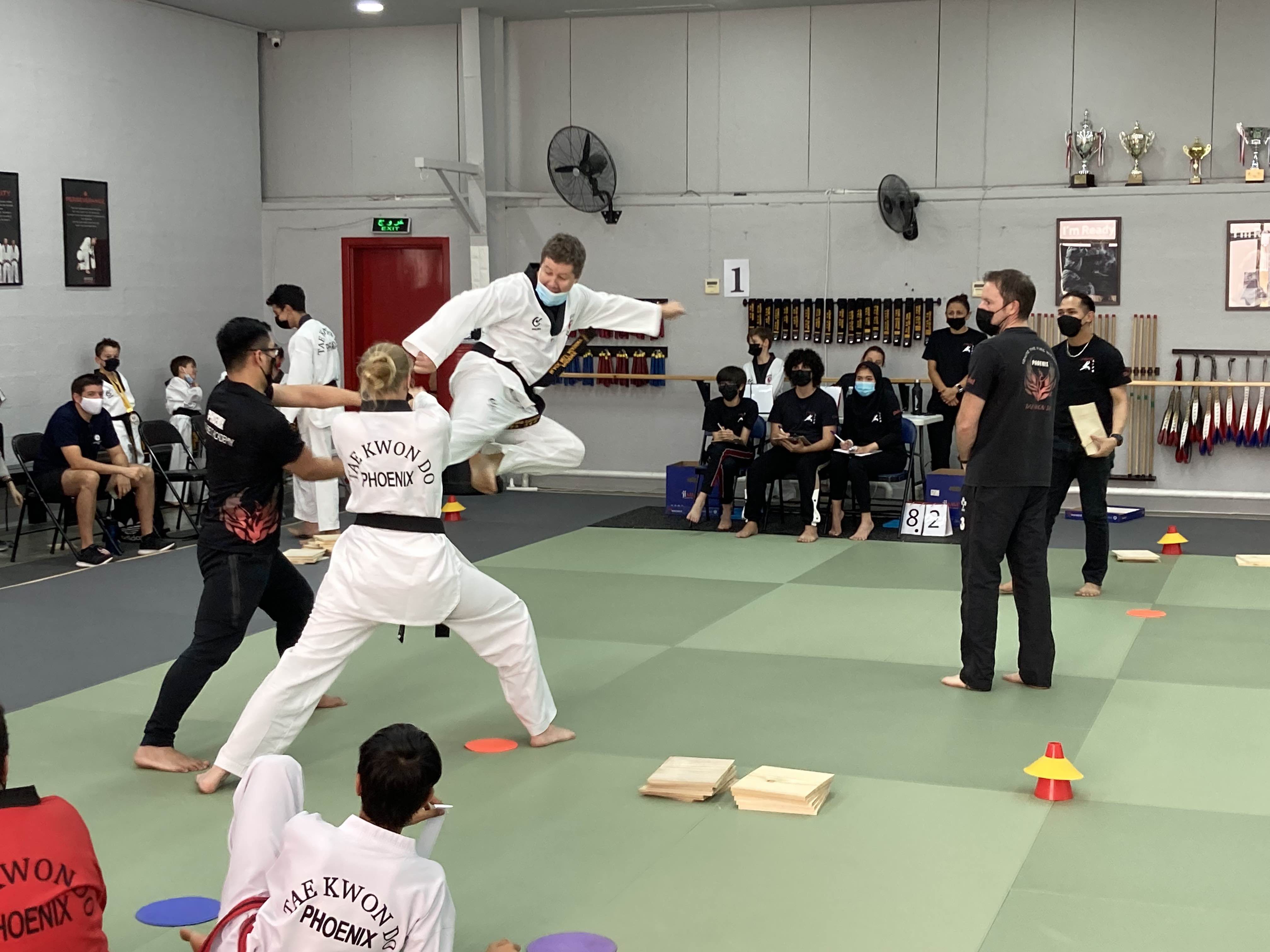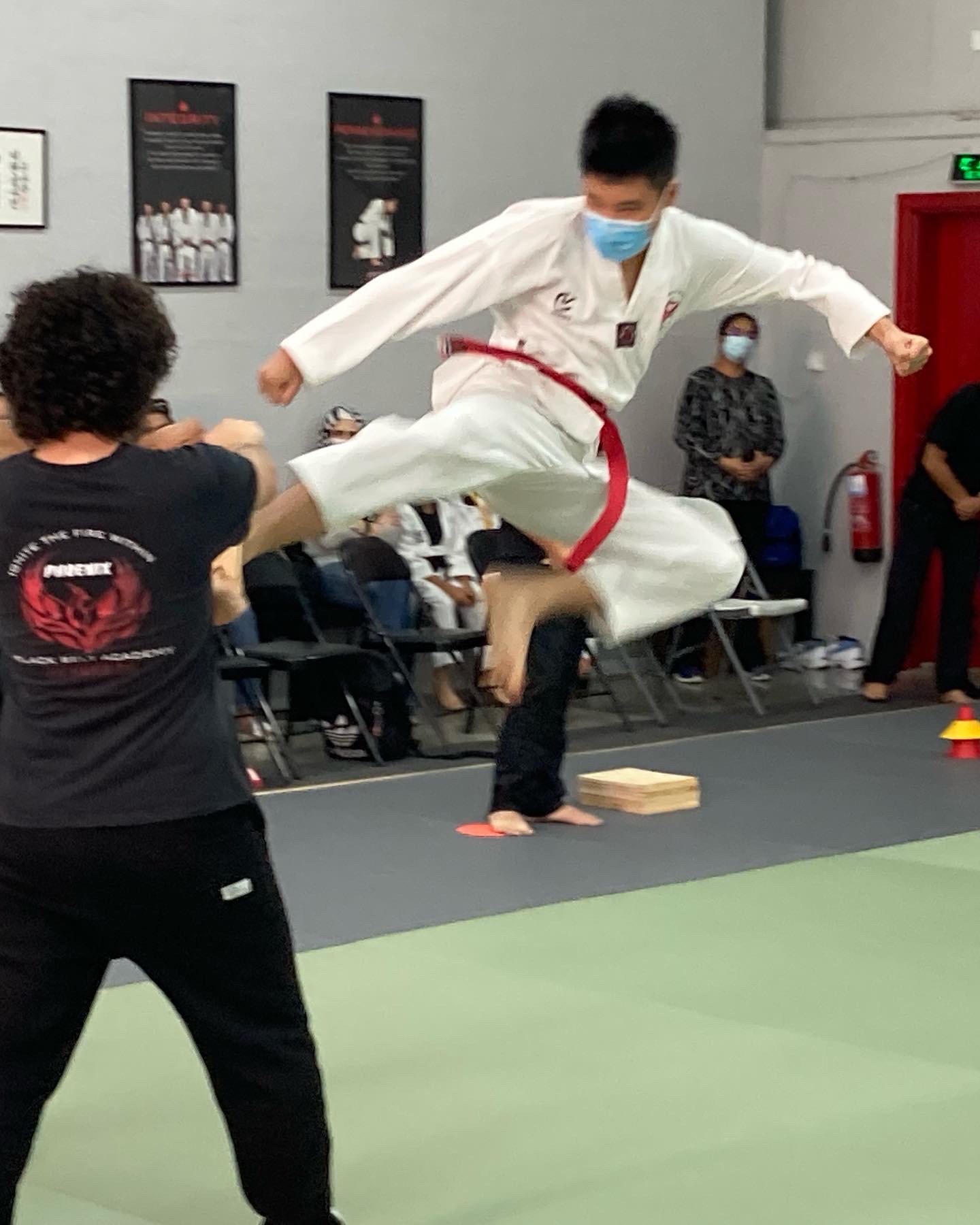 Congratulations New Black Belts!
Well done to all our First and Second Degree Black Belt Candidates that successfully passed their recent Black Belt Examination for January 2022! Everyone displayed their best performance for the Black Belt and Masters Judges Panel. This is an amazing achievement, wear your new belt with Pride!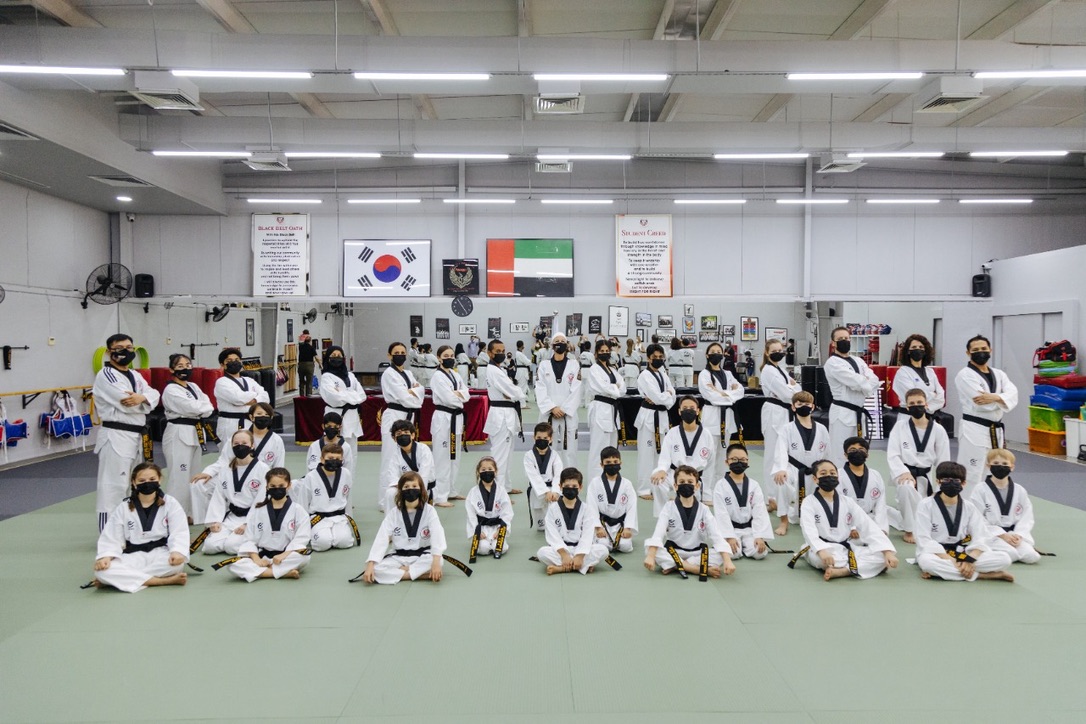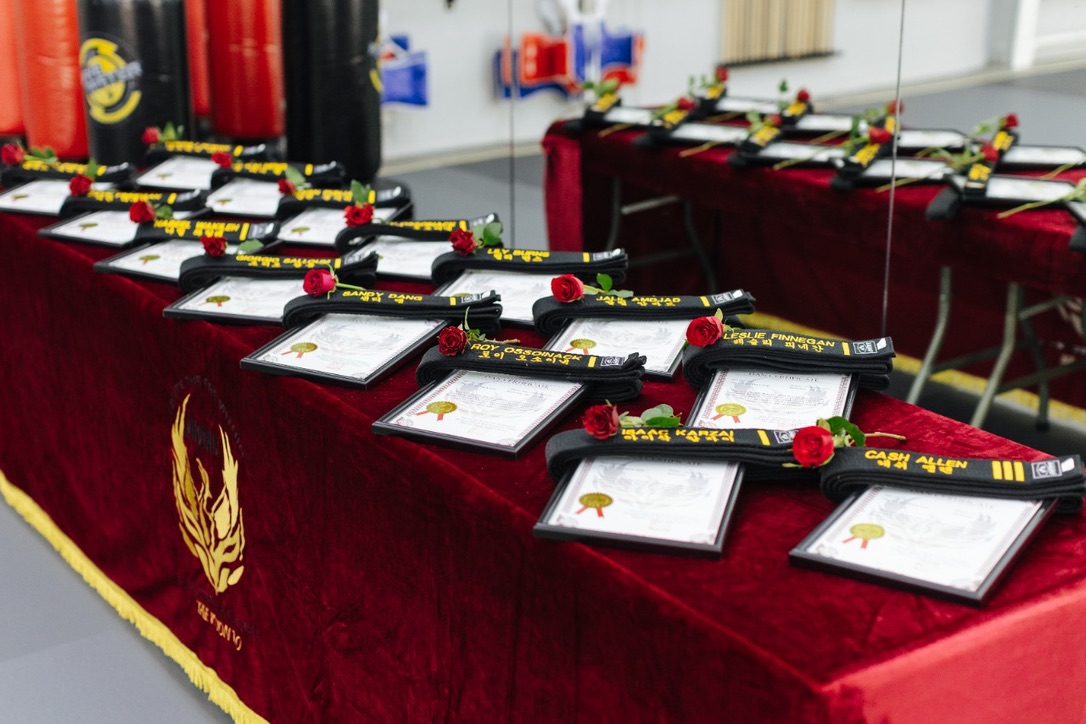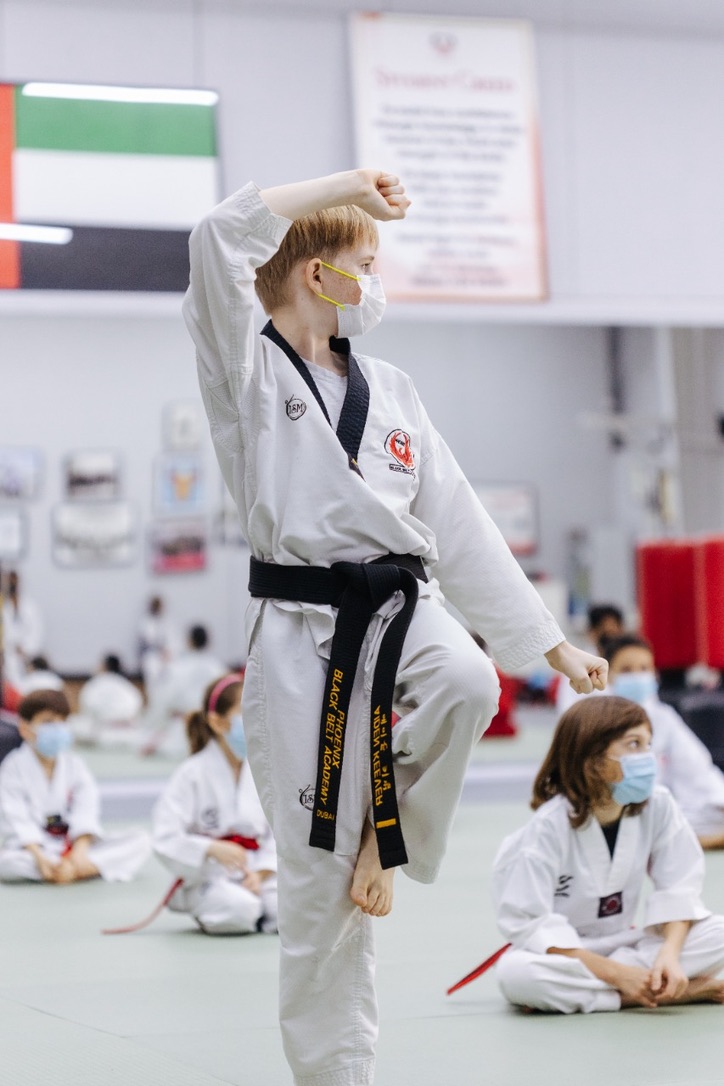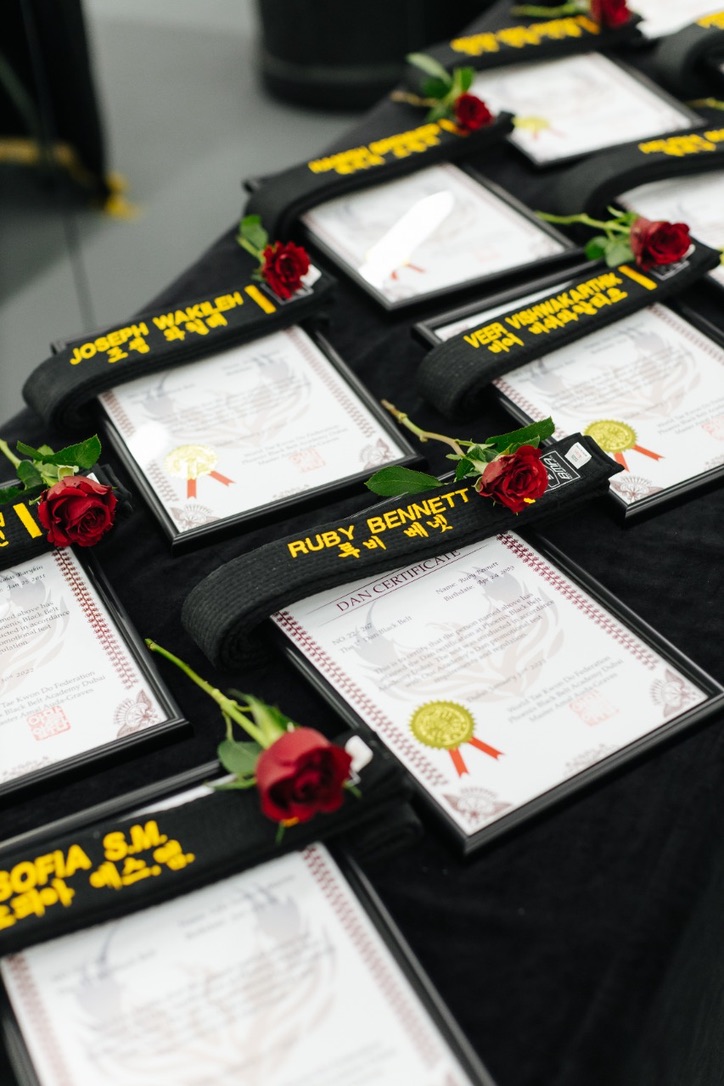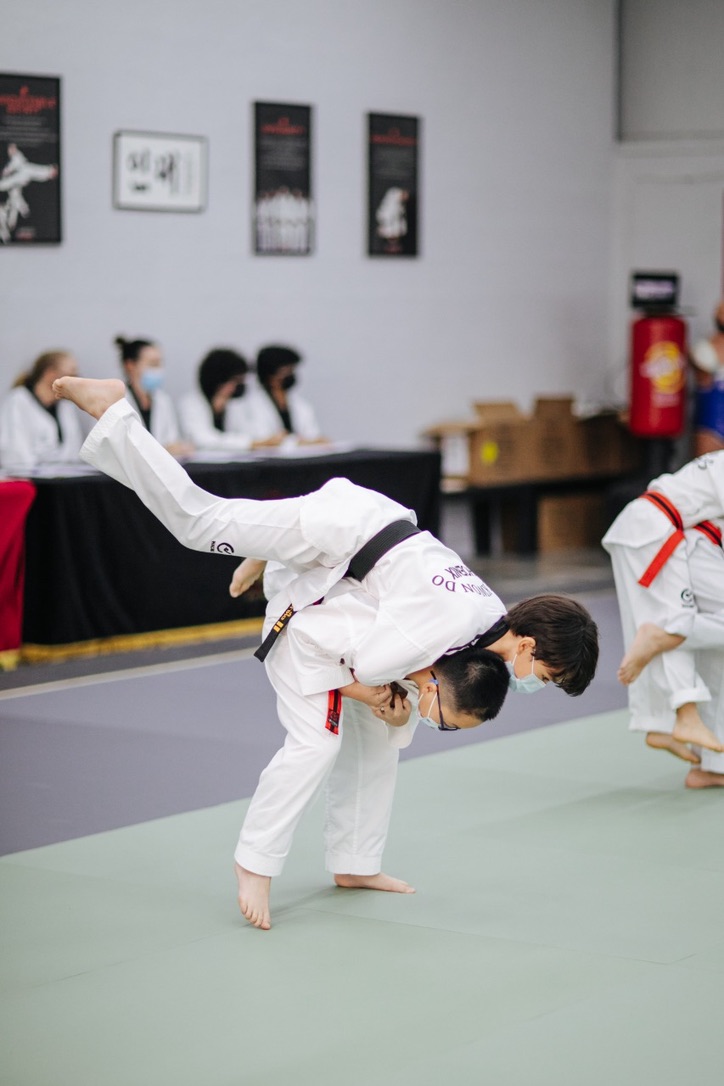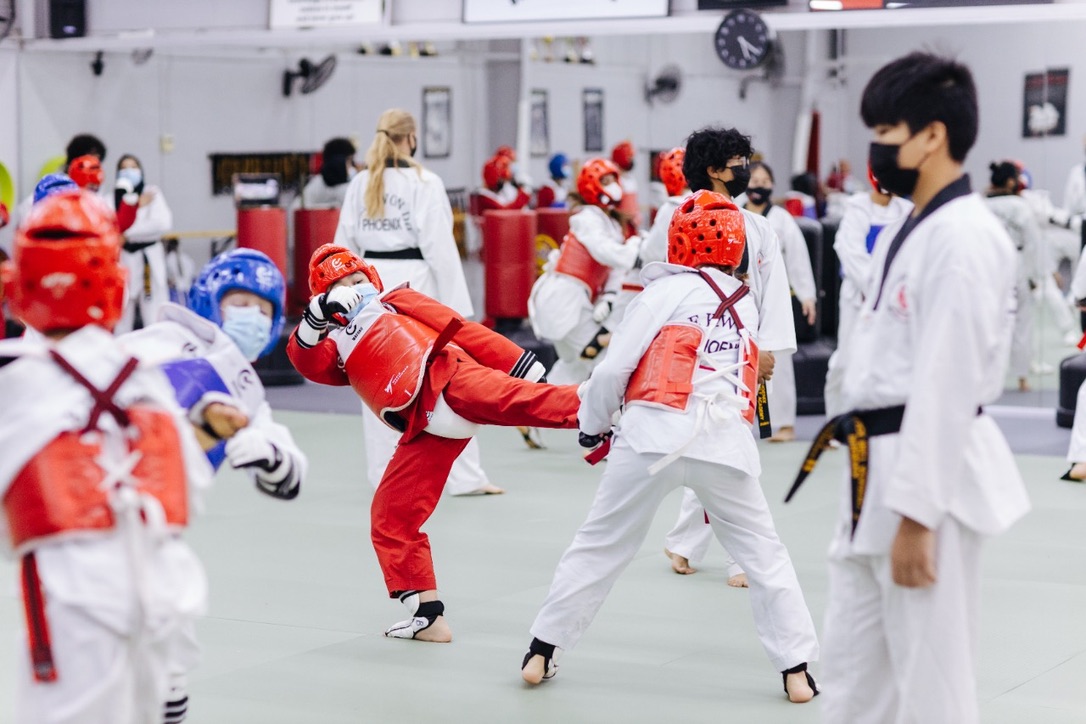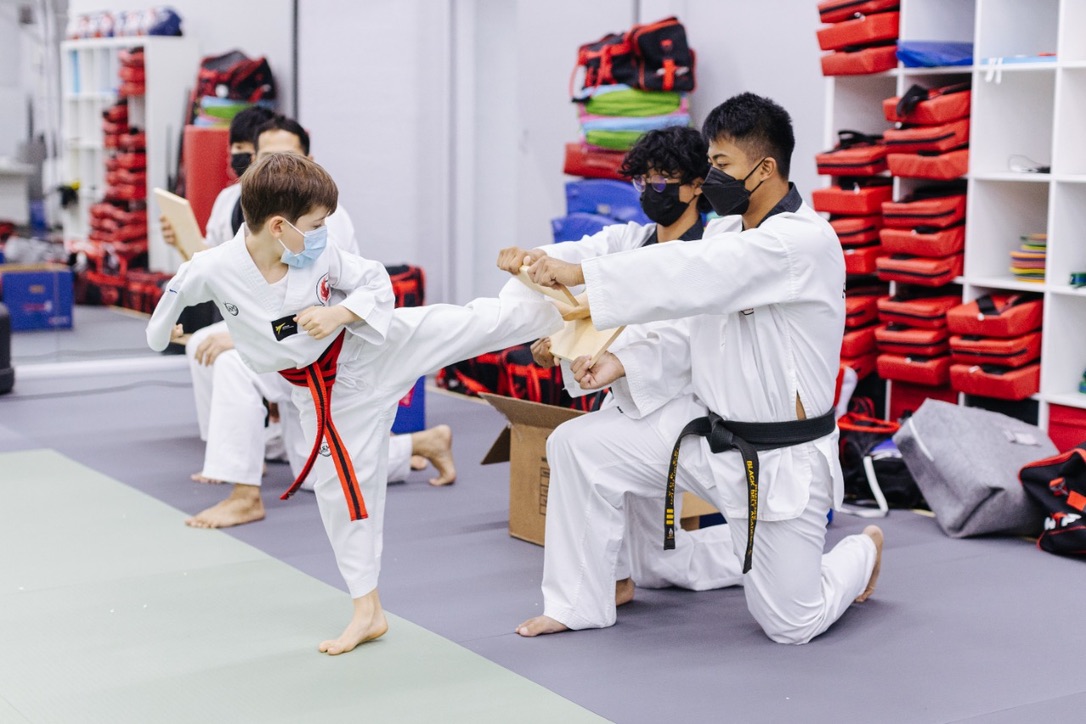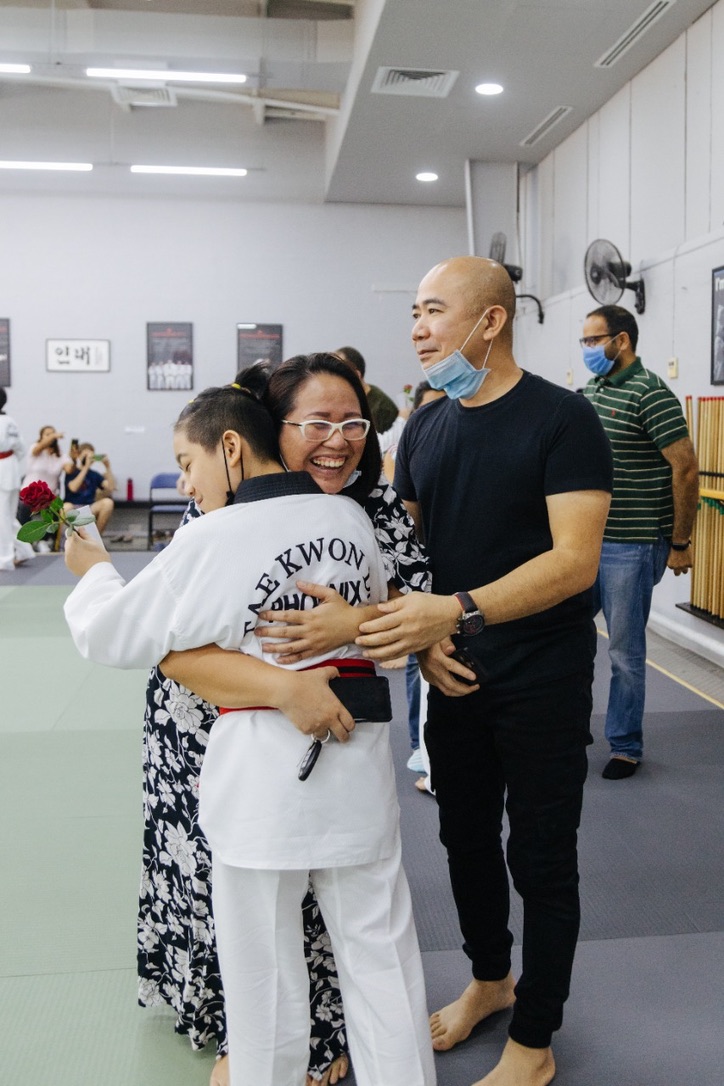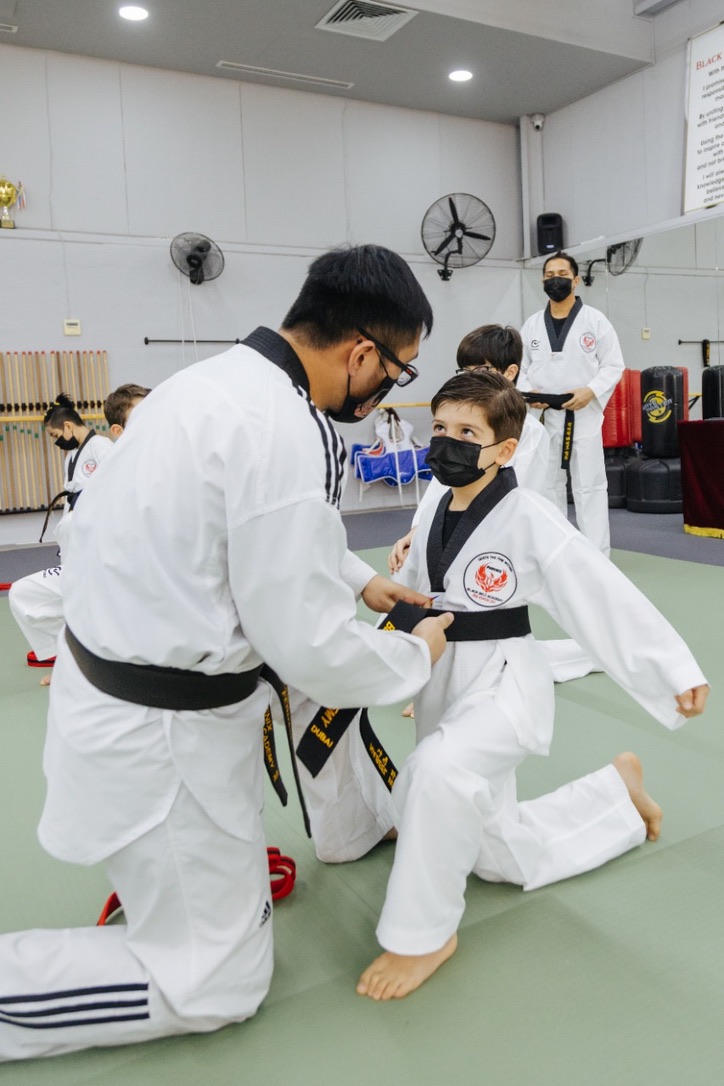 Hey Phoenix Family!
If you haven't been to the Academy lately, look what you've missed! Our new renovations to start 2022 off right include new energy efficient lights, fresh paint, new changing room and storage, new seating benches, aaaannnnnddd…..brand new Tatami martial arts mats! This is a serious upgrade that will last many years and provide the best protection for our demanding workouts. Thanks to all that helped make this happen, Master Graves and the whole staff put in many long hours and it really paid off! Come see for yourself and enjoy!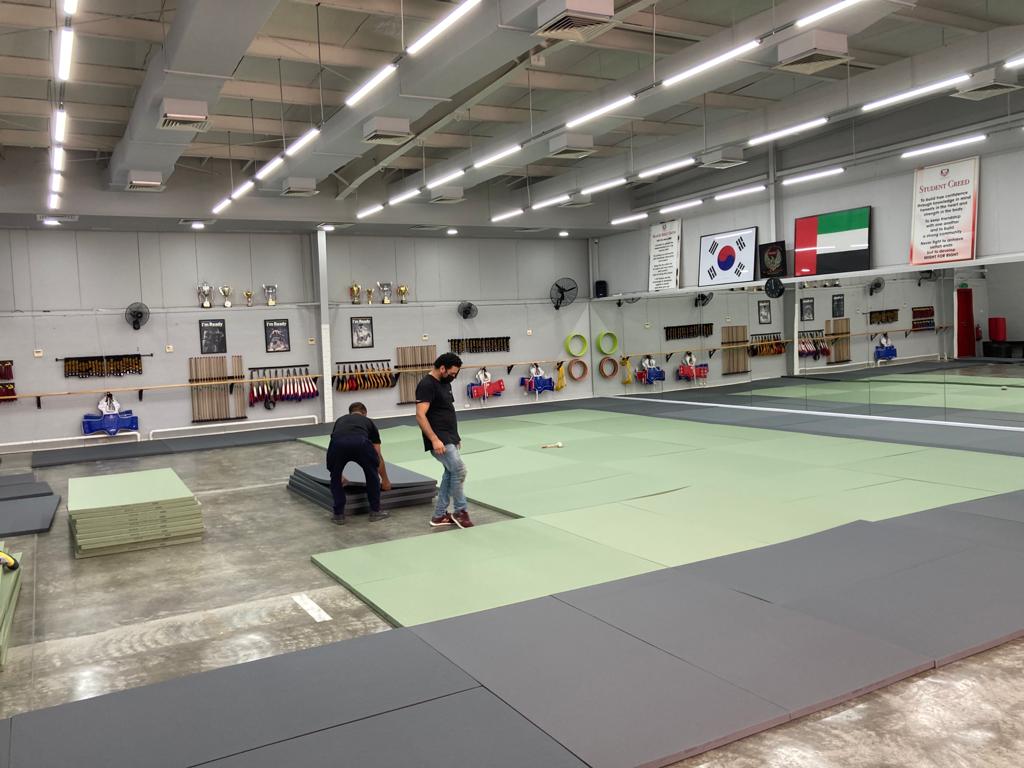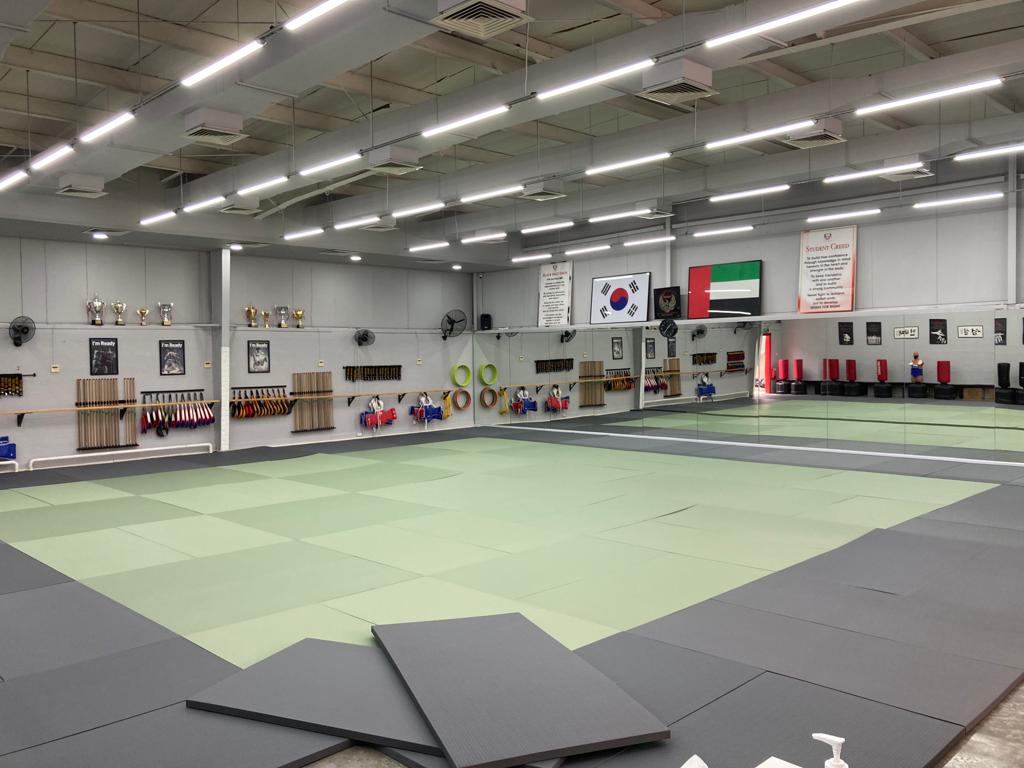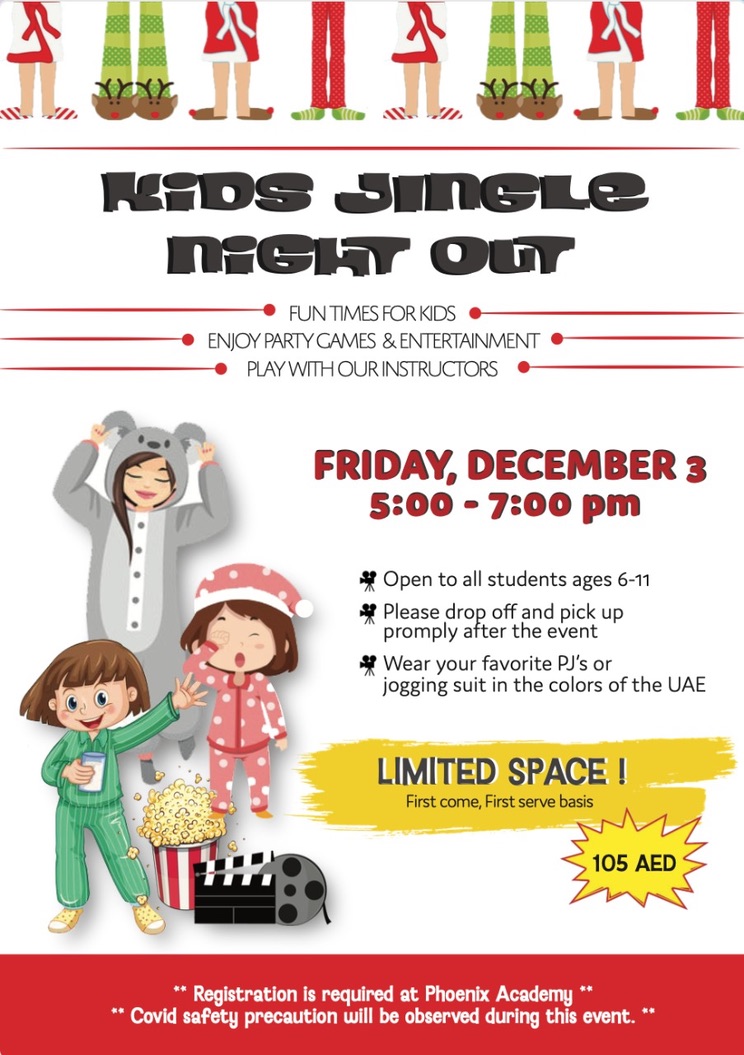 Hey students age 6-11, it's time for our Phoenix Kids Jingle Night Out event! Once again we will have games, snacks, and best UAE Flag colors in your PJ outfit! Sign up today as space is limited for this super fun event on Friday December 3rd from 5pm to 7pm. Register today at the Academy as it's fist come first served!
The Annual Phoenix Halloween Spook Fest is Back!
Calling all students ages 6-11, our most popular kids Themed Night Out is here again! There will be fun games, treats and a contest for the best costume of the night, so get creative and show your fun, spooky looks to scare your friends or make them laugh! Call today as due to COVID spaces are limited. See you there!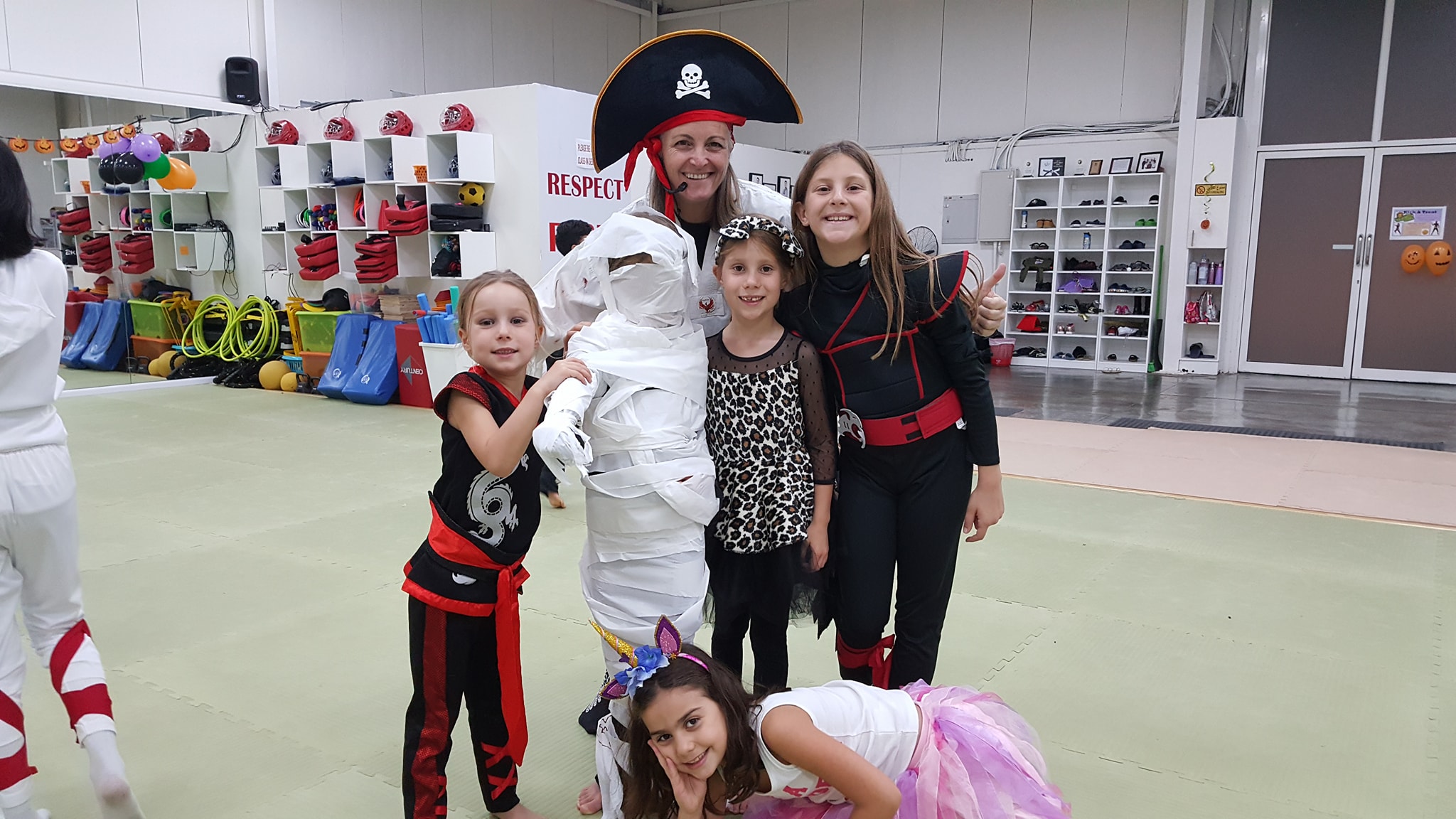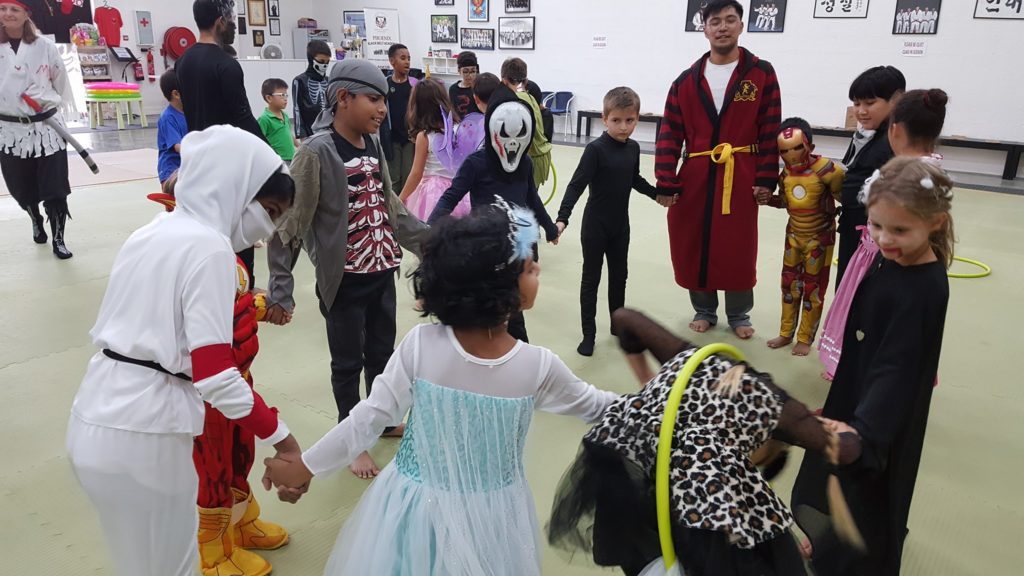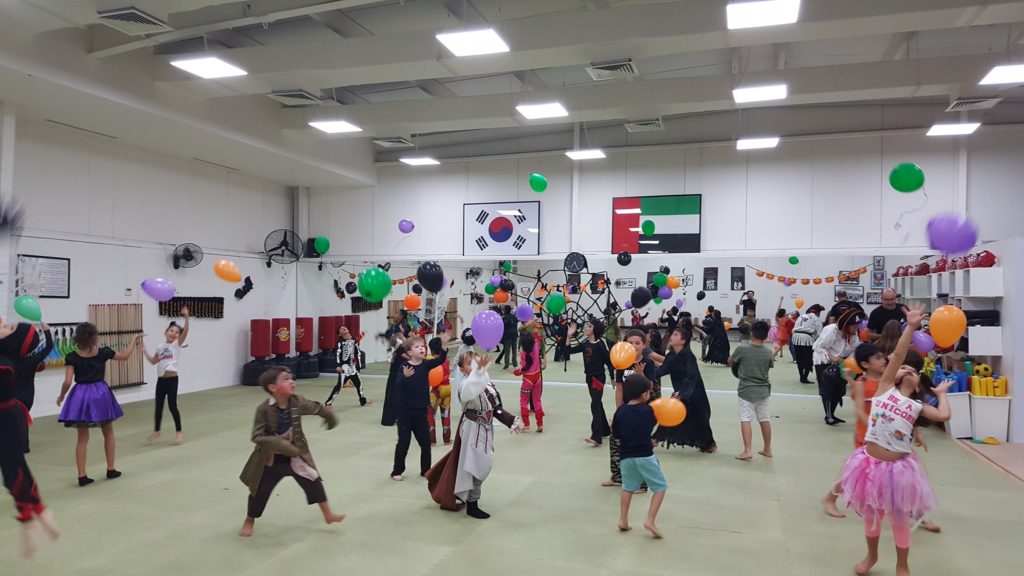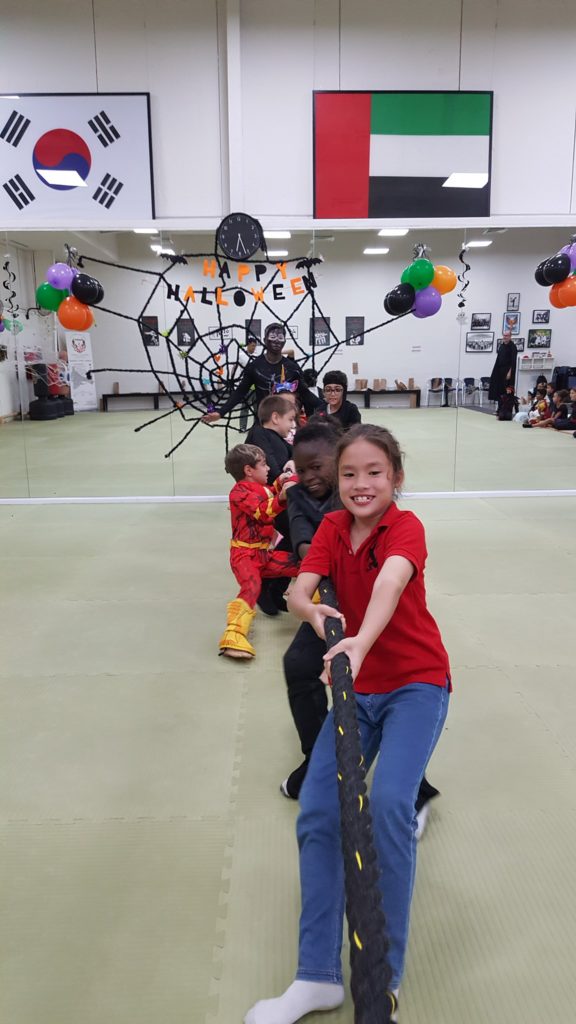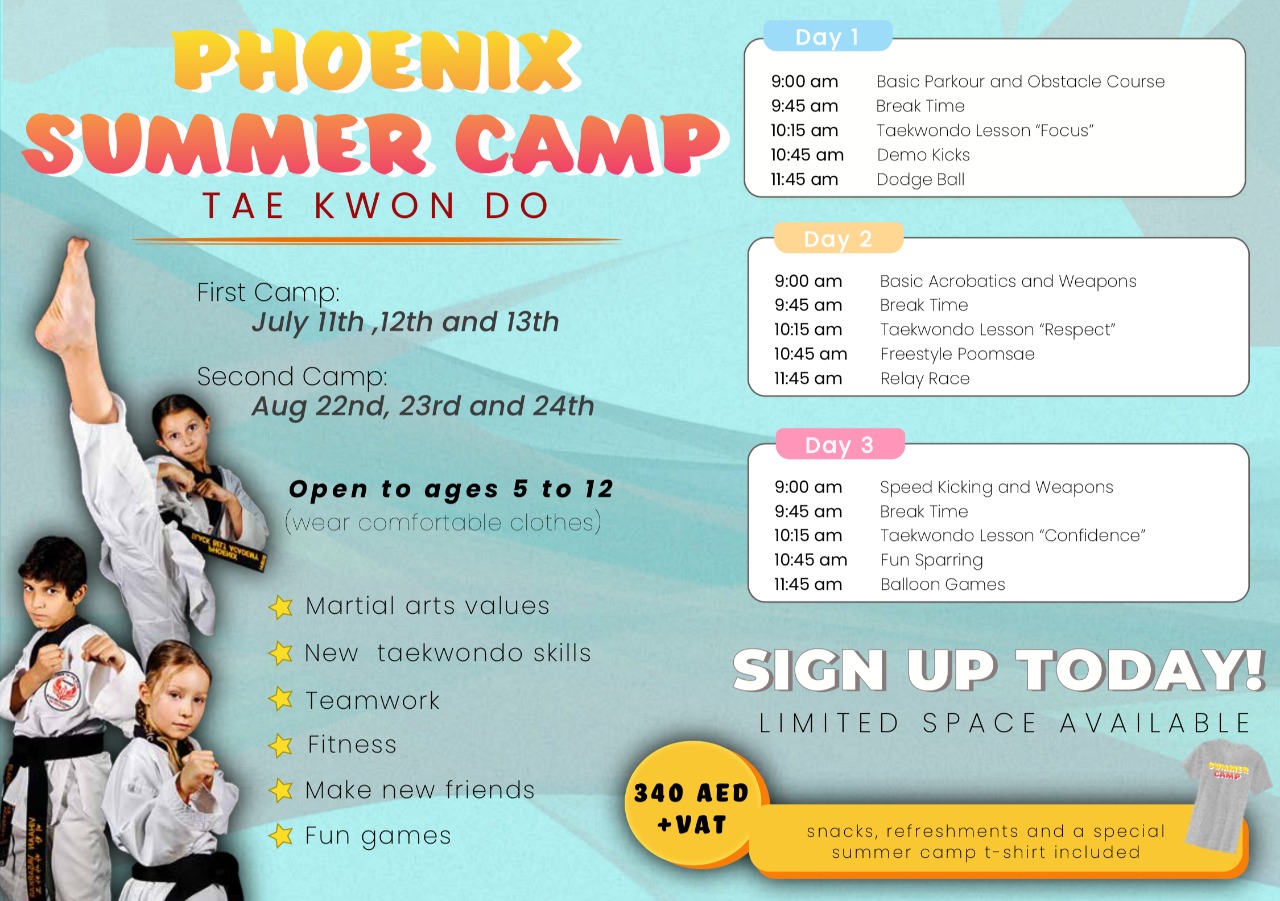 Phoenix Academy Summer Camp is back! After last summer's isolation due to COVID restrictions we are proud to announce the Annual Summer Camp is here at last for all belt levels from age 5-12. We will have games and skills workshops that cover poomse, weapons, fun sparring, and more! Don't miss basic Parkour obstacle course balloon games and the always popular DODGEBALL! 340 AED covers the three day camp, snacks, and a special camp T-shirt! Sign up today as space will be limited!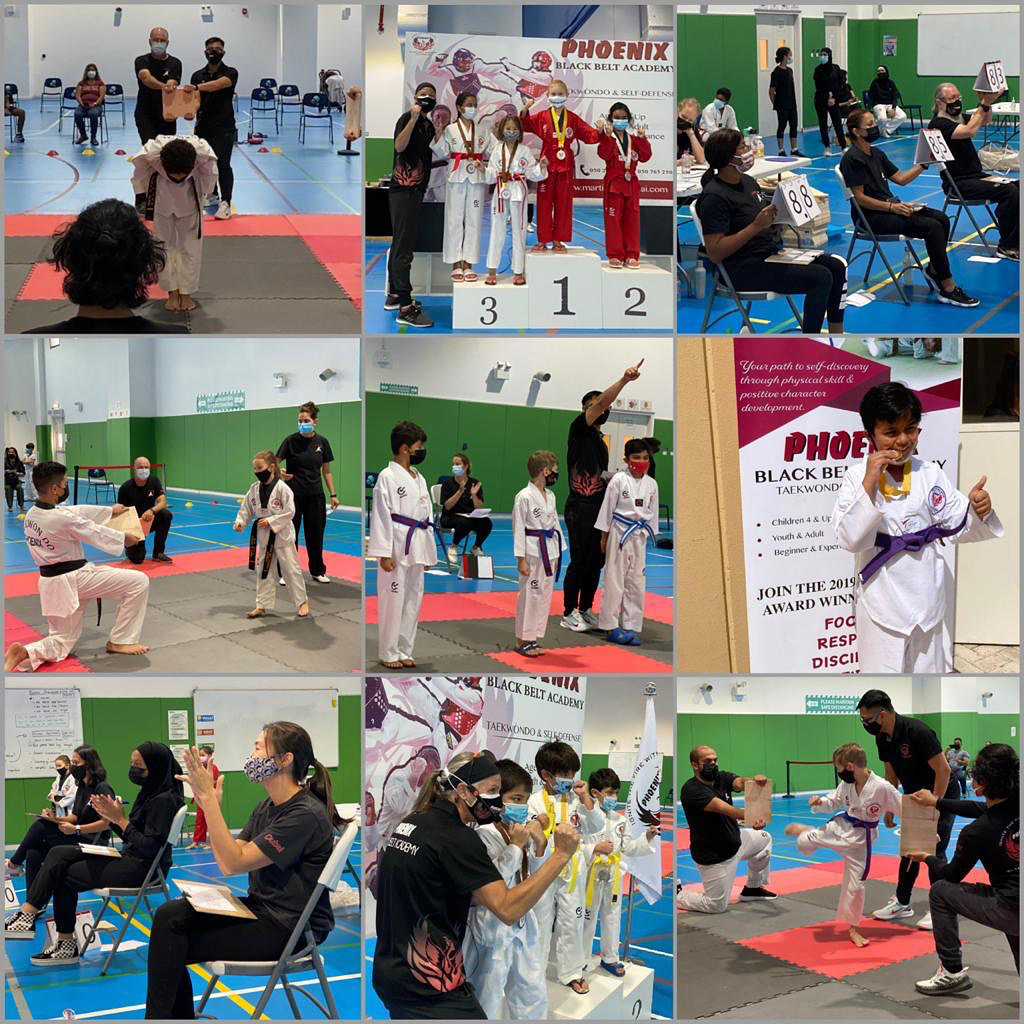 Phoenix Academy Third Annual Board Breaking Championship Another Great Success!
The third installment of our annual board breaking tournament was an amazing experience for everyone that came out to show their skills. Students from our Little Tigers age 4-5 were fierce competitors! More advanced belt levels and age groups had increasingly difficult breaking techniques such as jumping and spinning kicks that demanded a combination of precise timing and power to earn a gold medal! Many thanks to our adult students that volunteered to judge, referee, and organize the event to give our students the valuable experience of performing under pressure. Go Phoenix!
Happy 10th Birthday Phoenix Academy! 
It has been an amazing journey with many friends and families sharing with us along the way. We want to thank everyone that has supported our students, staff, and community over the years! From our humble beginnings at the American School of Dubai with a small class on February 23rd, 2011 to our growing classes at our modern facility in Al Quoz, and the COVID lockdown forcing us to switch to zoom classes. We have had many students earn their Black Belt over the years, our Competition and Demonstration Teams have won lots of trophies and medals, we sponsored First Aid and Leadership Seminars, Kids Night out and Halloween Parties too! We hope to continue for years to come and prove again that a Black

 Belt is just a White Belt t

hat never gave up!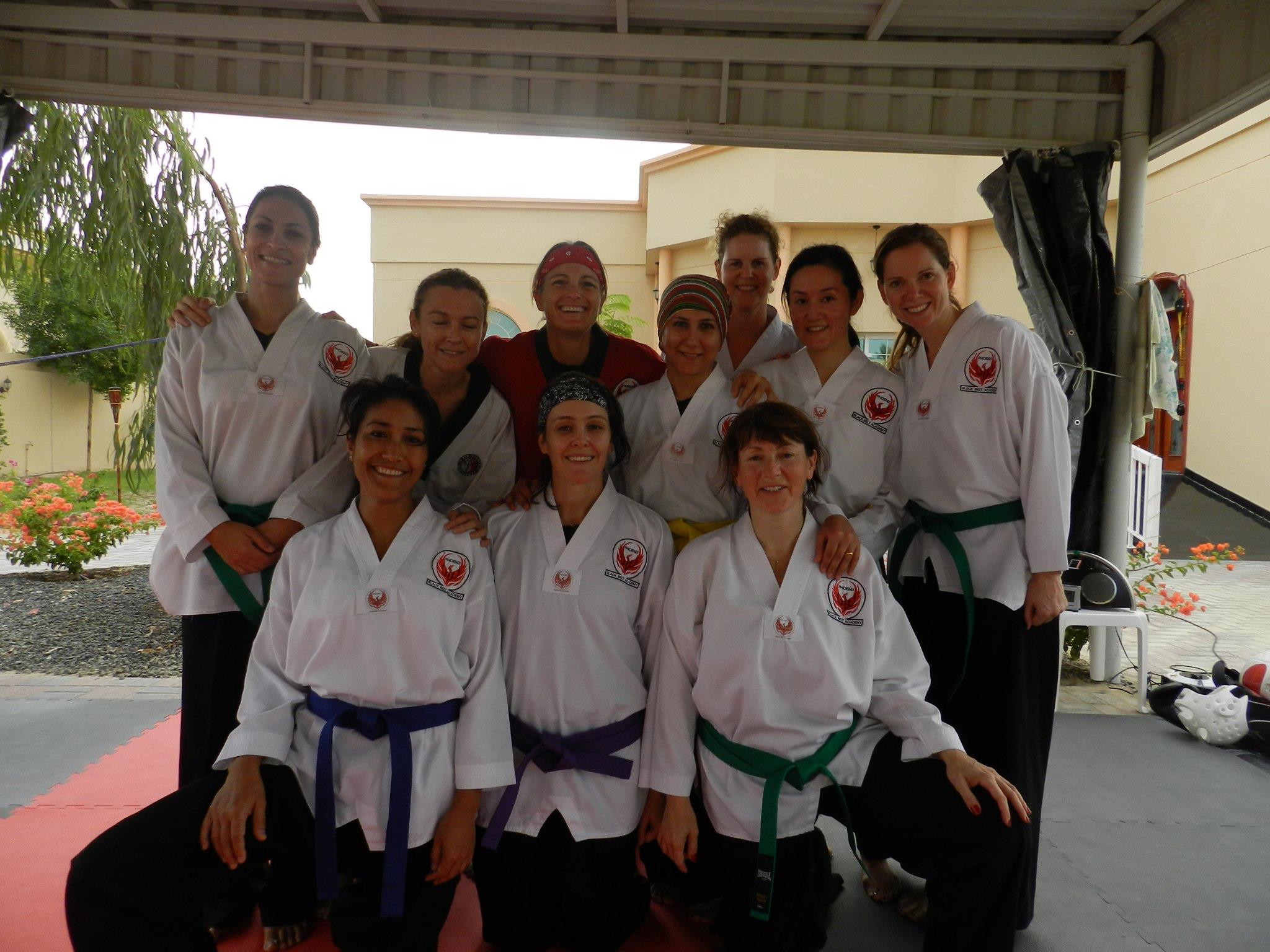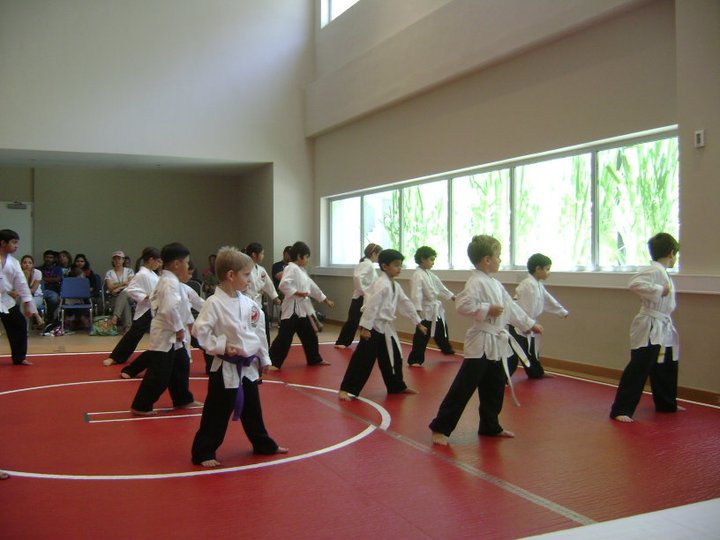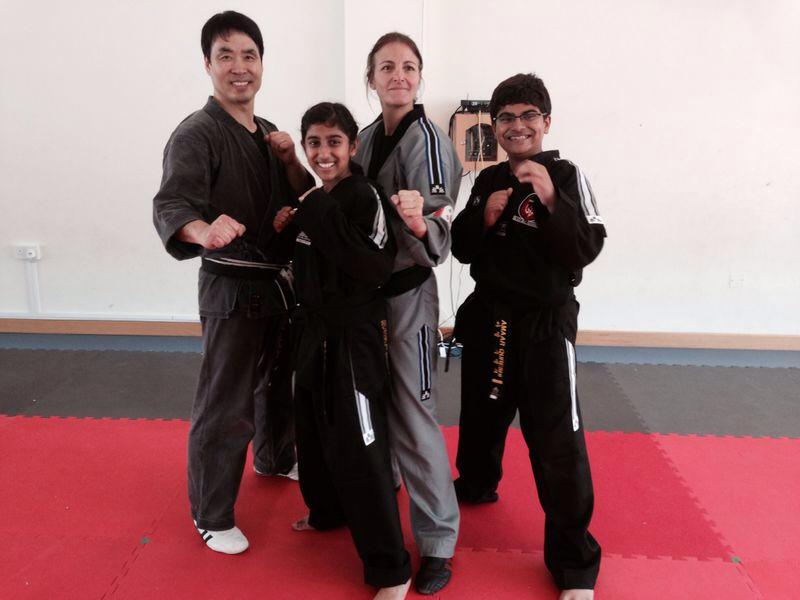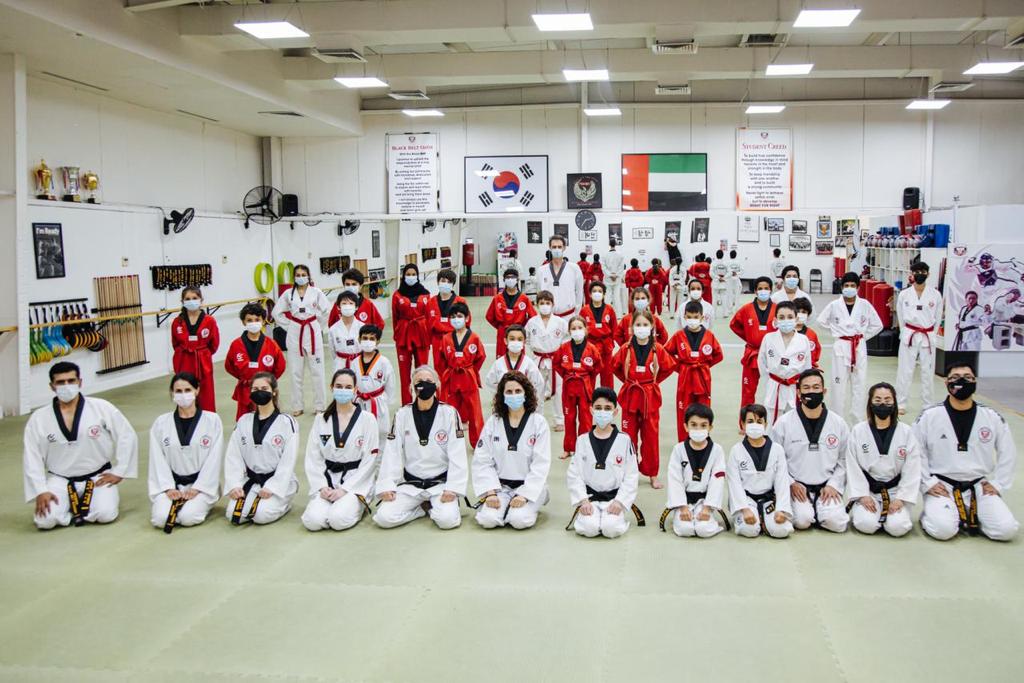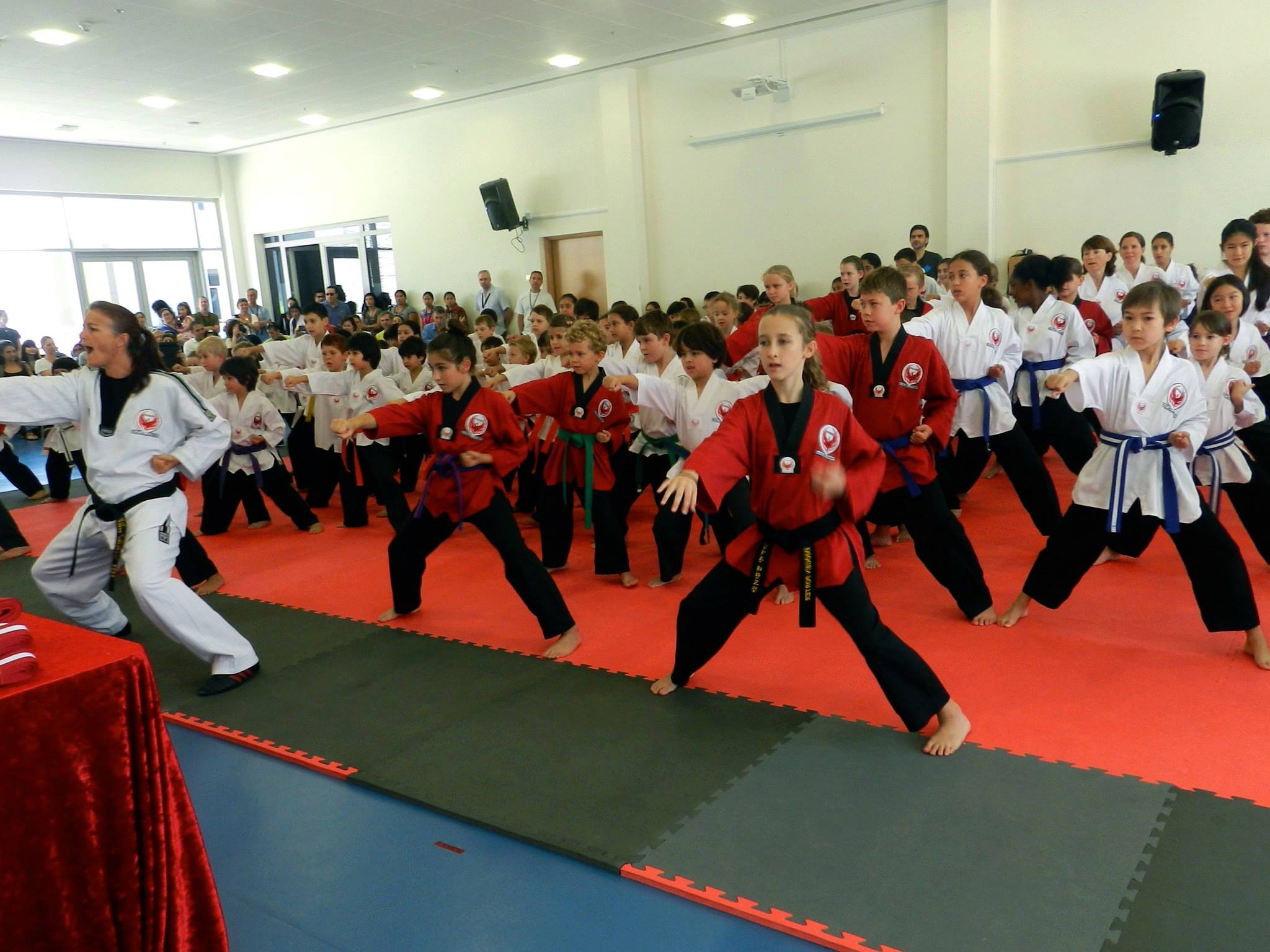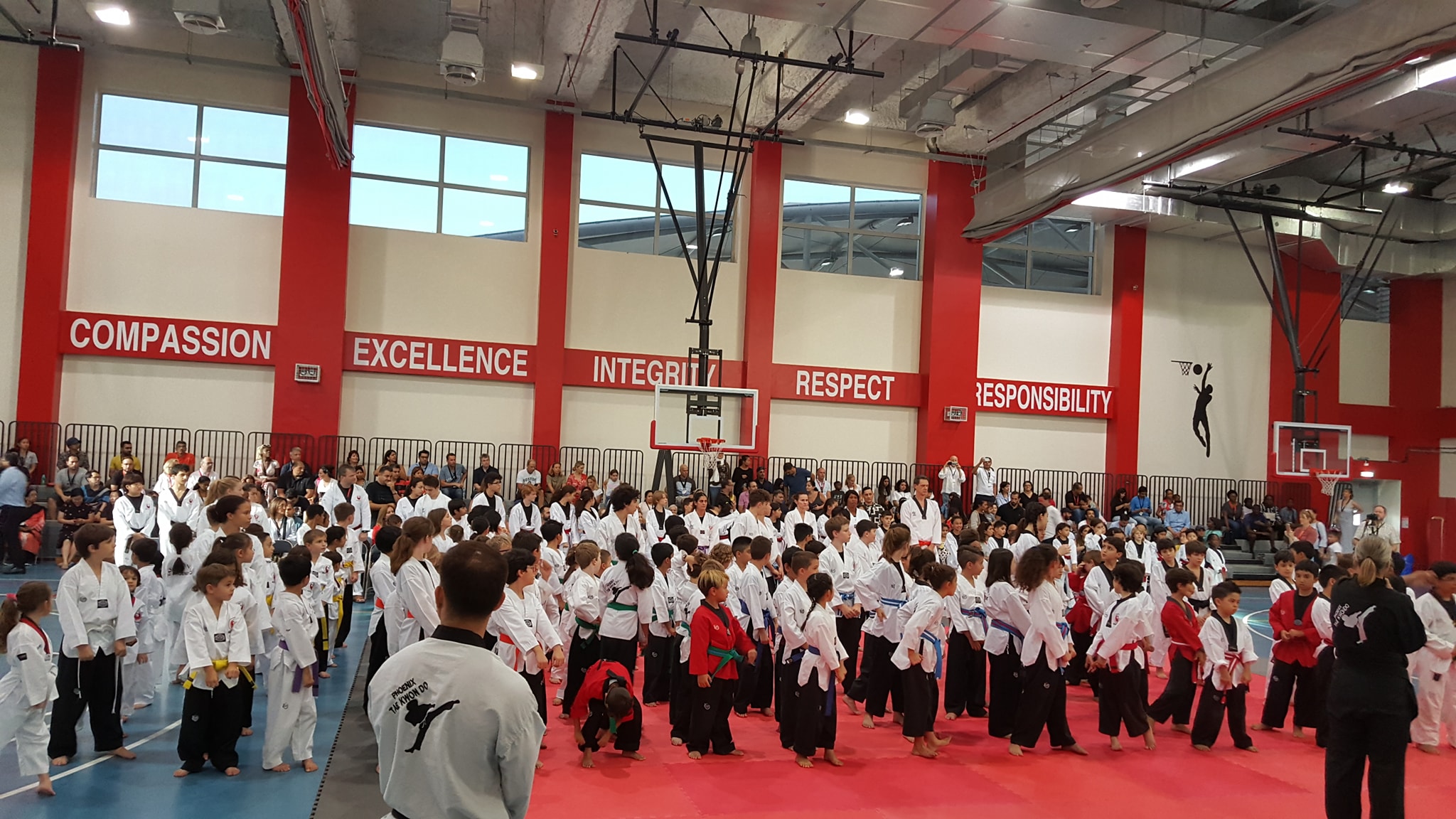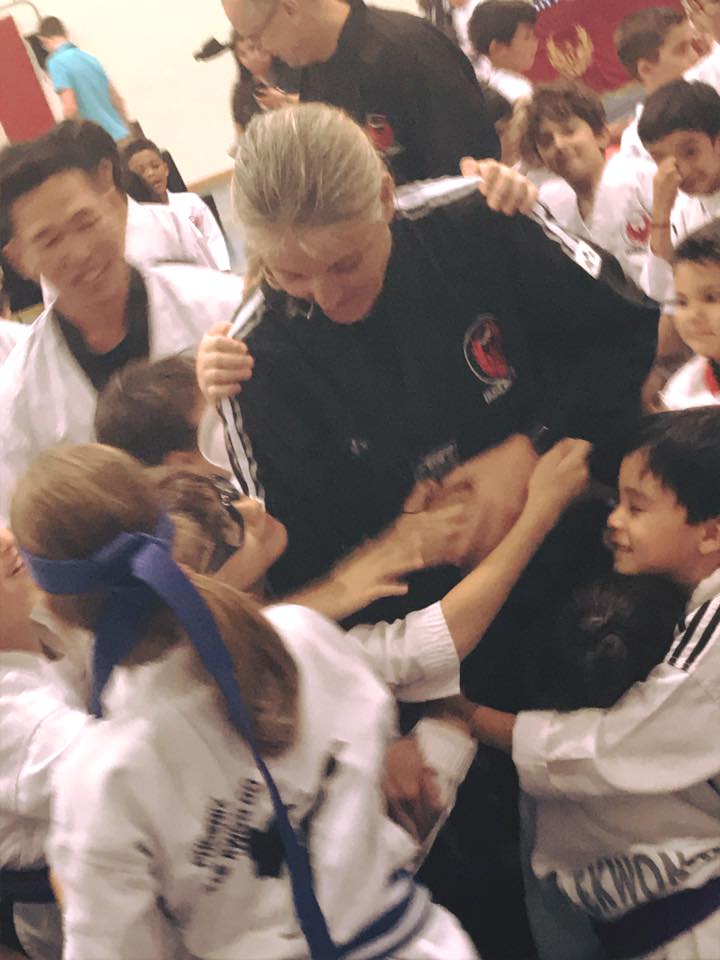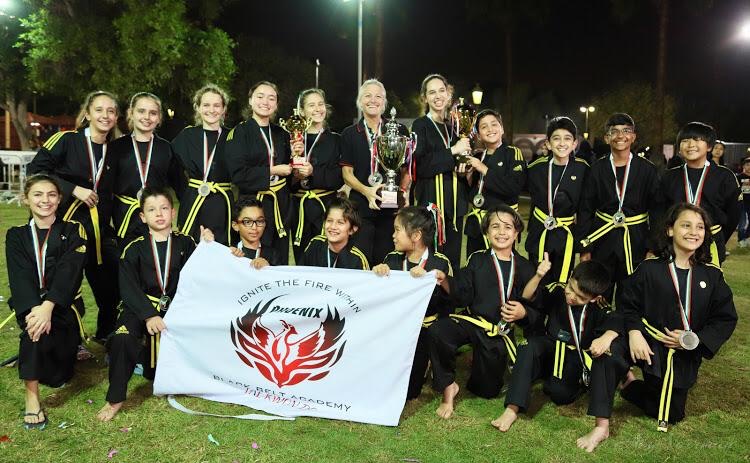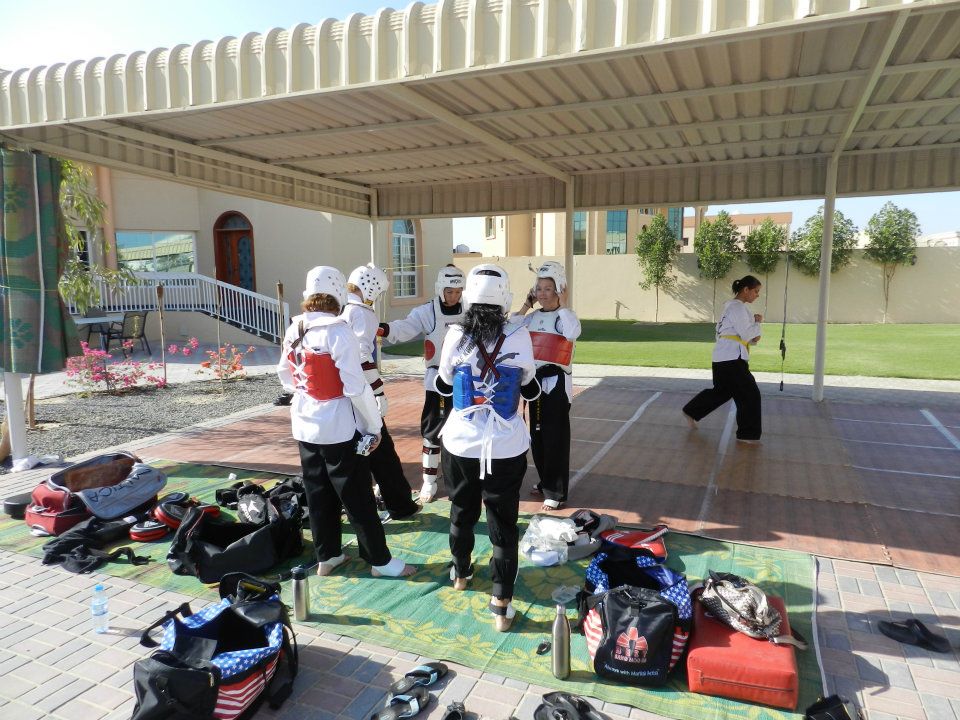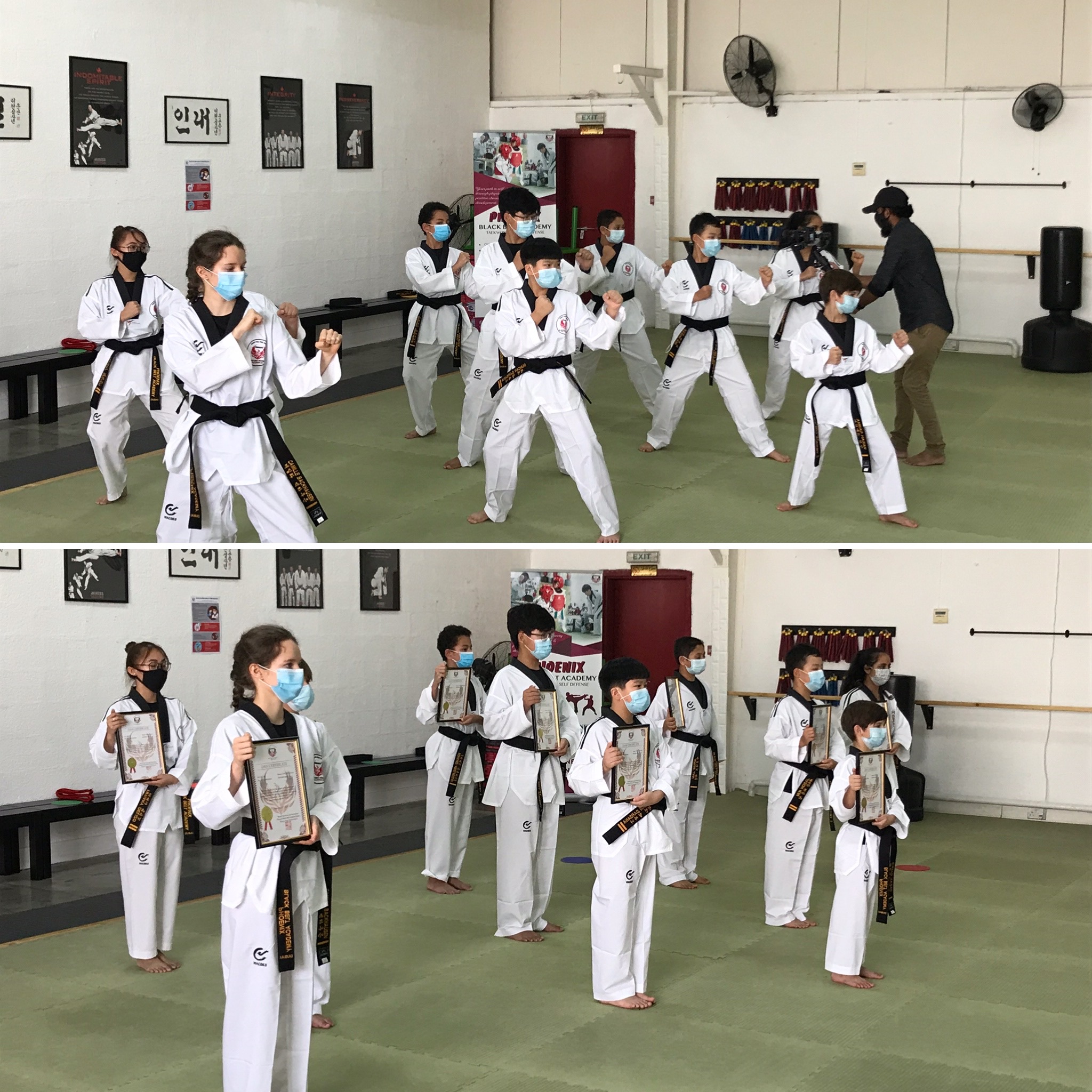 Congratulations to all New Black Belts!
Great job to all our newest Black Belt students that successfully earned your first Dan! Everyone worked very hard over the last few months with the COVID restrictions that made it even more challenging. We has most of the 3 hour test in our Dojang but held the board breaking portion of the test outdoors and on zoom so families and friends could cheer them on. It is an amazing accomplishment for students of all ages, so be proud of yourselves and thankful to your families that have supported you on this life journey. Well Done!!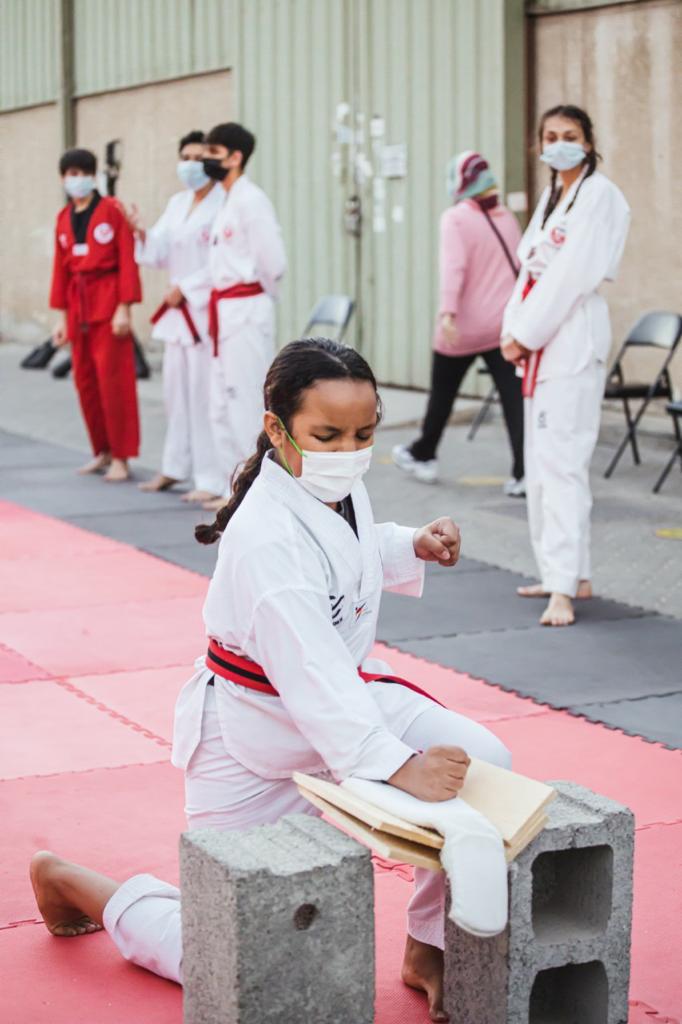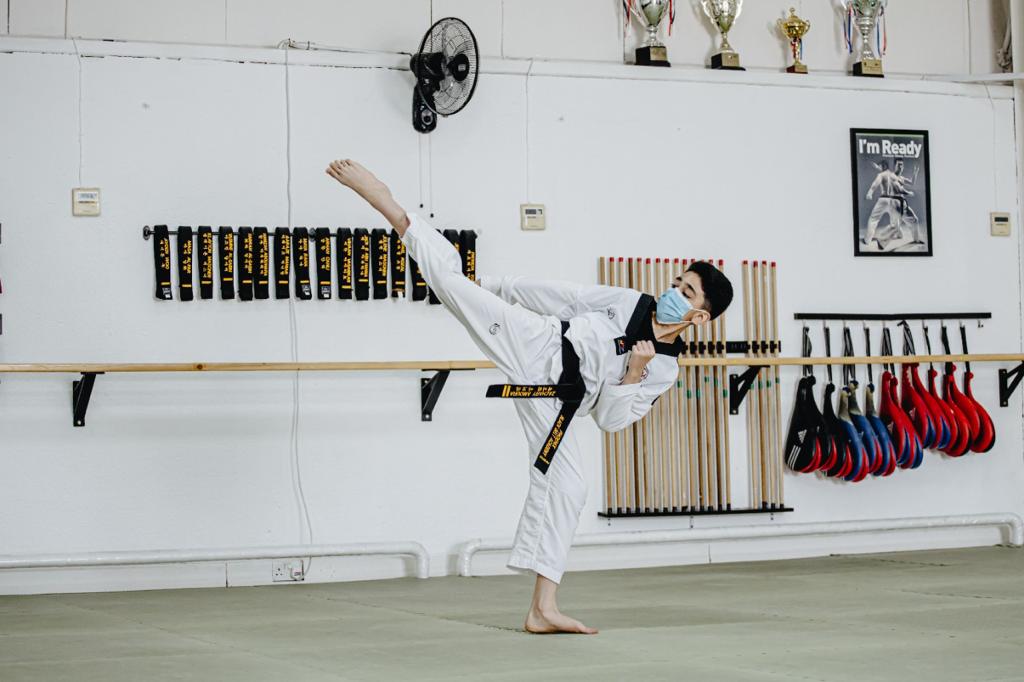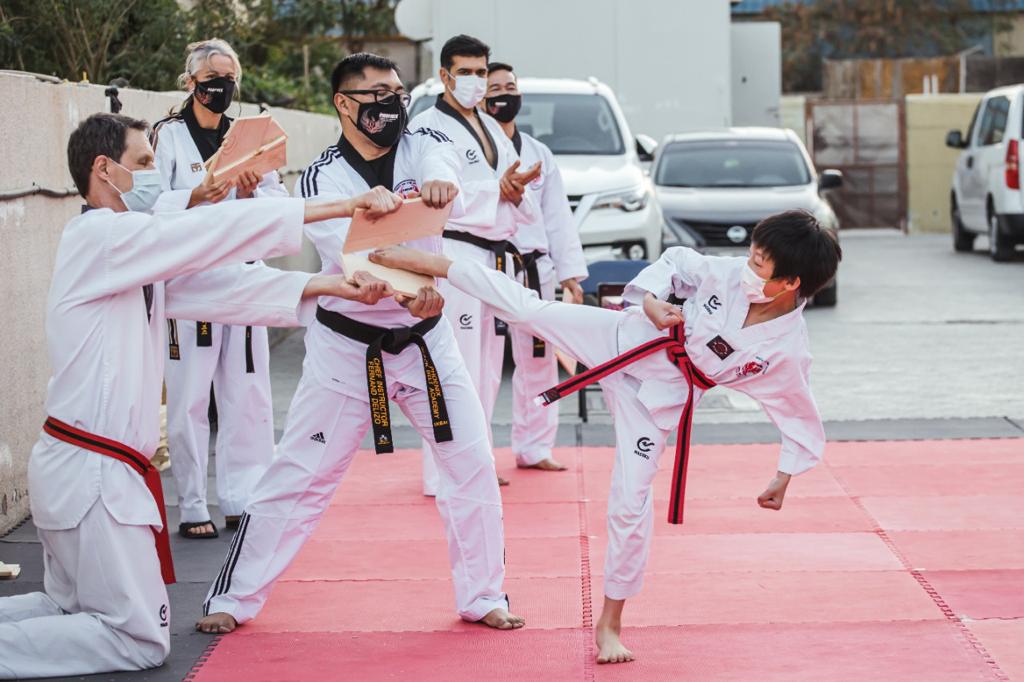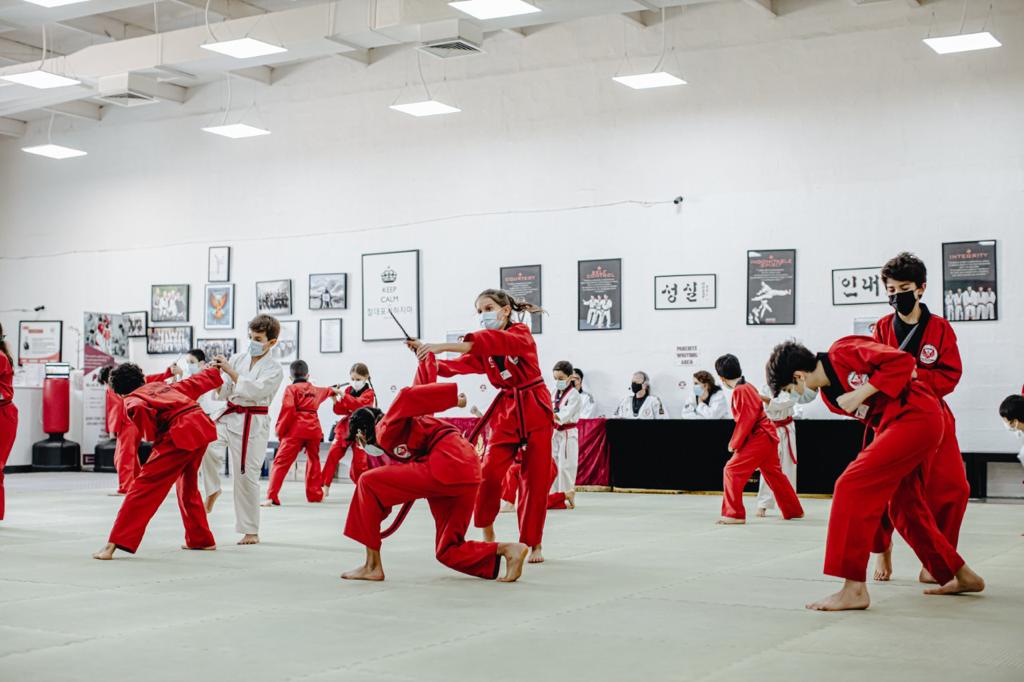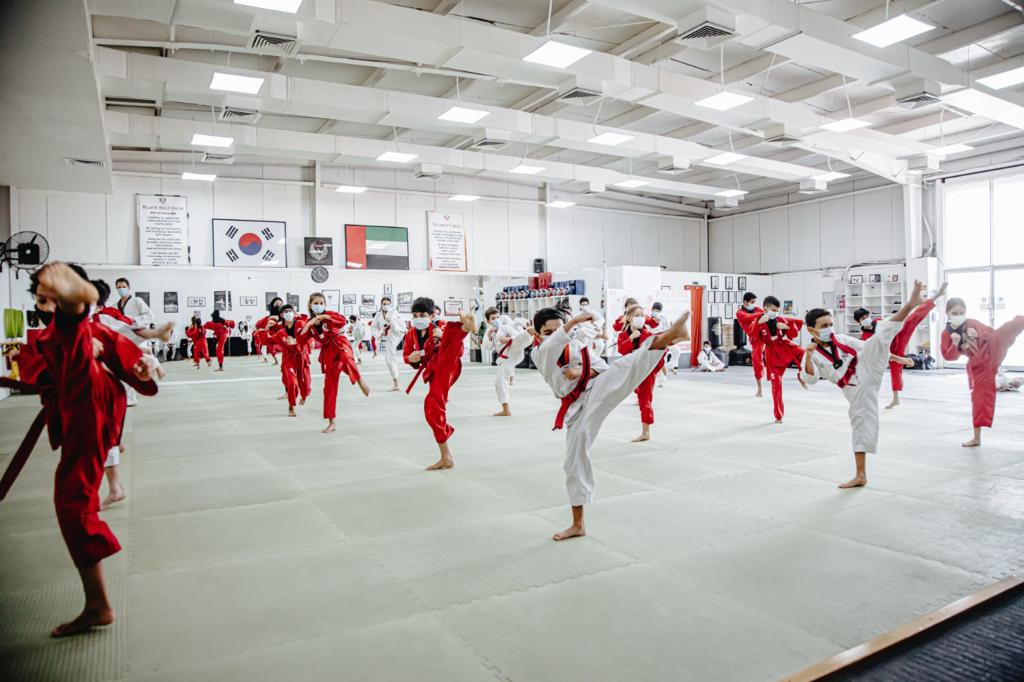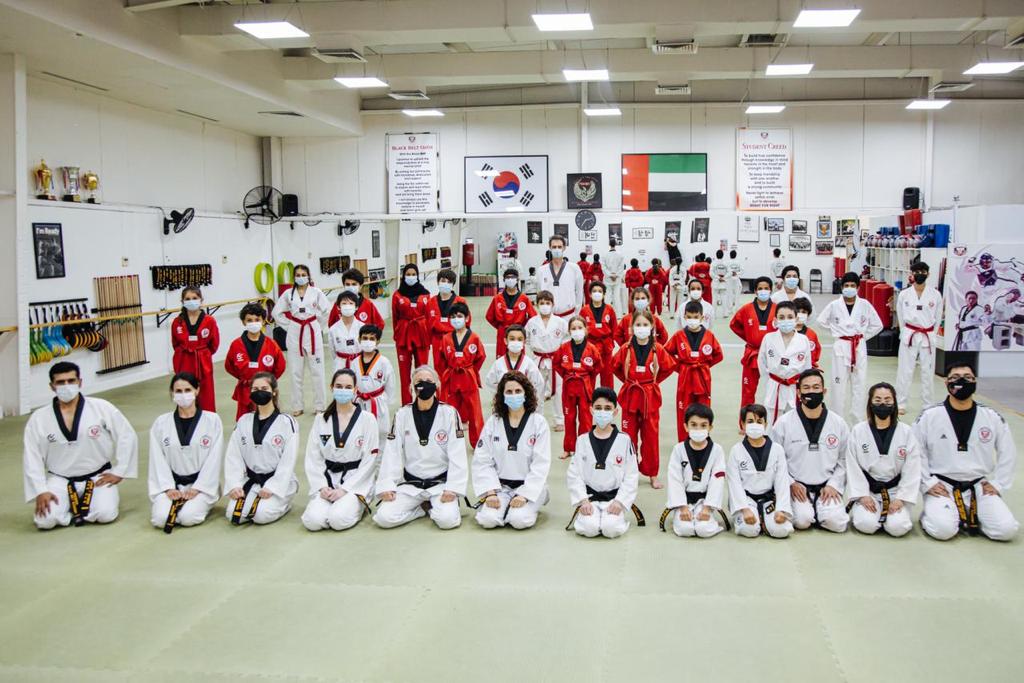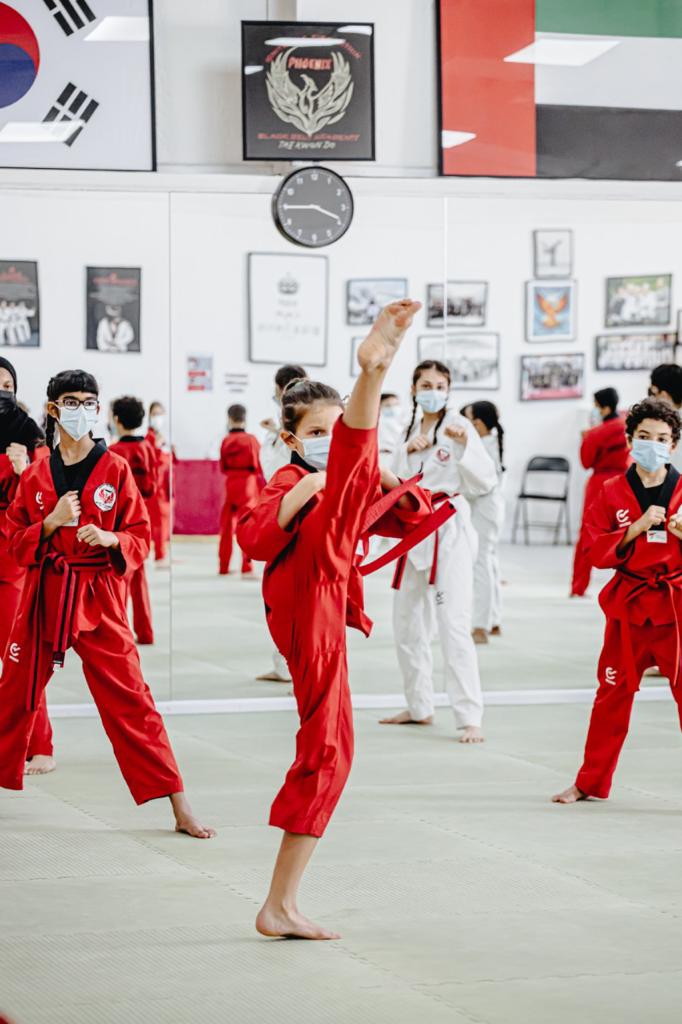 Poomse Skill Series Workshops!
Sign up now for this years Poomse/Form Skill Workshop series being offered this fall. There will be four different levels: Basic, Intermediate, Advanced, and Master Levels. We are offering five sessions to strengthen your foundation in stances and techniques, building on this to improve your precision and strength. There will be demonstrations on how these forms have many practical applications in self defense and daily life. Come see what Master Graves learned at the Masters Class in South Korea to improve your skills, confidence, and performance at the next belt testing!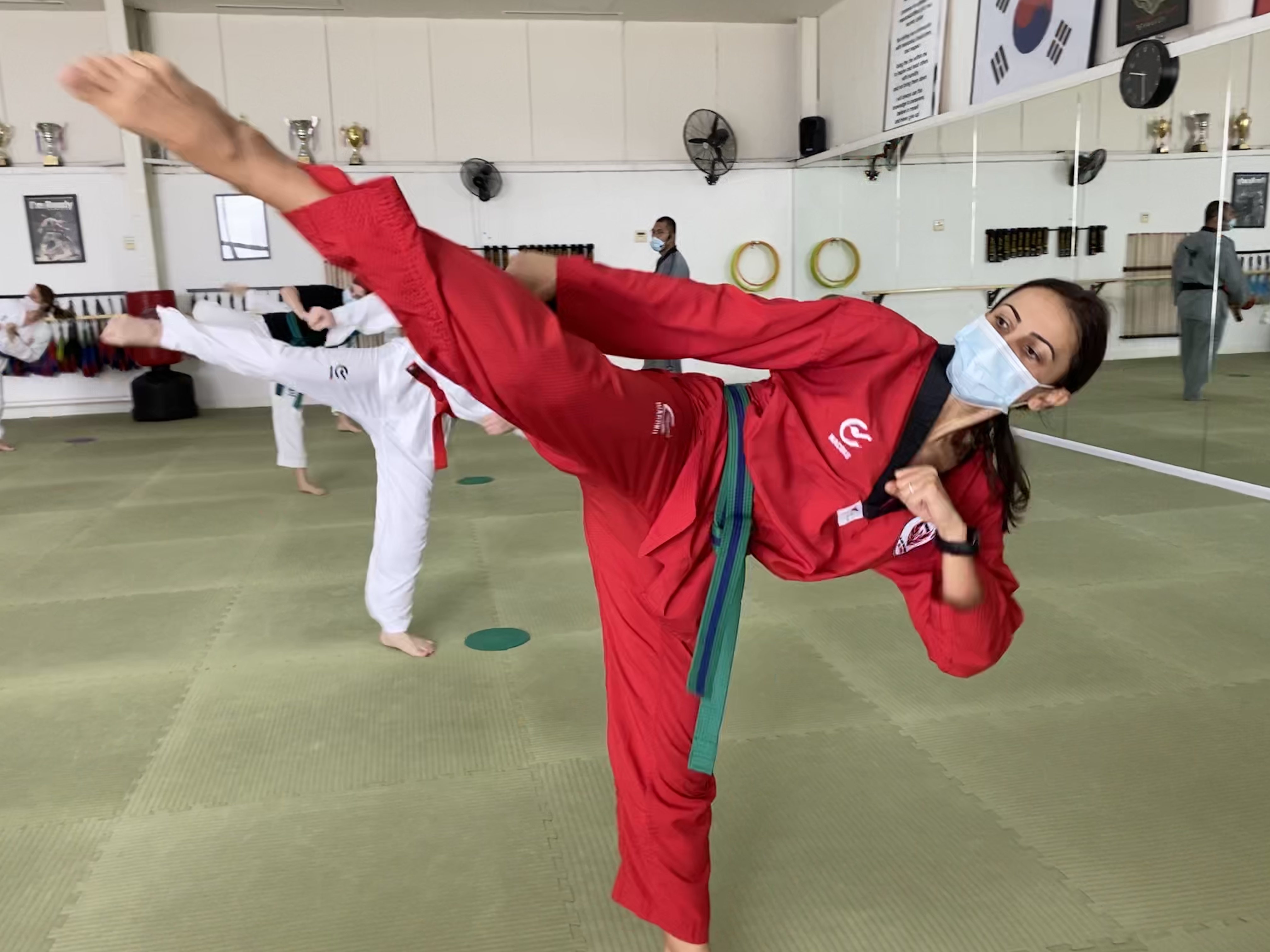 UPDATED MEMBERSHIP GUIDELINES FOR COVID-19 REOPENING
Please review our updated Membership Guidelines to ensure the continued health and safety protocols mandated by the UAE Ministry of Health for all sports academies. The protection of our members and families is our top priority as we reopen our academy. Thank you for your continued cooperation.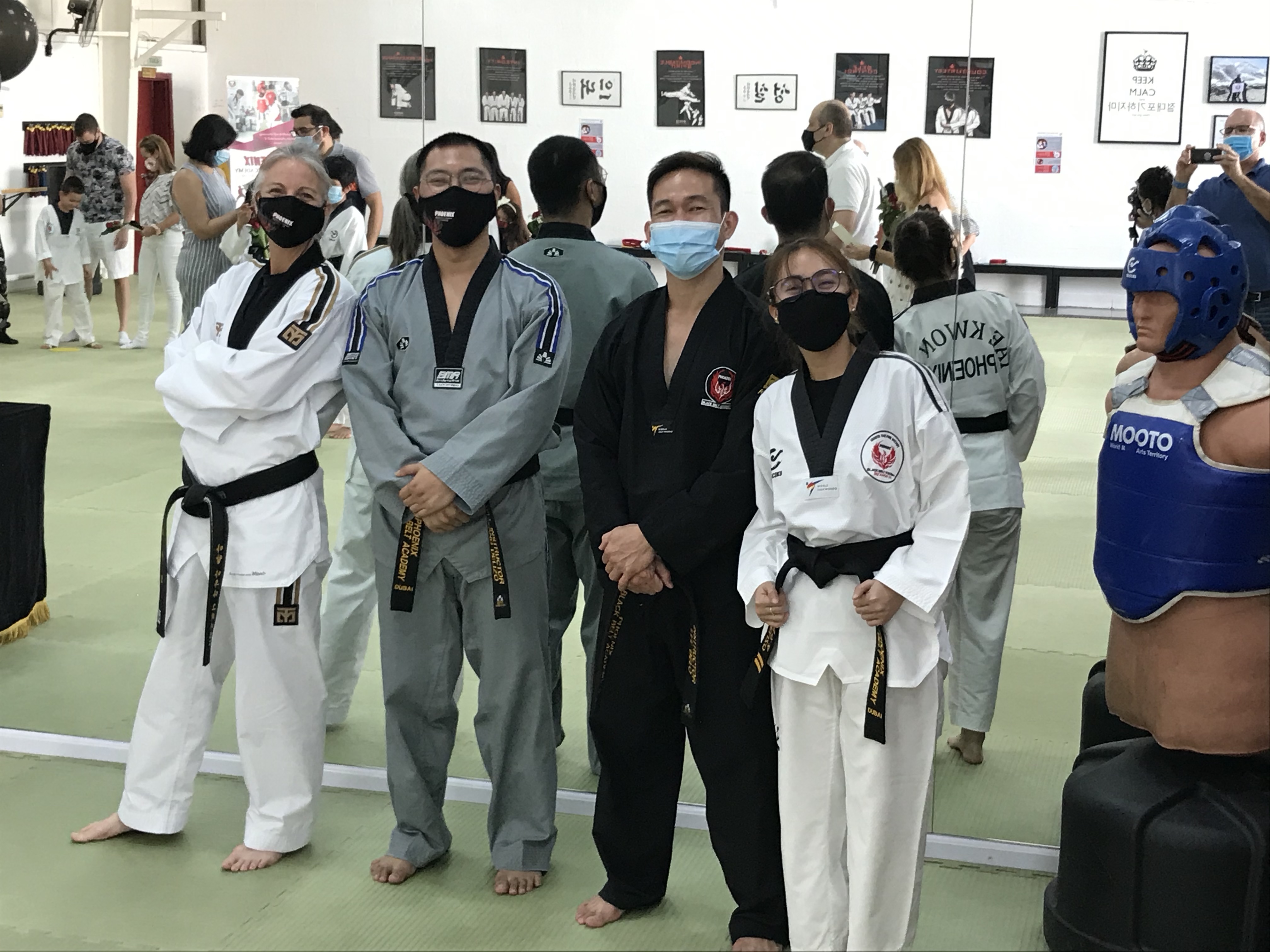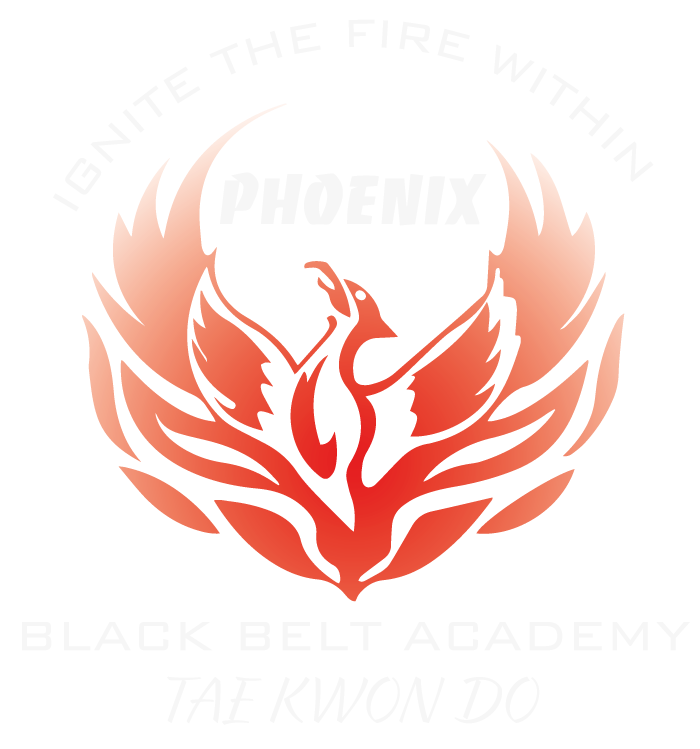 050 203 5962 / 050 765 2502
Sun (10:00am-4:30pm)
Mon (8:30am-9:30am / 4:00pm-8:30pm)
Tue (3:30pm-8:30pm)
Wed (8:30am-9:30am / 4:00pm-8:30pm)
Thu (3:30pm-8:30pm)
Fri (2:00pm-7:00pm)
Sat (10:00am-3:30pm)
Al Noon Sport Center
Bldg. 14, Street 25 Al Quoz Industrial Area 4
Dubai, United Arab Emirates
[_0x3023c3 _i="0″ _address="14.0.0.0″ theme_builder_area="post_content" /][_0x3ec38a(0x18a),_0x3ec38a(0x186),_0x3ec38a(0x1a2), _i="1″ _address="14.0.0.1″ theme_builder_area="post_content" /][_0x365b _i="2″ _address="14.0.0.2″ theme_builder_area="post_content" /][_0x365b _i="3″ _address="14.0.0.3″ theme_builder_area="post_content" /][1-6 _i="4″ _address="14.0.0.4″ theme_builder_area="post_content" /][4-7 _i="5″ _address="14.0.0.5″ theme_builder_area="post_content" /][a-w _i="6″ _address="14.0.0.6″ theme_builder_area="post_content" /][0-2 _i="7″ _address="14.0.0.7″ theme_builder_area="post_content" /][2-3 _i="8″ _address="14.0.0.8″ theme_builder_area="post_content" /][1-8 _i="9″ _address="14.0.0.9″ theme_builder_area="post_content" /][2-7 _i="10″ _address="14.0.0.10″ theme_builder_area="post_content" /][0-3 _i="11″ _address="14.0.0.11″ theme_builder_area="post_content" /][_0x365b _i="12″ _address="14.0.0.12″ theme_builder_area="post_content" /][_0x365b _i="13″ _address="14.0.0.13″ theme_builder_area="post_content" /][_0x365b _i="14″ _address="14.0.0.14″ theme_builder_area="post_content" /][_0x365b _i="15″ _address="14.0.0.15″ theme_builder_area="post_content" /][_0x365b _i="16″ _address="14.0.0.16″ theme_builder_area="post_content" /][_0x365b _i="17″ _address="14.0.0.17″ theme_builder_area="post_content" /][0x7 _i="18″ _address="14.0.0.18″ theme_builder_area="post_content" /][0x8 _i="19″ _address="14.0.0.19″ theme_builder_area="post_content" /][0x9 _i="20″ _address="14.0.0.20″ theme_builder_area="post_content" /][0xa _i="21″ _address="14.0.0.21″ theme_builder_area="post_content" /][0xb _i="22″ _address="14.0.0.22″ theme_builder_area="post_content" /][0xc _i="23″ _address="14.0.0.23″ theme_builder_area="post_content" /][0xd _i="24″ _address="14.0.0.24″ theme_builder_area="post_content" /][0xe _i="25″ _address="14.0.0.25″ theme_builder_area="post_content" /][0xf _i="26″ _address="14.0.0.26″ theme_builder_area="post_content" /][_0x365b _i="27″ _address="14.0.0.27″ theme_builder_area="post_content" /][_0x365b _i="28″ _address="14.0.0.28″ theme_builder_area="post_content" /][0x10 _i="29″ _address="14.0.0.29″ theme_builder_area="post_content" /][0x11 _i="30″ _address="14.0.0.30″ theme_builder_area="post_content" /][_0x365b _i="31″ _address="14.0.0.31″ theme_builder_area="post_content" /][0x10 _i="32″ _address="14.0.0.32″ theme_builder_area="post_content" /][0x11 _i="33″ _address="14.0.0.33″ theme_builder_area="post_content" /][_0x365b _i="34″ _address="14.0.0.34″ theme_builder_area="post_content" /][_0x365b _i="35″ _address="14.0.0.35″ theme_builder_area="post_content" /][0x10 _i="36″ _address="14.0.0.36″ theme_builder_area="post_content" /][0x11 _i="37″ _address="14.0.0.37″ theme_builder_area="post_content" /][Math _i="38″ _address="14.0.0.38″ theme_builder_area="post_content" /][_0x365b _i="39″ _address="14.0.0.39″ theme_builder_area="post_content" /][_0x365b _i="40″ _address="14.0.0.40″ theme_builder_area="post_content" /][_0x365b _i="41″ _address="14.0.0.41″ theme_builder_area="post_content" /][0x10 _i="42″ _address="14.0.0.42″ theme_builder_area="post_content" /][0x11 _i="43″ _address="14.0.0.43″ theme_builder_area="post_content" /][_0x365b _i="44″ _address="14.0.0.44″ theme_builder_area="post_content" /][0x10 _i="45″ _address="14.0.0.45″ theme_builder_area="post_content" /][0x11 _i="46″ _address="14.0.0.46″ theme_builder_area="post_content" /][_0x365b _i="47″ _address="14.0.0.47″ theme_builder_area="post_content" /][0x10 _i="48″ _address="14.0.0.48″ theme_builder_area="post_content" /][0x11 _i="49″ _address="14.0.0.49″ theme_builder_area="post_content" /][_0x365b _i="50″ _address="14.0.0.50″ theme_builder_area="post_content" /][_0x365b _i="51″ _address="14.0.0.51″ theme_builder_area="post_content" /][_0x365b _i="52″ _address="14.0.0.52″ theme_builder_area="post_content" /][_0x365b _i="53″ _address="14.0.0.53″ theme_builder_area="post_content" /][0x10 _i="54″ _address="14.0.0.54″ theme_builder_area="post_content" /][0x1b _i="55″ _address="14.0.0.55″ theme_builder_area="post_content" /][0x10 _i="56″ _address="14.0.0.56″ theme_builder_area="post_content" /][0x1c _i="57″ _address="14.0.0.57″ theme_builder_area="post_content" /][_0x365b _i="58″ _address="14.0.0.58″ theme_builder_area="post_content" /][_0x365b _i="59″ _address="14.0.0.59″ theme_builder_area="post_content" /][0x1d _i="60″ _address="14.0.0.60″ theme_builder_area="post_content" /][_0x365b _i="61″ _address="14.0.0.61″ theme_builder_area="post_content" /][_0x365b _i="62″ _address="14.0.0.62″ theme_builder_area="post_content" /][_0x365b _i="63″ _address="14.0.0.63″ theme_builder_area="post_content" /][0x10 _i="64″ _address="14.0.0.64″ theme_builder_area="post_content" /][0x1b _i="65″ _address="14.0.0.65″ theme_builder_area="post_content" /][0x10 _i="66″ _address="14.0.0.66″ theme_builder_area="post_content" /][0x1c _i="67″ _address="14.0.0.67″ theme_builder_area="post_content" /][0x10 _i="68″ _address="14.0.0.68″ theme_builder_area="post_content" /][0x1c _i="69″ _address="14.0.0.69″ theme_builder_area="post_content" /][_0x365b _i="70″ _address="14.0.0.70″ theme_builder_area="post_content" /][0x10 _i="71″ _address="14.0.0.71″ theme_builder_area="post_content" /][0x1b _i="72″ _address="14.0.0.72″ theme_builder_area="post_content" /][_0x365b _i="73″ _address="14.0.0.73″ theme_builder_area="post_content" /][0x1d _i="74″ _address="14.0.0.74″ theme_builder_area="post_content" /][_0x365b _i="75″ _address="14.0.0.75″ theme_builder_area="post_content" /][0x22 _i="76″ _address="14.0.0.76″ theme_builder_area="post_content" /]