Getting to know our professional
MARTIAL ARTS STAFF
Phoenix Academy is proud of our martial arts instructors who are all experienced Black Belts. Our Staff is well-trained to ensure that the martial arts classes are safe, fun and effective.
Instructors and assistant instructors
are trained not only on teaching quality martial arts skills, but also to focus on every student's individual needs to help them improve their personality and confidence. 
They make sure to give proper encouragement and positive correction to the students.
We are committed to teaching the physical skills of martial arts while applying attitude-shaping and improvement exercises to help bring out the best character and physical potential in each student.
Our instructors
also participate in advanced martial arts training sessions to improve their own Taekwondo skills and instructional knowledge, ensuring that they will be able to teach the students to the highest standards. Phoenix Black Belt Academy instructors are required to keep their knowledge of martial arts up to date according to World Taekwondo Federation standards. They are expected to take classes regularly and undergo diagnostic tests once a year.
They are expected to take classes regularly and undergo diagnostic tests once a year.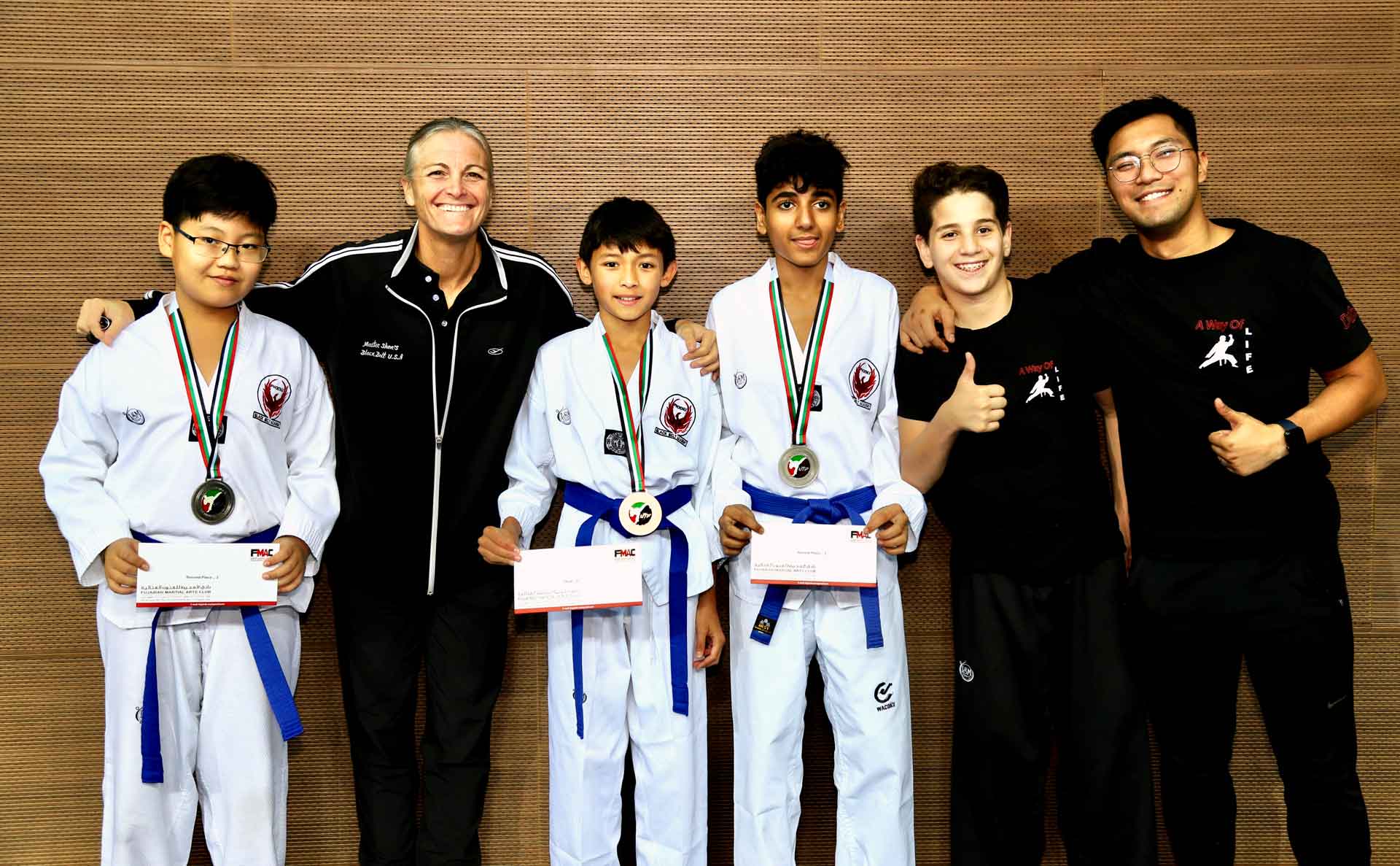 Our Dubai Martial Arts staff at Phoenix Black Belt Academy is looking forward to be working and learning with you.
MASTER
AMAL AUDA-GRAVES
Master Graves founded Phoenix Black Belt Academy Dubai in 2011. She is a member of the UAE Taekwondo Federation, and has grown to become one of the largest and most respected martial arts schools in the UAE. Master Graves was raised in Iraq and Denmark, speaks English, Arabic, and Danish languages fluently, she is married with two grown daughters, and the whole family are advanced black belts as well.
Master Graves holds a 5th Degree Black Belt awarded from Kukkiwon, the World Tae Kwon Do Federation in Seoul South Korea. She has studied under Master Chang Rak Shon since 1999, quickly becoming Chief Instructor for his main school in Tacoma, WA, USA. She founded and coached the Phoenix Demonstration Team there, performing in competitions and community events around Seattle and Tacoma for many years. Master Graves has managed Master Shon's  Tae Kwon Do Academy Tournament since 2004, hosting over 500 competitors in the annual sparring and forms competition.
From humble beginnings, Master Graves has built a thriving community of students, families, and mentors that has been recognized by Kukkiwon, the governing body of Tae Kwon Do, as Top Ranked Dojang in 2019. Master Graves attends Masters Training in Korea to improve her skills, always striving to become a better teacher and mentor to our community.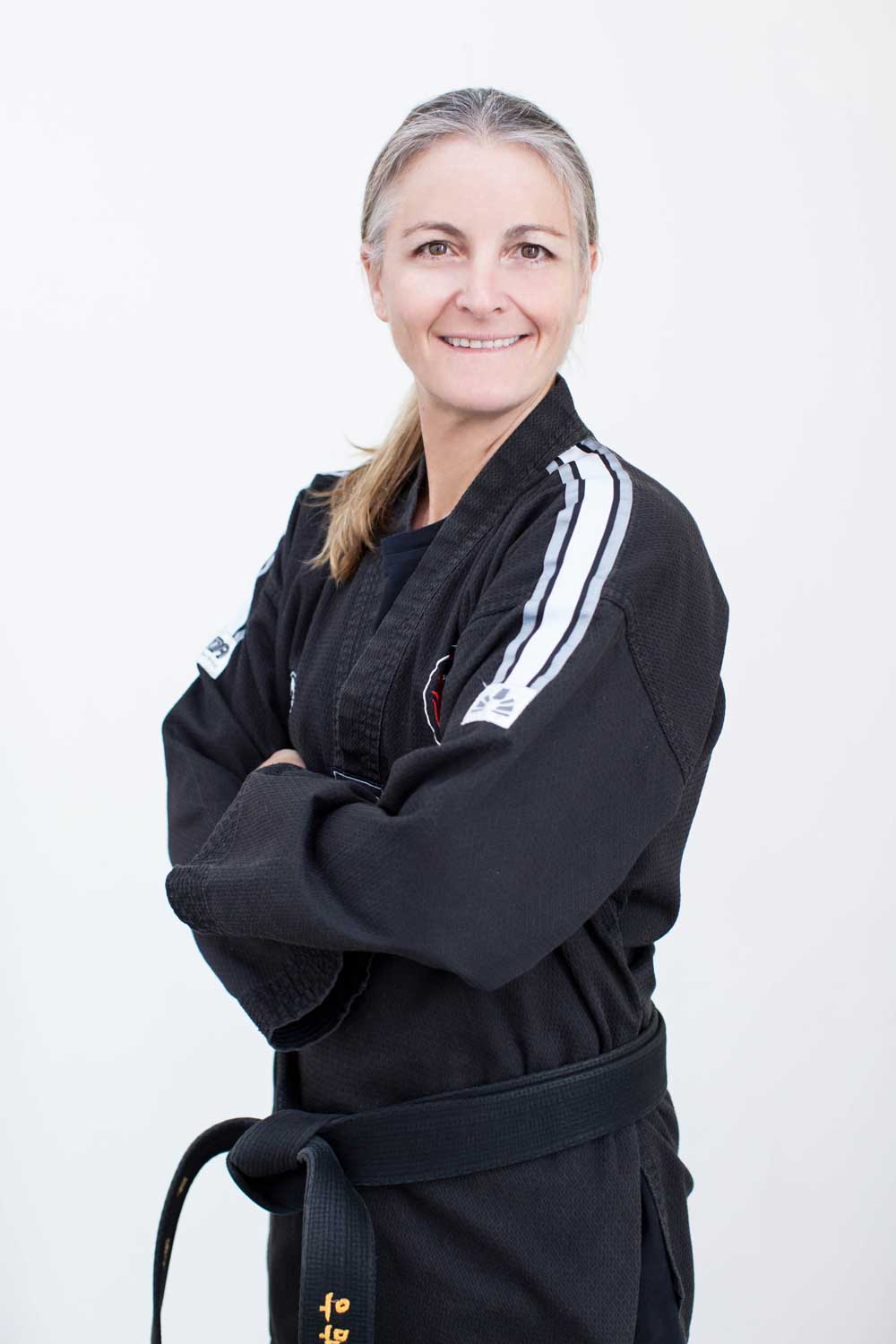 instructors
Our Expert Team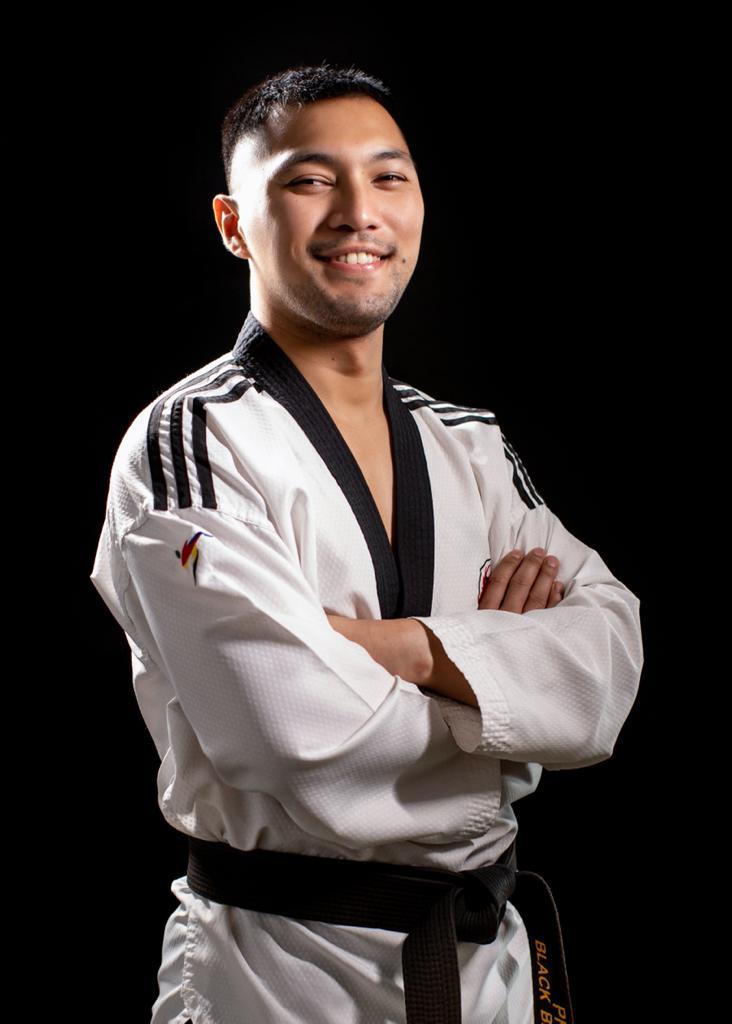 Mr. Fernand Delizo
Chief Instructor 
Third Degree Black Belt 
Mr. Delizo is from Baguio City, Philippines, and has been instructing with Phoenix since 2017. He began Tae Kwon Do 17 years ago and has dedicated his life to the martial arts ever since. He has competed in international tournaments through high school and college, teaching valuable life lessons, such as to be gracious in defeat and humble in victory. He has been an instructor, competitor, and coach in sparring and Demonstration Team competitions. Before coming to Dubai, Mr. Delizo was instructing for a prominent Tae Kwon Do school in Los Angeles, USA.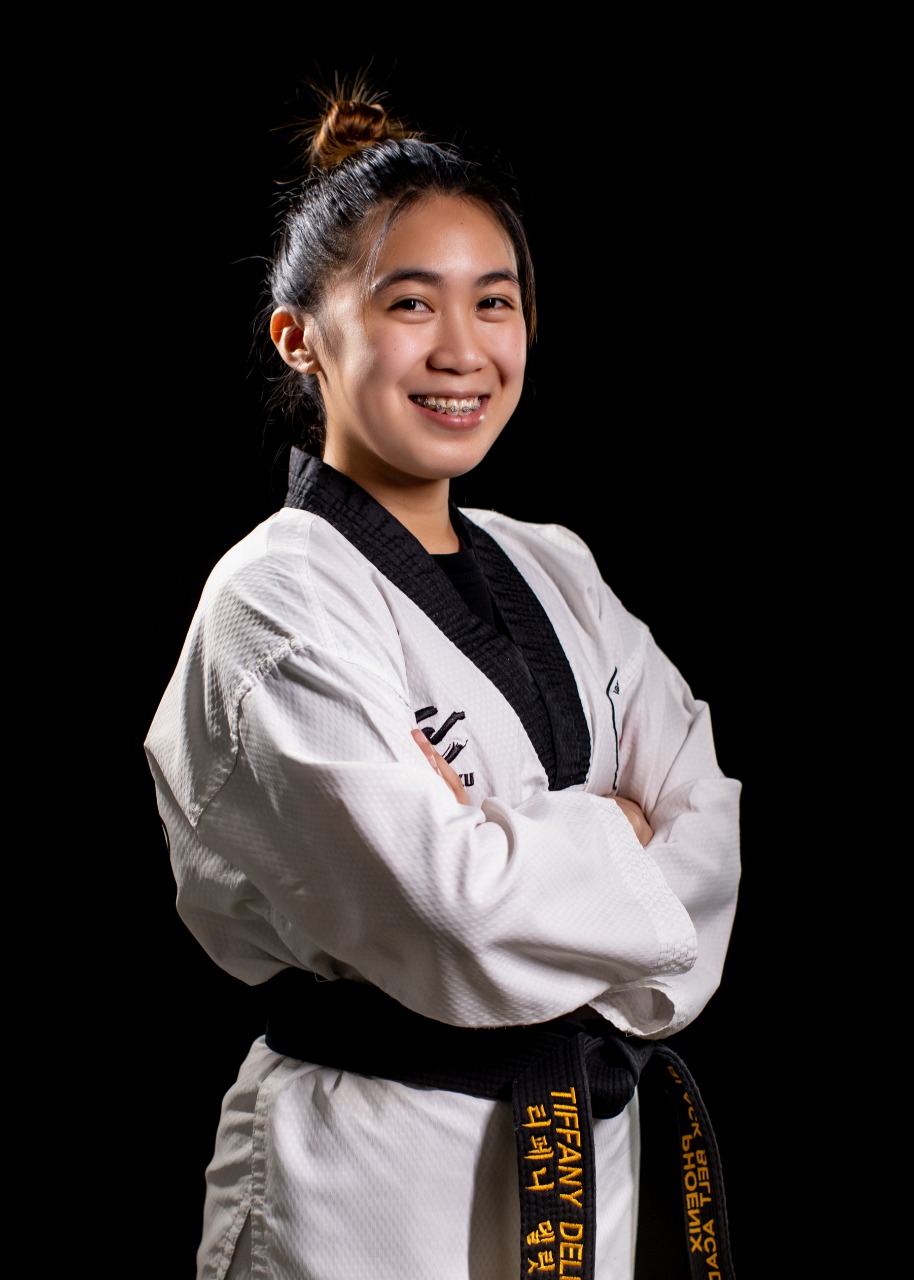 Miss Tiffany Delizo
Second Degree Black Belt Instructor
Administrative Assistant
Miss Delizo joined Phoenix in 2018 after graduating with a degree in AB-Multimedia Arts in 2017 from a prestigious College in the Philippines, De La Salle- College of Saint Benilde, where she was an Athletic scholar in Taekwondo. She has been competing since she was 10 years old, both in sparring and poomsae. For her, Taekwondo is not just a sport or a martial art, it's like a religion. It is a way of life that teaches you discipline, perseverance, determination, respect, courtesy, integrity, modesty and many more life skills. Most importantly, it taught her to be resilient , to keep evolving through all the fights and downfalls, not only on the mat but in the game of life. She has learned her new passion in teaching others and would like to share the valuable life lessons she has learned through Taekwondo to our beloved students.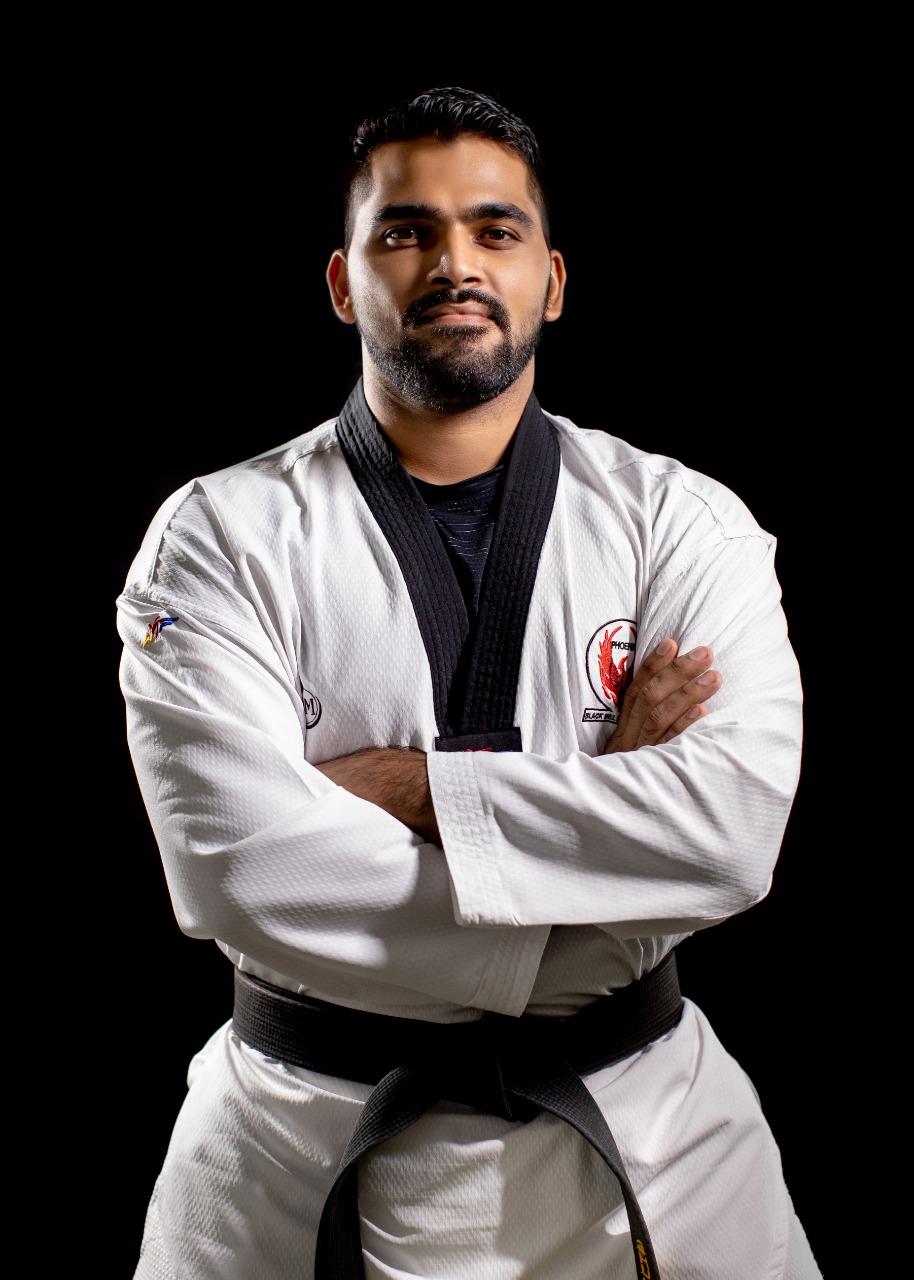 Mr. Shuhaib Khalid
Third Degree Black Belt Instructor
The newest member of our Phoenix Team Mr. Khalid, is from Kerala, India and joined Phoenix in 2021. He started his Taekwondo journey when he was 13 years old and is dedicated to the martial arts way of life. He is a graduate in Bachelor of Computer Application and he has participated in many State and National Taekwondo Tournaments, achieving many awards and medals. He was the Heavyweight Champion of Kannur University for 3 years (2014-2017) and represented the University in an All India Inter University Championship in Kyorugi. He was a Senior Student and Instructor at Master Fahad Taekwondo Academy in India where he began his martial arts teaching career while in college. Mr. Khalid is happy to continue his journey as part of the Phoenix Team. He speaks English, Hindi, Malayalam.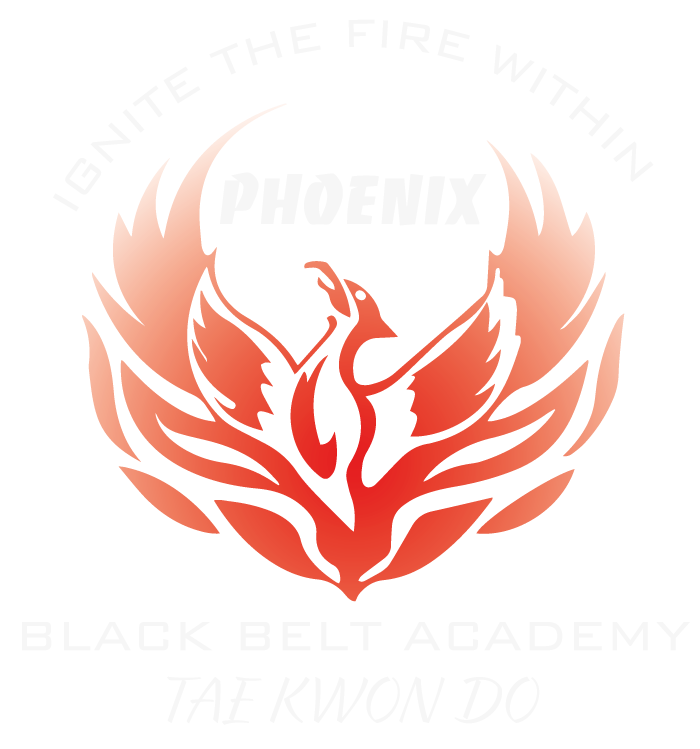 050 203 5962 / 050 765 2502
Sun (10:00am-4:30pm)
Mon (8:30am-9:30am / 4:00pm-8:30pm)
Tue (3:30pm-8:30pm)
Wed (8:30am-9:30am / 4:00pm-8:30pm)
Thu (3:30pm-8:30pm)
Fri (2:00pm-7:00pm)
Sat (10:00am-3:30pm)
Al Noon Sport Center
Bldg. 14, Street 25 Al Quoz Industrial Area 4
Dubai, United Arab Emirates